*This is not a sponsored post. Opinions and content belong to jenny at dapperhouse.
Did you fake tan come on too strong?  I have some natural and cheap ways to erase your mistakes. I also have some tips to help prevent this next time. Don't let your fake tan come on too strong. I'll help you fix your self-tanning mistakes.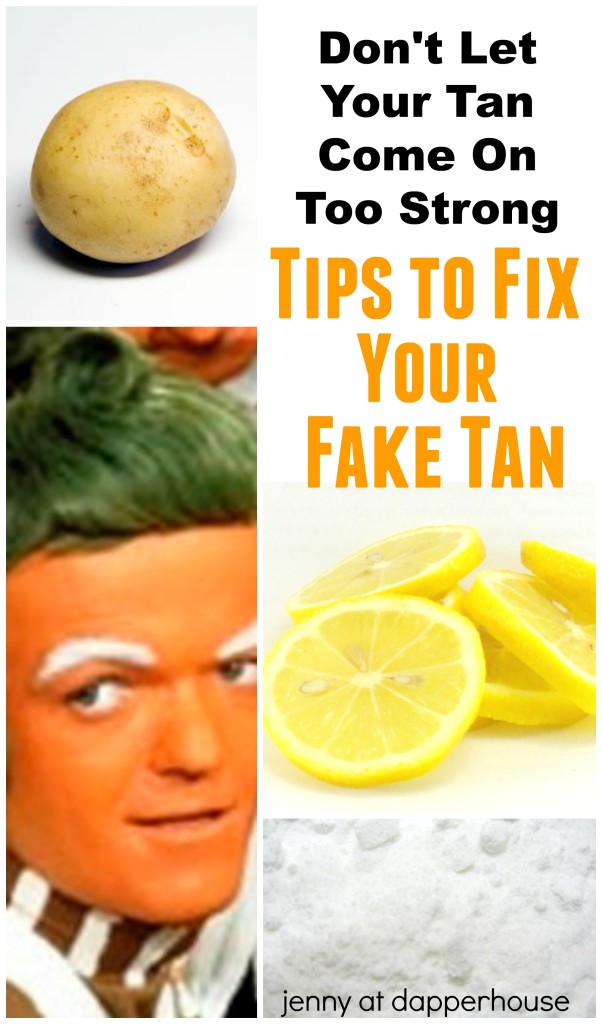 Remedy 1. 
Potatoes have acidic properties that act as great natural bleaching agent but they are mild enough to use on sensitive areas and sensitive skin. Mixed with baking soda as a natural and inexpensive exfoliate and you have a sure fire way to clean up the self tanner overkill.
Grate a potato and squeeze the shavings unto a bowl. Add a bit of baking soda and a little water to make a thick paste. Use your fingers to gently rub small circles onto the dark areas without causing irritation. You can also put a bit of paste over the area and let sit for 3 – 5 minutes before rinsing. Repeat twice daily as needed.
Remedy 2.
If this is not cutting it and you need something stronger, squeeze the juice from half a lemon into a bowl and add sugar to form a paste. Rub gently over the streaks and soak the spots in between exfoliation for a more powerful bleaching effect. Rinse well and add a nourishing lotion afterward.
TIPS:
If you use these at home remedies within the first 3 – 6 hours of applying your self tanner you will have the best results.
Always use the gradual self tanner, especially if you are starting out with pale skin. Avoid mistakes by building up your tan instead of wasting time trying to undo the damage.
Check the spots that turned too dark. These are typically the areas where you had dry skin or did not exfoliate enough.
Make sure you follow my guidelines here to get your very best at home sunless tan.
How have you fixed self tanning mistakes?