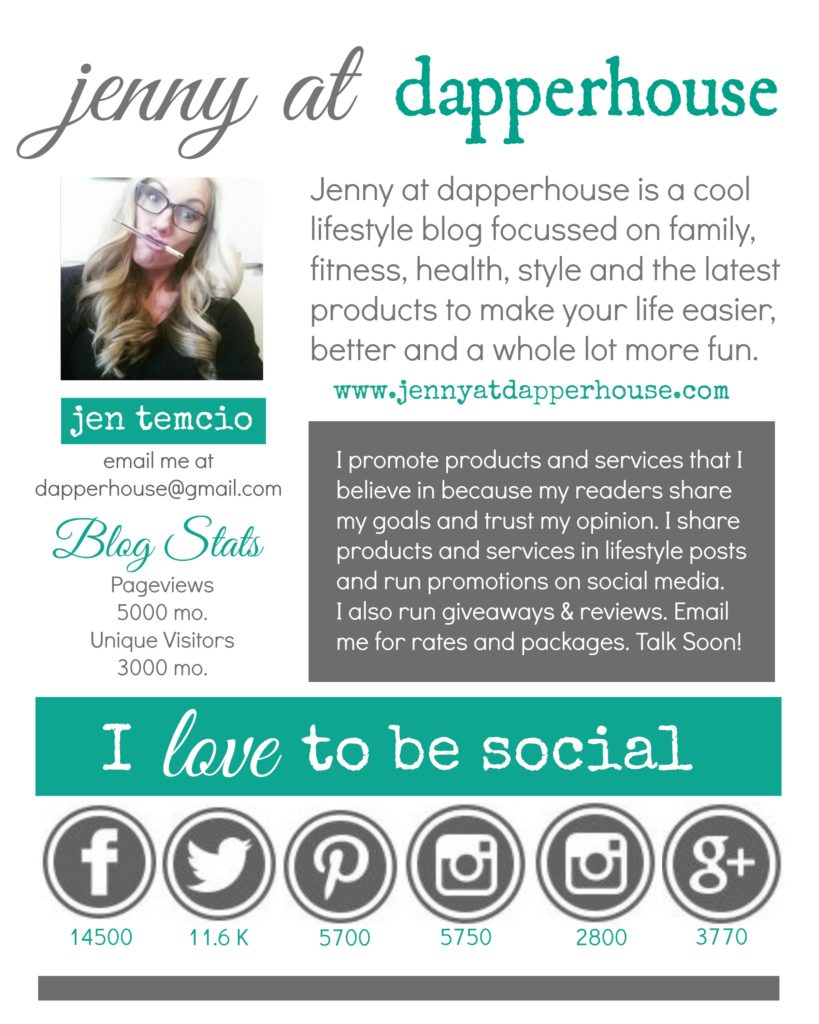 Hello! My name is Jen Temcio.
That is pronounced (Tem-ko)
Welcome to Jenny at dapperhouse Blog.

I am available for publishing and promoting:
pre-written guest posts that are unique in content.

infographics

unique post  with specific key words and NO Follow links only

One high quality Pinterest ready image with text, ready to promote 

product reviews

service reviews

giveaways (Individual or Multi-Blogger) 

brand ambassadorships

other related services.
I can promote using the following media platforms:
DISCLOSURE:
I follow the FTC Rules for disclosing an arrangement where any company compensates jenny at dapperhouse as a  blogger for a review or sponsored post. I do give my personal opinions in my blog compensated or not. My opinions are my own and may differ from other's. I do not give positive reviews or positive mentions for companies in exchange for compensation when I do not personally agree with the product, service or company. I give my own opinion and if my opinion is a negative one I will work with the company to give then the opportunity to not have my negative opinion published on my blog and other social media. 
I follow the disclosure guidelines for facebook and other social media.
Please Read this Explanation, especially #3 as it pertains to bloggers and marketers working together. Your product or service is no less valuable if there is a disclosure agreement on the post.
Thank you for your interest.
You may contact me at dapperhouse@gmail.com
*** CONTENT ON THIS SITE IS NOT FOR USE WITHOUT WRITTEN CONSENT FROM THE OWNER. Want to share something? I LOVE SHARING!! Just make sure you credit the source (jenny at dapperhouse blog). Want to use my posts or pics? Just ask dapperhouse@gmail.com.