*This is a sponsored post by linqia. All opinions belong to Jenny at dapperhouse. A delicious box of Pop Secret popcorn was provided for this campaign, but truthfully, we already had a bunch in our pantry! 
Building forts with pillows and blankets is one of the most fun memories from childhood. It is a way to stay creative and busy indoors. It is a way for your child to use his/her playful mind to be anything and go anywhere. My son and I have been building forts together since he was a baby. I get giddy over the excitement he gets when his mind races with ideas. I love how his imagination transports him to magical places simply by draping blankets over tables and boxes. It is so fun just to play with him! Snacks make the whole experience more fun and we share popcorn. I LOVE that I can shake it off of the blankets and vacuum it up in a snap with no mess or fuss. Plus, there are flavors to please everyone including healthy, plain popcorn! Pop Secret popcorn is your perfect snack companion on trips into the uncharted reaches of your imagination.
We decided to make an Outer Space Pop Secret Mission fort for the Pop Secret contest on facebook. We wanted to share it with you so that you can have fun with your child, explore your creativity, and win fun prizes and rewards just by sharing a picture of your fort on facebook! Snap a photo of your child's fort and upload it  to the Pop Secret facebook page. Go there now to get a $1 off coupon to buy your child Pop Secret Popcorn for your fort building adventures.

[tweetthis]Outer Space Kids Fort ideas, coupons & contest http://ooh.li/6cfe469 #PopSecretForts #sp [/tweetthis]

We have some important secret tips for making forts: 
use couch cushions for sturdy walls and padded floors
use lightweight tension rods to drape blankets in doorways
confine healthy snacks like Pop Secret Popcorn to the fort for less mess and more fun
let kids decorate poster board or rolls of paper to create themed backdrops (like we did with the space theme)
play with your kids to build relationships and create lasting memories
make certain that forts are safe and supervise your children at all times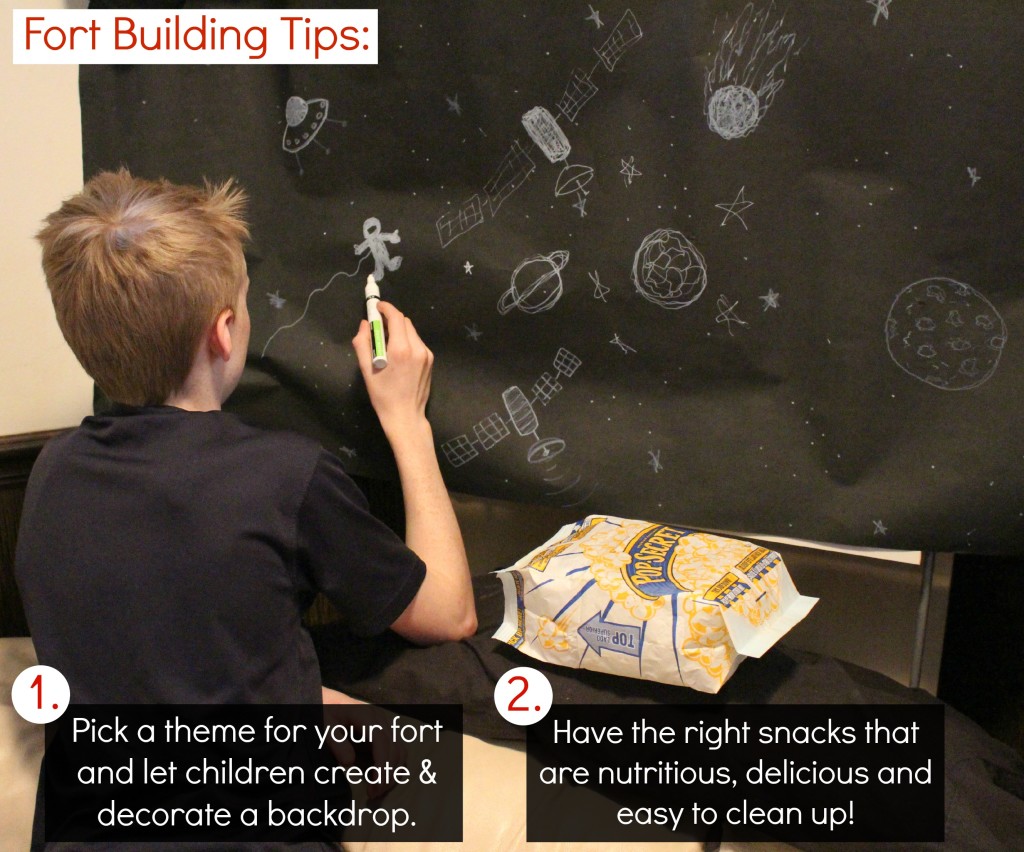 Need ideas for your fort?
A fort can be:
a secret hideout to read stories together with flashlights
a mysterious cave filled with hidden treasure
an underwater cove filled with sea creatures
an igloo in an arctic landscape
a camping tent in the wilderness
a bear's den
an ancient pyramid
a submarine
the Batman Cave
a hollow tree where fairies live
a girls only club
a space ship
The underground world of Teenage Mutant Ninja Turtles
a minecraft cave to stay safe from creepers
a special space to read and rest or stream a movie
Pop Secret knows that fun, like popcorn, is better when it's shared. Send Pop Secret your pillow fort stories and pictures on Facebook. You can upload them right to the Pop Secret timeline and tag them #PopSecretForts. They might just share a little something back!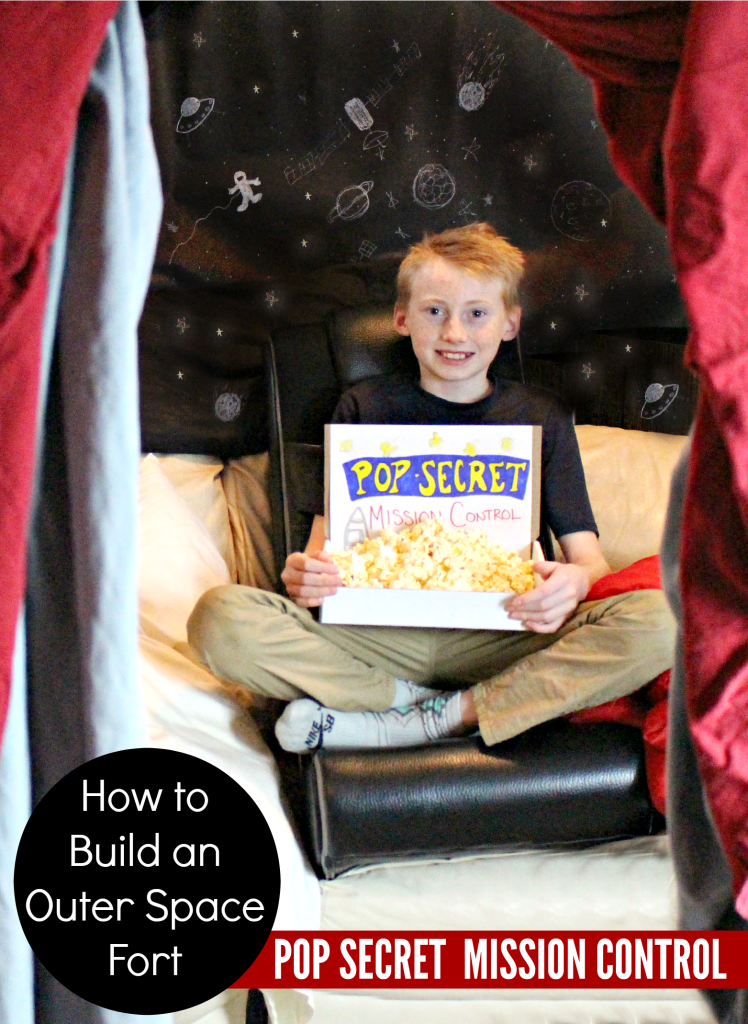 GET A $1 OFF COUPON FOR POP SECRET POPCORN (HERE)