*This is not a sponsored post but does contain affiliate links. I was not compensated by Swap.com. All opinions belong to jenny at dapperhouse.
I donate a lot of things after we are done using them. I try to donate to places that distribute to free to families in need. I also donate to organizations who sell my items in second hand stores. I came across Swap.com and thought that perhaps this time around, I would try and sell some of our items to see if we can make money to buy the new clothes and items that my son needs. I reviewed of the entire process start to finish and am sharing my experience with you. Lets do this!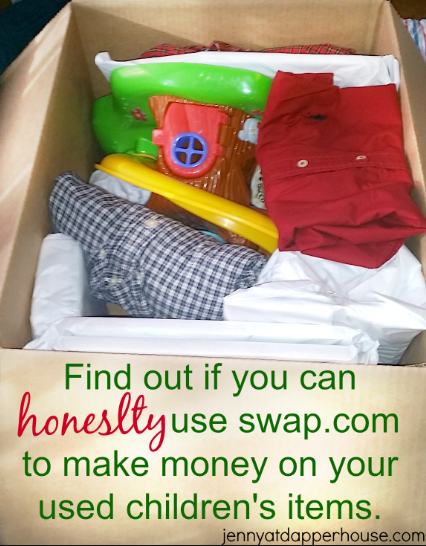 Today I came across Swap.com and decided to give it a try. I went on their site and learned how it works.
"Buy, sell and swap pre-owned kids' stuff! Swap.com Valet Service is the easiest and safest way to trade baby and kids' toys, clothes and gear."
I also found this statement on many pages of their website that makes me very hopeful; "Sellers earn an average of $150 with each box they send in". Really?? That is a lot of cash!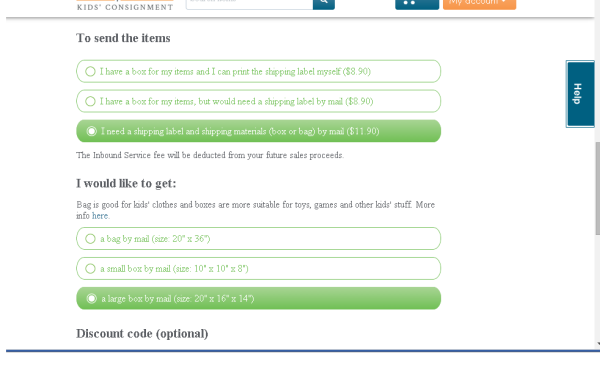 I ordered a box and a shipping label (in the last week of December) and I am already in debt to them for $11.80.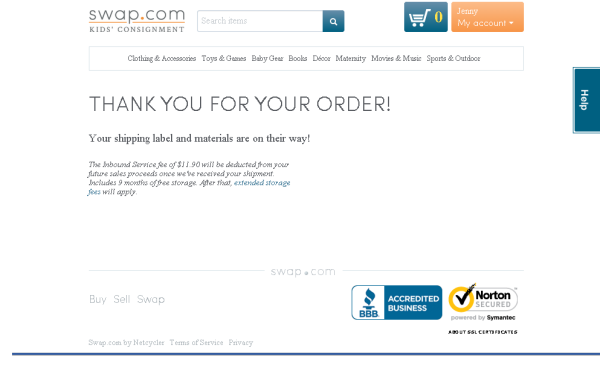 I got a follow up email immediately outlying the criteria for donations. This takes all the guess work out of the process and assures that the items I send will be accepted.
There is a ton of support with swap.com.
Step 2:
I got the box and label within 3 days – really fast. I filled it with our gently used, great condition items.
TIP: You have to have packing tape for the box. All the directions are on their website with pictures.
My big ticket items were:
3 Ralph Lauren oxford shirts for boys (new $45 each)
Weeble Wobbles Tree House with characters (new $70)
Melissa & Doug Wooden Train (new $15)
2 Melissa & Doug Sounds Wooden Puzzles (new $12 each)
Then I added lots of books, games, puzzles and toys all in like new condition.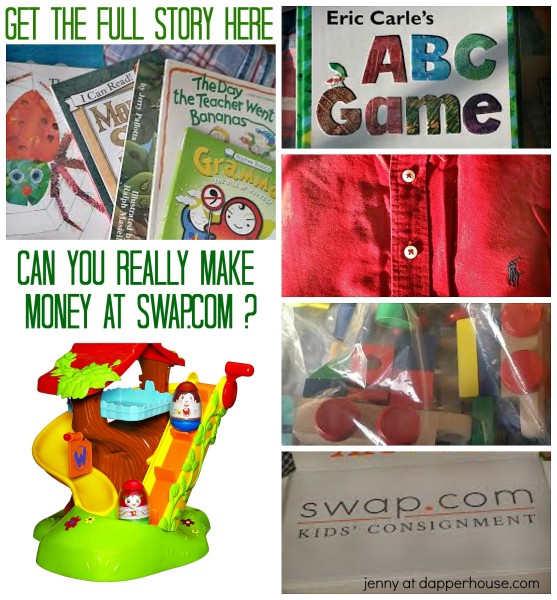 Step 3:
I shipped the box out at the UPS store near me on January 6th.
TIP: Get a receipt from the UPS store (I did)
Now I wait for their response!
Check back for the results!! I have my fingers crossed that this will go as well as they promise on their website. While you wait with me for the follow up, you can check out their site for yourself. Come back and tell me what you think in the comments.
Too good to be true?
Have you used swap.com before?
You can follow me on facebook and twitter for udates. You can also sign up for free emails when a new post is published so you dont miss a thing. (The links to social and emails are in the top of the right hand side bar) Thanks!