*This is not a sponsored post. Content and opinions belong to jenny at dapperhouse.
I love making fresh food and fresh drinks. A little bit of work can certainly pay off when it comes to flavor! This recipe is for a fresh Strawberry Lemonade Rum Mojito that will make you think you are partying on a tropical beach! This recipe is really pretty easy to make and much too good to pass up! I guarantee you will be back to get this recipe more than once. (So bookmark it.) Cheers to warm weather and chillin' out!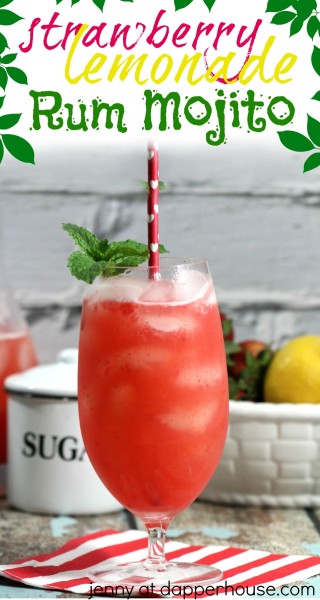 Ingredients
1 C fresh squeezed lemonjuice
1 tsp fresh grated lemon peel
2 C water
1 C sugar
3 C fresh strawberries.
4 Sprigs of mint
fresh strawberries or mint sprigs for garnish
Your favorite white Rum
Directions
1. Hull and puree 3 C of fresh strawberries.
2. Add the water and sugar in a cooking pot and heat until it reaches a boil.
3. Reduce heat to medium-high and continue to boil.
4. Add lemon juice and the grated lemon peel.
5. Allow the combination to simmer for one minute.
6. Remove the pot from the heat and set aside to cool.
7. Pour the mixture into a pitcher through a strainer.
8. Add the pureed strawberries to the pitcher.
9.Stir well.
10. Refrigerate until cold. Or add ice and stir.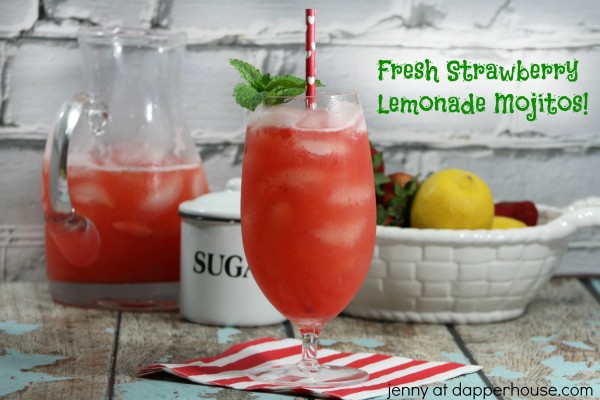 Serve
In each of 4 glasses add ice, a sprig of mint and a shot of rum.
Using a muddler (or the back of a wooden spoon), muddle the mint just enough that it will infuse a hint of flavor into the alcohol.
Pour the strawberry lemonade into the individual glasses and garnish with a fresh whole strawberry or sprig of fresh mint!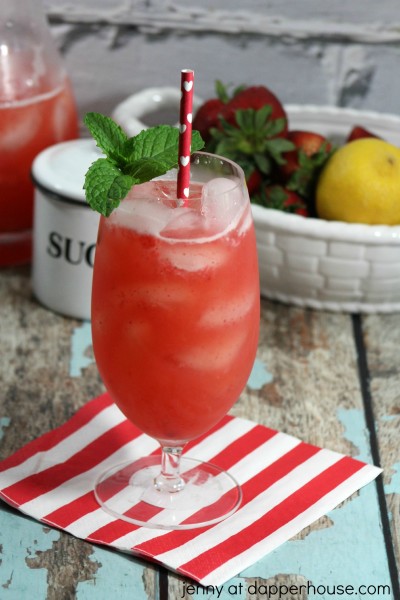 CHEERS to the warm weather!