*This is not a sponsored post. All opinions belong to jenny at dapperhouse. 
When my husband and I came home after having kidney surgery we had so many wonderful people come to our aid during recovery. People brought us meals, gifts, flowers and treats! It made us feel so loved and blessed! We are incredibly thankful to have such wonderful friends around us. We appreciated the help and the thoughtful gifts. Once we began to feel better, it was time to show our sincere gratitude with a thank you gift. One of my favorite treats to myself is homemade, healthy salad dressing with fresh ingredients. I instantly thought that my health conscious friends would appreciate something delicious and nutritious.  Here is how you can replicate this gift at home for any occasion!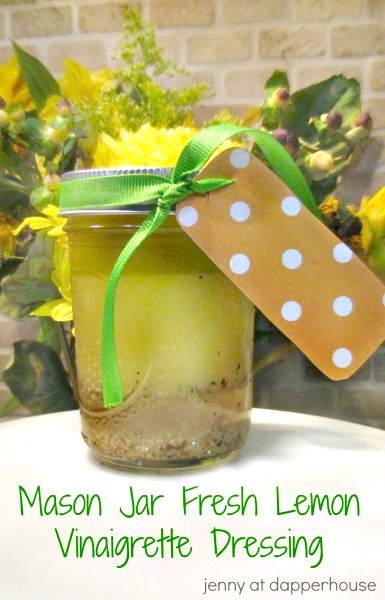 Fresh Lemon Vinaigrette Dressing
Ingredients:
1/4 tsp. lemon pepper
1/4 tsp. cracked pepper
1/2 tsp. fresh garlic
1 tsp. sea salt
1/4 tsp. dried mustard
1/4 tsp. marjoram
1/4 tsp. basil
1/4 tsp. oregano
1/4 tsp. red pepper flakes
1/2 cup fresh lemon juice
1 slice of lemon for each jar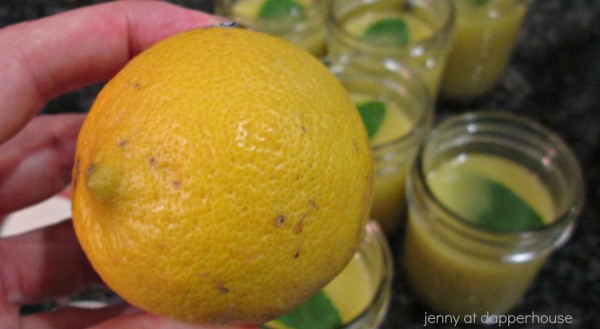 Fresh basil or mint leaves for each jar
1/4 cup white wine vinegar
1/4 cup apple cider vinegar
1/2 cup extra virgin light olive oil
1/4 cup extra virgin olive oil
1/4 cup canola oil
1 cup water
Mix all ingredients in a large bowl and mix well or whisk. While mixed, scoop and pour into the jars to evenly distribute ingredients.
Add a fresh slice of lemon and a basil or mint leaf to each jar.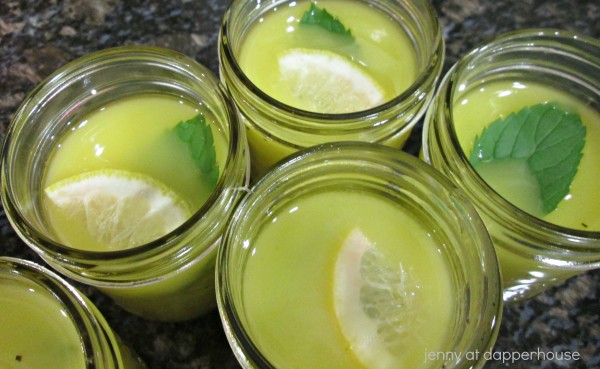 To Prepare the Jars:
You will need:
small mason jars
decorative paper
ribbon
gift tags
chalk board sticker labels
white paint pen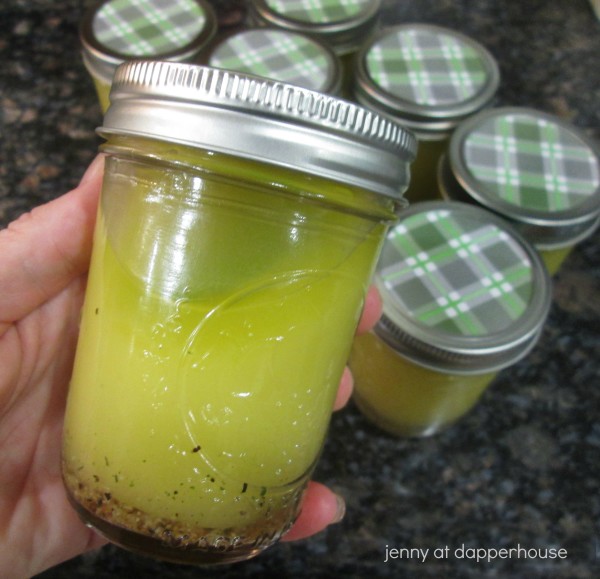 HOW TO: 
Remove the lid from a mason jar.
Lay it on the decorative paper and trace circles for the tops pf the jars.
Cut out the circles. Set aside.
Lay out your labels and using the paint marker, write your greeting such as "Thank You" as I did.

TIP: Write the words before you put the labels on the jar lids in case you make a mistake and have to use a different labels.
Put the stickers on the paper circles.
Put the circles into the lid. (tighten the lids well)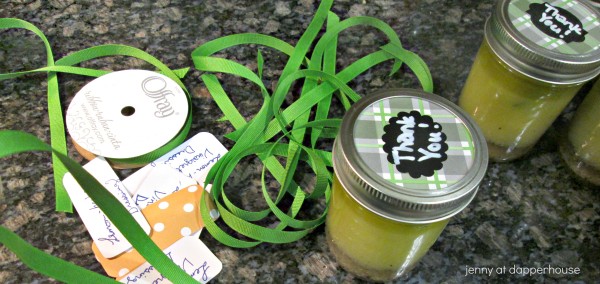 Fill out your label and attach it to the ribbon.
Tie a ribbon around the jar.
And….voilà!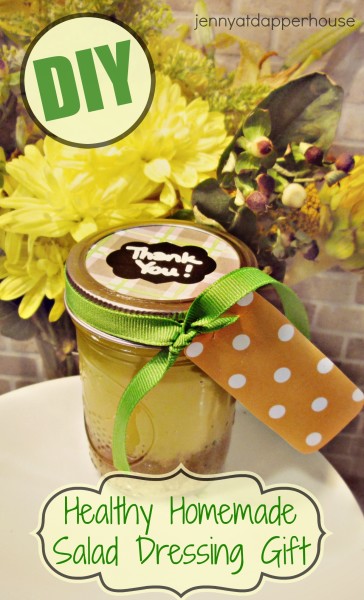 The list of ingredients may look a little long or intimidating, but it is really easy to throw together and mix! I guarantee you will love the natural flavors and fresh ingredients. Give it as a gift and make someone smile!
What is your favorite, fresh veggie to add to salads?