*This is not a sponsored post. This post does affiliate links. Content and opinions belong to jenny at dapperhouse.
Today's featured DIY Project is how to turn Your Terra Cotta Pots
into Glamorous Planters! It is an upcycle project where I literally turned garbage into glam with a few inexpensive supplies and a small amount of time. The best part of this project is that you get to customize it to your colors and designs. It is easy enough for older children to do as well! SO have fun turning creating beautiful indoor pots for your plants that have some serious personality!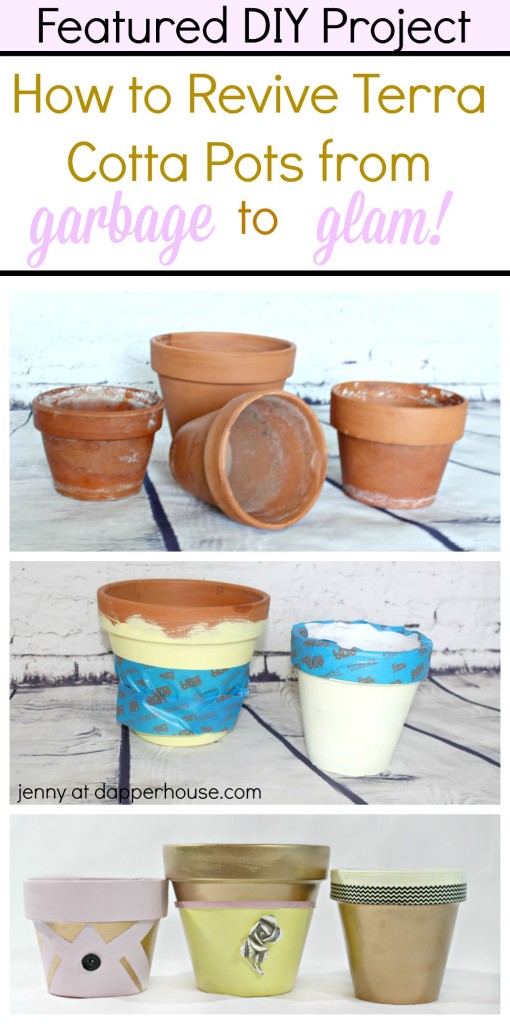 What You Will Need
terra cotta pots
painters or masking tape
various paints (acrylic and or spray paints)
paint brushes
craft glue (I prefer E6000® Craft Glue
for this project)
Embellishments such as washi tape, ribbon, lace, vintage broaches, craft gems, etc.
Tutorial
Step 1 – Wash your terra cotta pots with warm, soapy water. Scrape or scrub off all dirt and grime. Let the pots completely dry.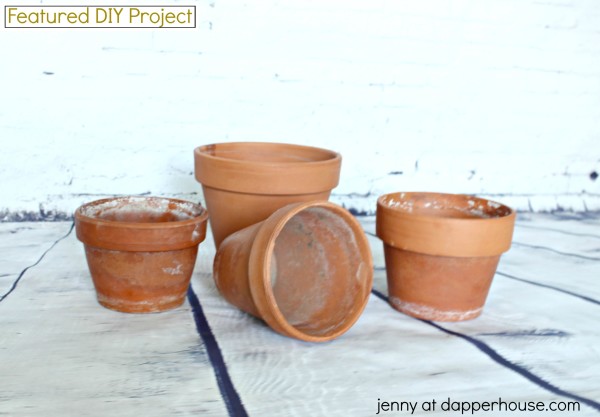 TIP: While the pots are drying this is a great time to get your ideas together and make sure you have all of your supplies. I like to sketch out some ideas and take notes of colors and designs that I wish to use.
Step 2 – Paint the pots in the base colors. You may want to leave some of the natural terra cotta showing through. You may want to do various colors on one pot. Let dry completely.

Step 3 – Add the painter's tape to your pots to create the designs that you wish to achieve. I chose to do horizontal stripes for a minimalist look on two, and a trendy astec type design on another.
Step 4 – Carefully paint your second colors onto the pots being careful to not let the tape come up so that you will keep your clean edges. Spray paint is a great choice if you have a lot of uneven surface where paint might bleed under the tape. Let paint dry completely once finished.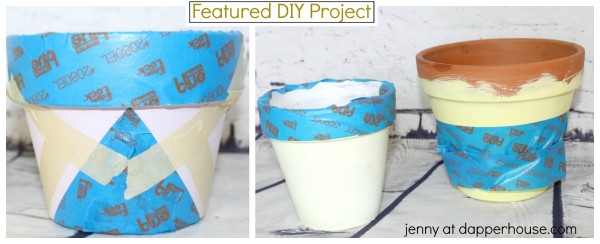 Step 5 – Remove and add tape as needed to complete your design. Repaint and let dry. Once your layers of painting are complete move to the embellishment step.
Step 6 – Time to embellish your pots with whatever you think will look good. I used black and white washi tape on one, pink washi tape and a vintage brooch on another and a layered sticker from an old card that I painted black on the other.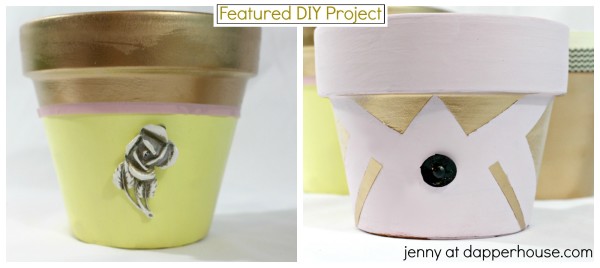 I also love the ideas of gluing lace or ribbons around the pots. Bows, fake flowers, gems and jewels, polka dot stickers, printed chipboard, chalk board labels. . . there are so many options!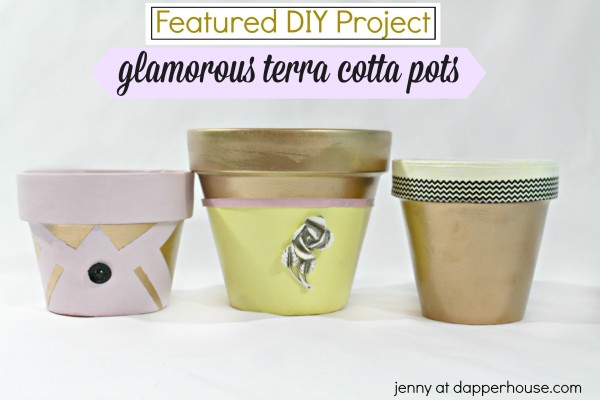 I filled my pots with green flower foam and some fake flowers because I will be traveling a lot during the summer and don't want to neglect live plants. But, once fall comes around and we are back in our daily routine, I will of course use some lovely real plants and flowers in these Glamorous pots!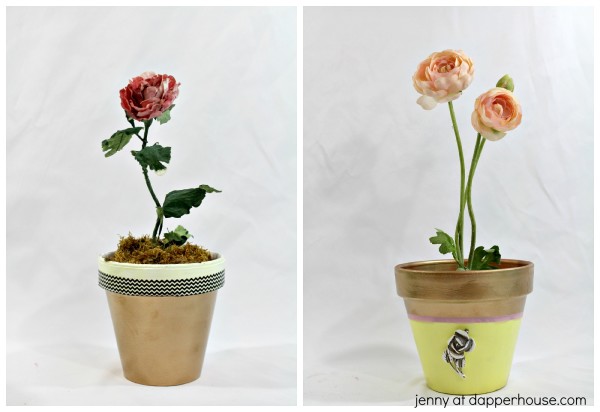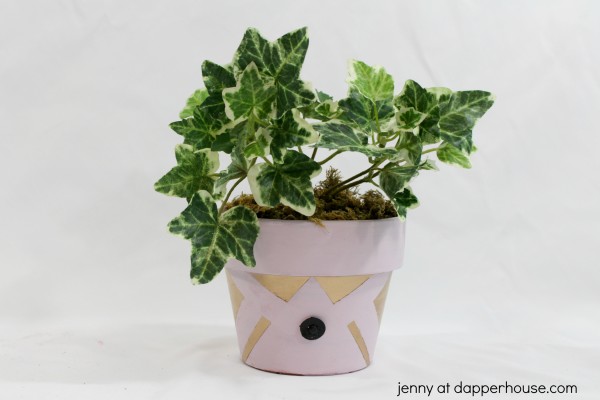 Here are some Click to Buy Ideas for embellishments from Amazon:

What ideas do you have in mind for decorating your terra cotta pots?