*This is not a sponsored post. All opinions belong to jenny at dapperhouse. 
I love fresh and healthy foods, especially when they are fast and easy to make! The following recipe for guacamole is all of these. It will make enough to serve two to four people depending on how hungry you may be. I like to make it as a snack but also as a topping for other foods.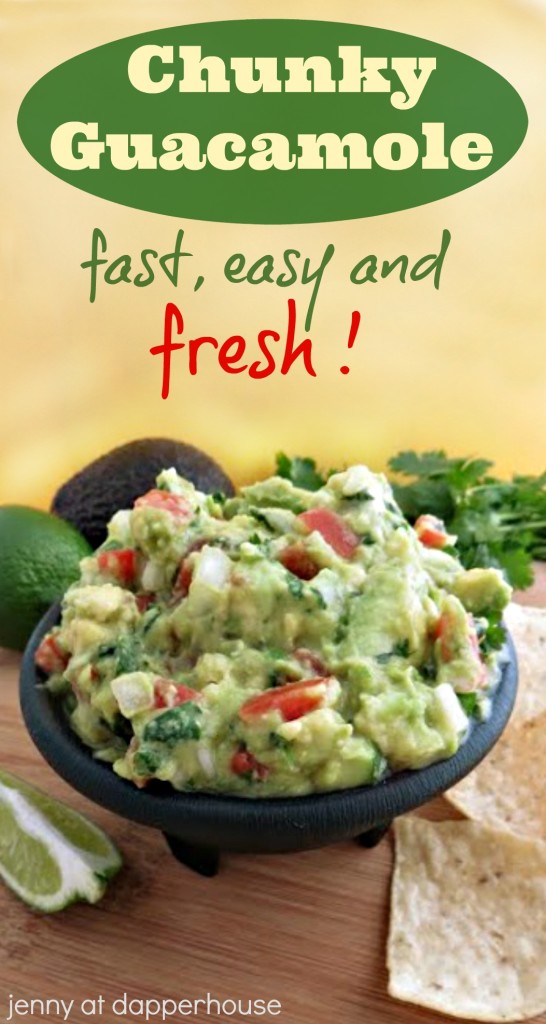 You will need:
 4 avocados – peeled and pitted
 1 lime, juiced
 1 teaspoon salt
1/2 tsp freshly ground black pepper
 ½ cup diced onion
 3 tablespoons fresh cilantro, chopped
 2 roma (plum) tomatoes cut in fourths lengthwise
 1 teaspoon minced garlic (fresh or jar)
 1 pinch (or more) of cayenne pepper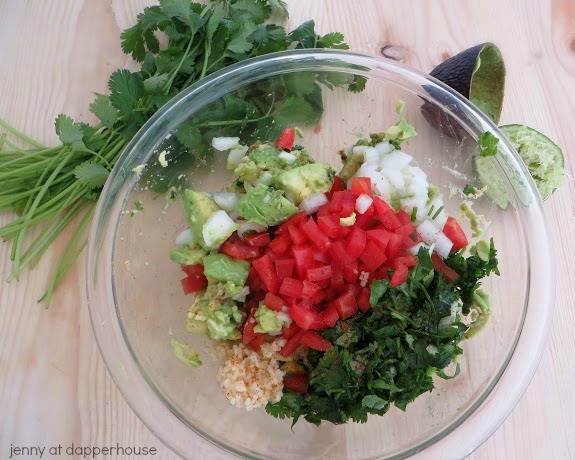 Directions:
1. Place avocado in a medium bowl. Using a sharp knife, slice it into large chunks about an inch square.
2. Add lime juice, salt, black pepper, cilantro, tomatoes,garlic and cayenne pepper into the bowl. Use a wooden mixing spoon to gently combine ingredients, by turning it gently in the bowl. Do not over mix or smash avocado chunks. Serve with tortilla chips for a healthy snack, or use as a topping for other foods like meats, eggs, veggie burgers, sandwiches, quesadillas or mac-n-cheese!

Have you ever used guacamole as a topping for other foods?