*This is not a sponsored post. All opinions belong to jenny at dapperhouse.
I love mason jars and I hope that they never go out of style. I wanted to make some pretty, seasonal lights for the winter holidays and instantly thought of mason jars! I went to the dollar store to look for some greenery and found that they were selling mason jar knock offs. I didn't love the idea if using an imposter BUT, they are lighter weight for hanging and it saved me a trip to another store. (So we will all have to deal with it.) I love how these turned out and I know you will too. An awesome feature of these lanterns is that they can be set out to illuminate stairs and walkways and they can be used for indoor decorating too. These are going to look beautiful when I bring them indoors for a centerpiece at the dinner table! Lets get started.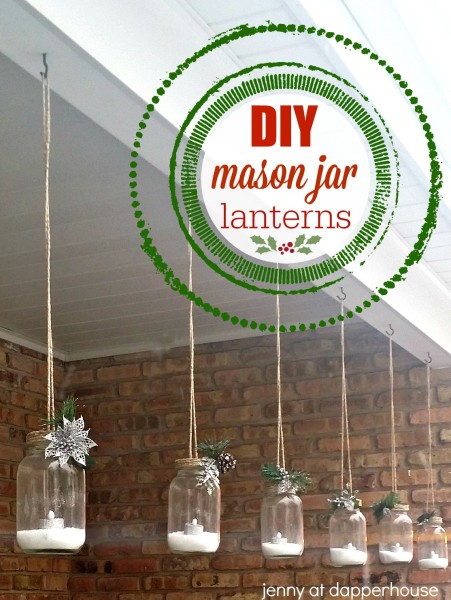 You will need:
hot glue gun & glue sticks
scissors
large nail or phillips screwdriver and hammer
twine
paintbrush
glitter glue
seasonal greenery such as pine cones, pine branches, holly leaves and berries, etc.
adornments such as jingle bells, bows, flowers, ornaments, etc.
battery powered votive candles
salt (I used epsom salt)
mason jars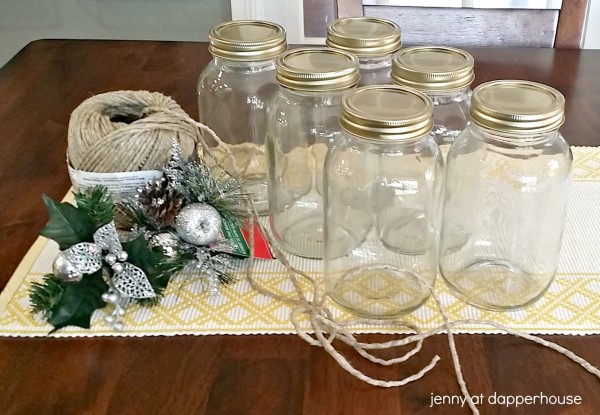 How To Make the Lanterns:
Use the nail and hammer to poke two holes in the top of each lid. This is where you will use the twine to hang the lantern. If you are going to use these lanterns on stairs, walkways or as home decor, you can skip this step.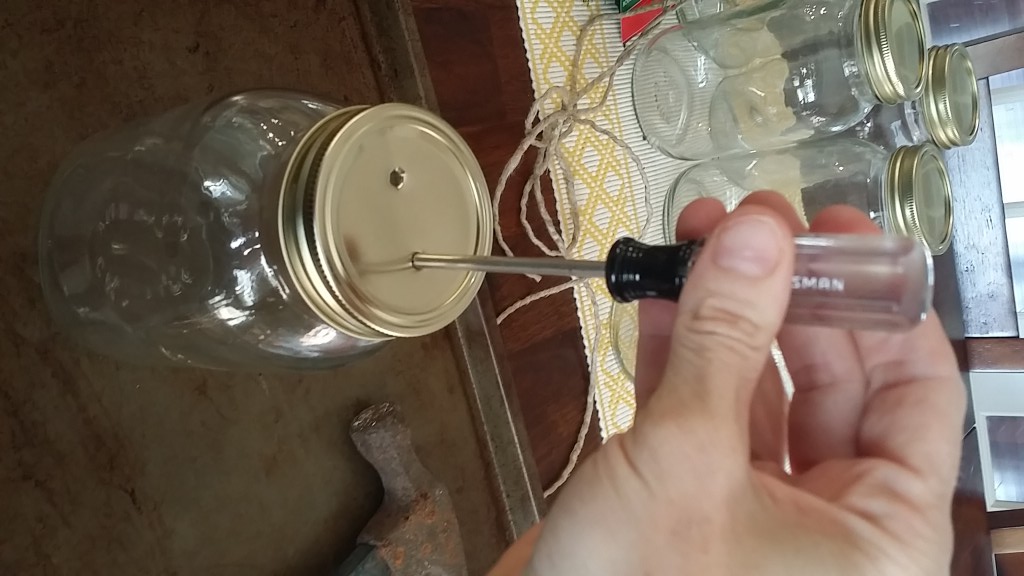 Using the hot glue gun, wrap and attach the twine around the edge of each jar lid.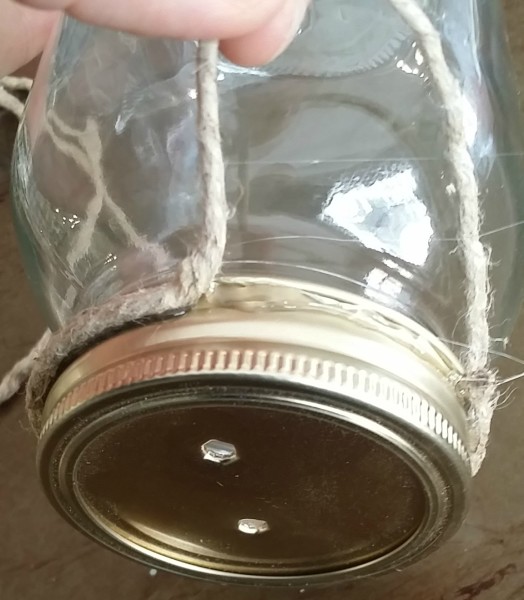 When it is wrapped, just cut the end and seal it with a dab of glue. It will look like the photo below.
Repeat for all lantern lids.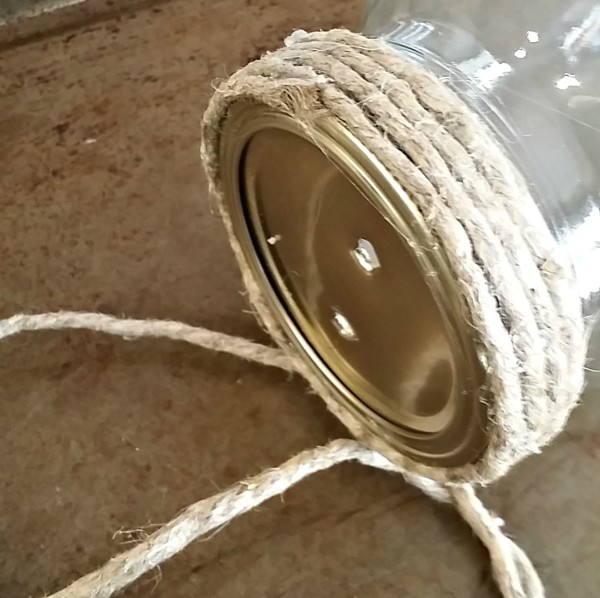 Next, measure a piece of twine that will allow you to hang the lantern at the perfect height. You must allow approx. 4 extra inches to tie the knot underneath.
Cut as many of these strings as there are lanterns so that you have them all the same size.
Thread the twine through the lid so that the ends are sticking through the inside of the lid.
Tie the twine is a solid double knot and seal it together with the glue gun so it does not come undone. Snip the ends with the scissors.

Repeat this for all the jar lids.
TIP! You must remember to measure each one (before sealing the knot) to check that they are going to hang at the same length. If this is too stressful or difficult, make them all various sizes. Then hang them up like you meant it them to be at irregular heights! That will look cool too.
Use the paintbrush to apply a layer of glitter glue to the inside of the jars to reflect and illuminate the light. I did a thin layer and faded it halfway up the jar, but you can do as much or as little as you like.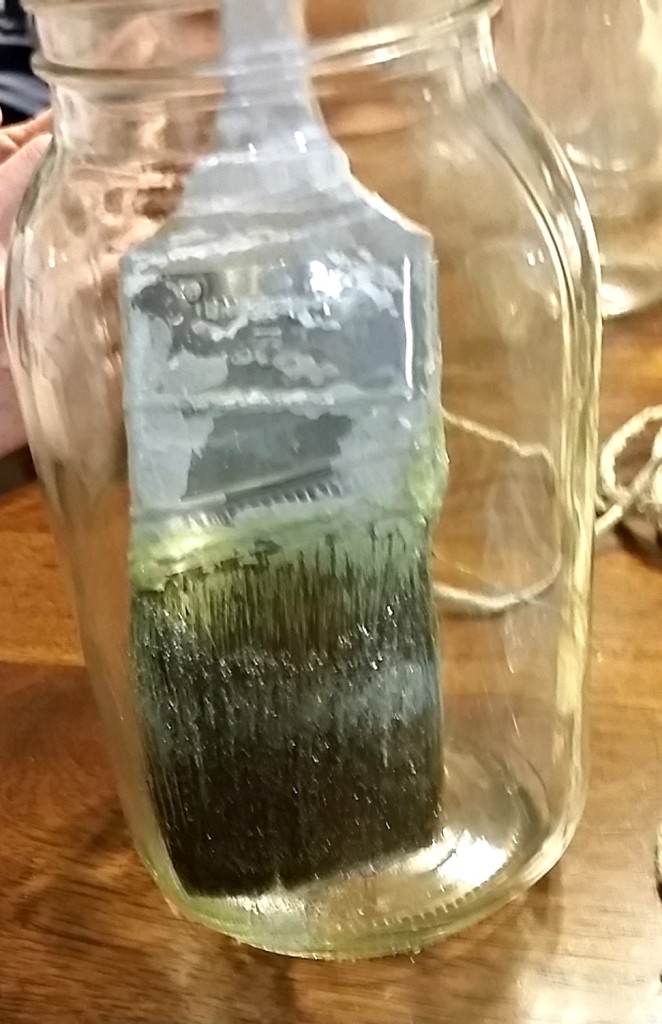 Now it is time to decorate! Get your glue gun and your decor elements and get crafting! You can do one side like I did or go all the way around the lid. It is up to your crafty intuition.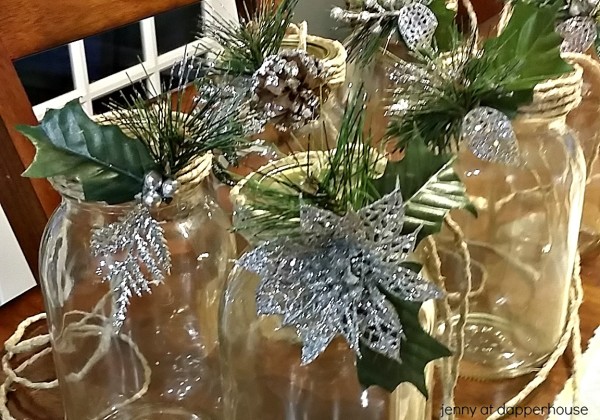 If you are using these for a centerpiece it would look nice to have at least two opposite sides done to accommodate both sides of the table.
Once the glitter glue inside is dry, add some salt to the bottom to represent snow. Drop in a votive candle and voila! You are done.
Where would you use these lanterns to decorate your home?