*This is not a sponsored post but does contain affiliate links. Opinions and content belong to jenny at dapperhouse unless credited with a link and or photo to original site.
YAY Summertime! When my children were younger this was my favorite time of the year because we could spend time together doing everything from visiting museums, to making popsicles to doing crafts to swimming and all of it right in the middle of the day when they would normally have to be in school! You can search my blog for some wonderful activities for you and your child to do together during the summer or anytime, and here are a few from some other bloggers that I had to share! Have fun enjoying the time with your little ones!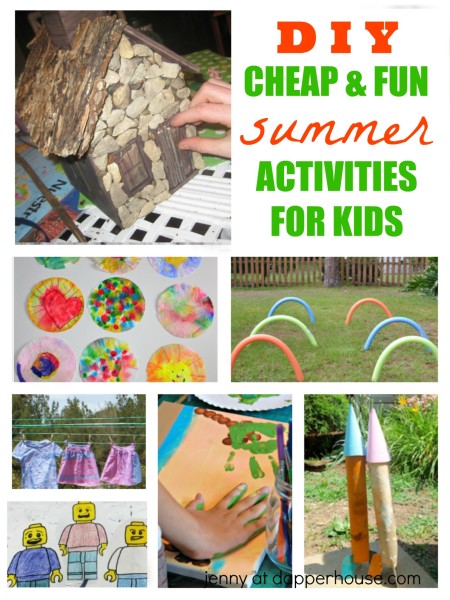 Easy Beach Art for Kids // by Embark on the Journey
How To Make Rockets Out Of Paper Towel Tubes // by How To Have It All
Want to extend the fun for everyone? Have a craft party or set up regular playdates for kids and parents to gather together for some fun crafts and socializing!
Milk Carton Upcycle Birdhouse // by Jenny at dapperhouse
Pool Noodle Hurdles // by A Few Shortcuts

Glow In The Dark Bath Paint // by Raining Hot Coupons
4th of July Popsicle Flag // by Quirky Inspired
Make a Living Fairy Garden // by Jenny at dapperhouse
Coffee Filter Suncatchers // by Artsy Momma

Ladybug Coasters // by Quirky Inspired
Recycled Bottle Planter // by Organized 31
Kids really do take a lot of pride in creating. Making something useful that can be admired and talked about over time is especially important for self esteem and motivation to engage in more creative and hands on activities! Recycled planters are perfect for summer because they can care for their plant each day. Tie Dye is fun because they can wear their finish product and show it off to many people!
Tie Dye With Kids // by 30 Minute Crafts
Lego Minifig Target Game // by Jenny at dapperhouse

Summer is a great time to set up pen pals with kids. Whether it be a friend across town, a cousin in another state or a new friend in another country, good old pen pal skills are still good experiences to have and fun to anticipate in the regular mail. Here are some fun DIY envelopes that your kids can make to send mail this summer!
Handmade Map Envelopes // by Spend With Pennies