Imagine my surprise when I looked at the calendar this morning and freaked out because it  is already December 5th!! With Thanksgiving being late in the month it feels like I am missing time that I need before Christmas. My Personal Handy Man (hubby) already put up our pretty outside lights but I have done NOTHING inside. I have to get it done ASAP and it has to be Fast and Easy!! So I am taking the Thanksgiving Decor that I did last month and simply changing it to a different theme. You can get printables of everything that I did for FREE – the "Merry Christmas" banner and the holiday pics as well. Here is a quick tutorial, photos and the free downloads. MERRY CHRISTMAS! (HURRY! GO!)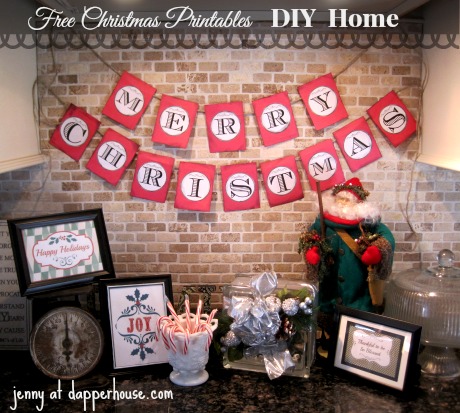 I went online and made my own letters and pictures. I measured them ,saved them to pdf format for you and then I got everything printed out . . .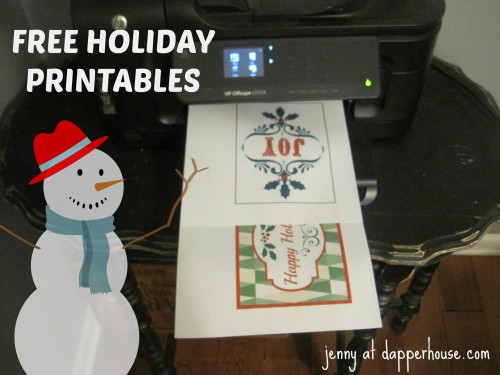 Cut everything out! Don't forget to cut out whatever paper you are going to use for the banners too. I used squares of red construction paper from the kids art cupboard but scrapbooking paper would look really pretty.
The banner letters are about 3 inches across. The decor pics are 5 x 7 and if you made the Thanksgiving printables from last month you can just swap them out! (I am using cheap-o frames but I plan to get some pretty ones soon!)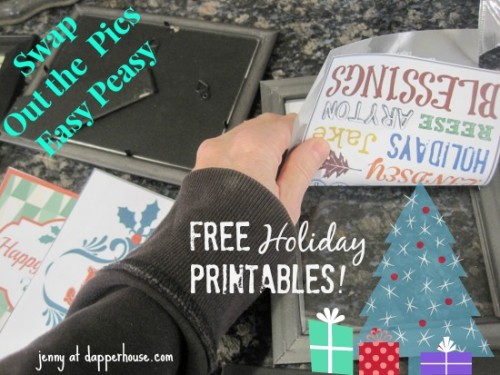 Now for the banners! You can use your craftiness to make them any way you like. I prefer a vintage touch to things so I used an ink pad to darken the edges of the papers to give it an aged effect.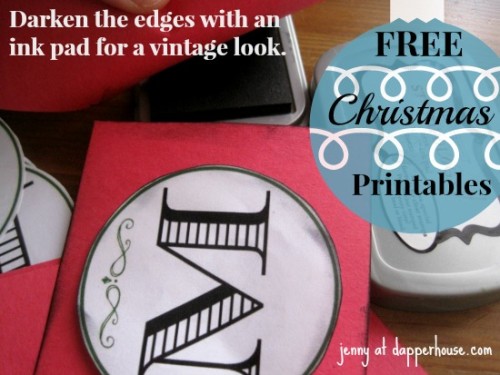 Glue everything together. . .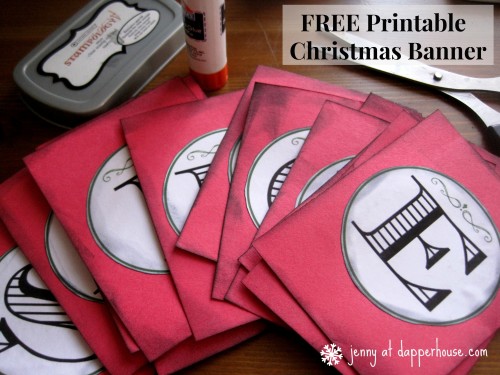 I just taped up the banners on the string that was already there.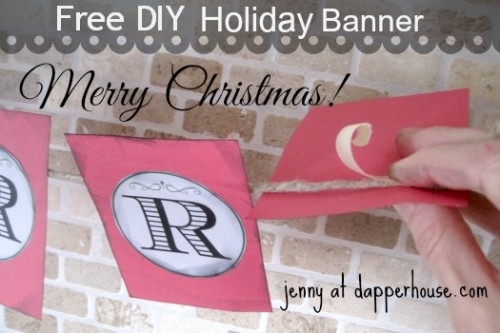 I added a few decorations that I bring out every year. And Ta Da! My home decor is complete. (For this area anyway).   Fast and Easy!
If you make one of these please share it on my facebook page so I can see your Crafty Christmas Creations!
!!!!!!!!FREE PRINTABLES HERE!!!!!!!! *Just click the links*
printable Merry Christmas banner
happy holidays printable 5 x 7