I like to bargain shop on Black Friday so I have been looking at the ads and making my lists.  This weekend I ran up to Walmart to check out the store so that I would have a better idea of where things are located and what will be in stock. While I was in the electronics section looking for things on my list, I happen to see an end cap display for a cheap wireless plan for Smartphones. I thought it was too good to be true but went over to check it out. I FREAKED over their Unlimited Plans for only $40 per month! My eldest son had accompanied me and after we spoke to the helpful and knowledgeable sales associate, he decided to switch to this plan with his existing i-phone 5 because it is $60 cheaper than what he is paying now!!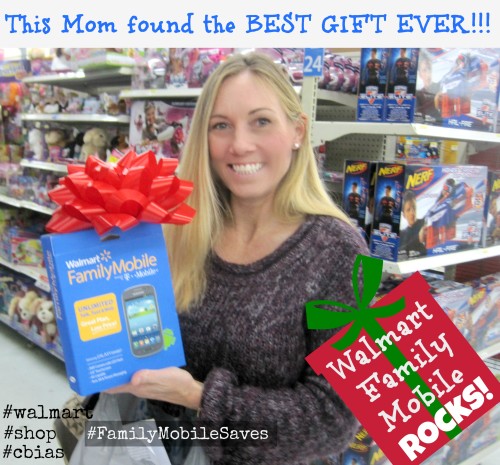 So I have to backtrack a bit here. My husband and I have had numerous conversations over the past 6 months about getting our tween son a cell phone. Life is busy and it would help our entire family out if the tween had a cell phone too. Not to mention that because of his age he is spending more time away from home and we want him to have 100% access to his family at all times. ( I want to have access to him 100% as well.)
My husband wanted to get our little guy a Smartphone for Christmas. Our tween has already had an ipod touch for a year and has been responsible with it. The ipod touch can do everything that a cell phone can but doesn't allow calling! So, it just makes sense to find him a cheap wireless plan.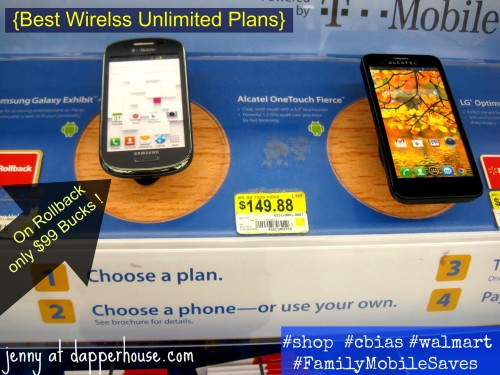 I decided to take a look at the phones that were available with the Walmart Family Mobile Plans. Turns out that you can use your existing phones like my older son did, or you can buy their new phones starting at only $30. I chose a mid-priced Smartphone called the Samsung Galaxy Exhibit because it had all the cool features that are important to kids these days.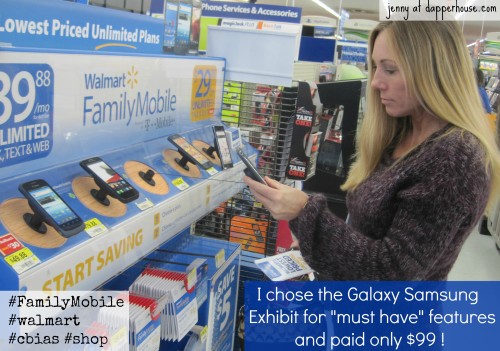 Then for the plans. The UNLIMITED PLans (talk, text & web) was the lowest priced rate plan I had ever seen for only $40 per month!!! There is a $29 Talk & Text Option too!!! Best Wireless Plans EVER!! ( I am even changing my personal cell phone plan over to this ASAP.)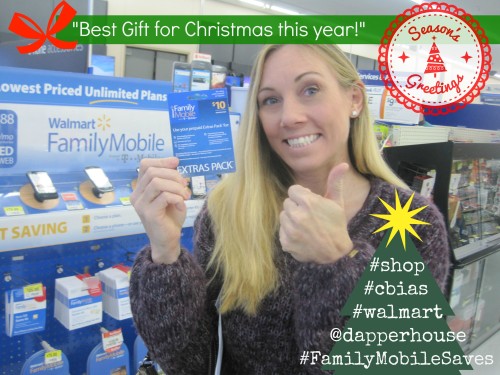 So, I called my husband and let him know about it. He was on board and made a great point that because the phone is pre-paid we won't have to deal with the outrageous "accidental" charges that surprised us every month with our first two kids. And I thought the it would be a great lesson in finance and responsibility for our little guy to help earn the payment for his phone bill each month as he sees his older brother and sister pay for theirs.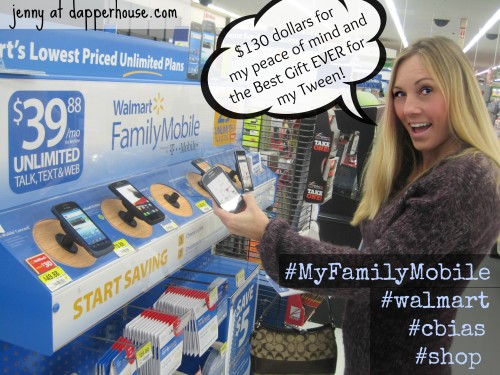 At first I was excited and kind of disbelieving. I asked a LOT Of questions about the TOS and plan and I got my answers. Once I was actually at the counter paying for the phone and plan I was ELATED that  this "good" decision had only taken me 20 minutes and only cost me $133. WOO HOO!!! Fast, Easy and Inexpensive just the way I like it! (Best Wireless Plan EVER!)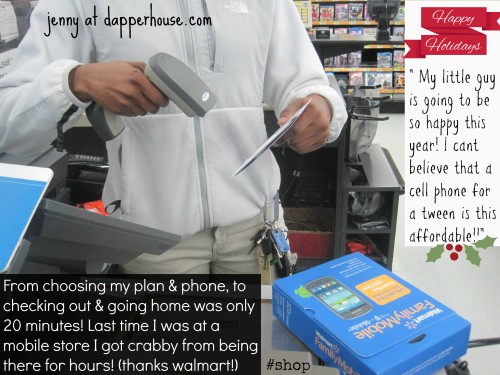 Even writing this I am floored that I got an an the Lowest Price Rate Plan AND a smartphone for this cheap. I can hardly WAIT to see his little face when he opens this on Christmas! This is why I love Christmas!! seeing the looks on my children's faces when they are feeling happy & blessed!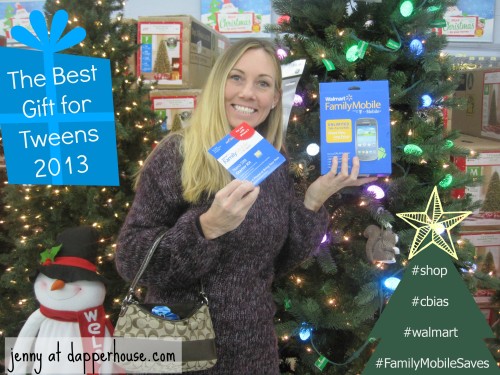 I am really relieved that I took care of the big gift for my youngest son. Here is what's left for me to hunt down at Walmart on Black Friday. . .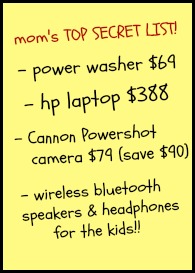 (The Power Washer is for my husband who has ALWAYS wanted one. The camera is for me because mine is old and broken and I HAVE to have it for both my jobs. Oh, and the laptop is for me because again, mine is old and broken and shuts down every 20 minutes. The screen is broken and the letters are worn off. So I need some great deals!) Merry Christmas to ME!
You can See my Shopping Adventure in my Google + Photo Album!