*This is not a sponsored post. This post does contain affiliate links. All opinions belong to jenny at dapperhouse.
I wrote a post when I first decided to try Swap.com to help others decide whether or not to use their service for selling used kids clothes, toys and other items. (You can read this post here.) A month after the process I can say that I am extremely satisfied with Swap.com. From start to finish, they make it more than easy to sell your things. They send e-mail support, tips and promotions. You get an email and a payment each time an item is sold. I love using swap.com and I am already planning to use them again! Here is how it all worked out!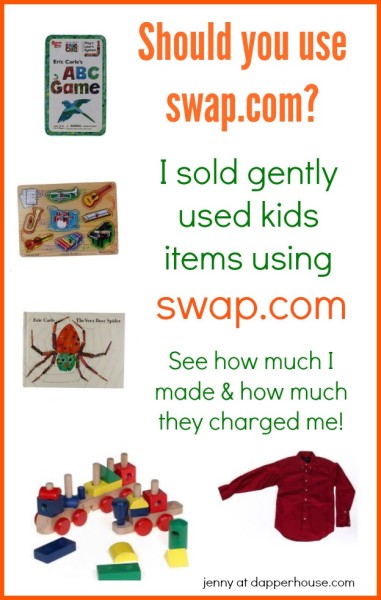 I had a $12 fee that I owed them for the box they sent me.
Then there are selling fees are deducted from each item that was sold. The Selling Fee is $1.00 + 20% of the sales price of the traded Item(s) and it is charged from the seller when the sales price is transferred. In addition, any fees charged by payment facilitators (such as PayPal) may be charged from the seller.
I think that not having to photograph, inventory and list my own items on a selling site is totally worth the selling fees charged by swap.com.
I listed some big items and some smaller ones.
Most of the bigger items have all sold:
1 Ralph Lauren oxford shirt for boys
(new $45) SOLD $7 / PAID $4.60
1 Ralph Lauren oxford shirt for boys
(new $45) SOLD $7/ PAID $4.60
Weeble Wobbles Tree House with characters
(new $70) SOLD $25/ PAID $4.60
Melissa & Doug Wooden Train
(new $15) SOLD $8/
1 Melissa & Doug Sounds Wooden Puzzle
(new $12) SOLD $7/ PAID $4.60
1 Melissa & Doug Sounds Wooden Puzzles
(new $12) SOLD $7/ PAID $4.60
Happy Birthday Bad Kitty
(new $7) SOLD $3/ PAID $1.40
Eric Carsle ABC Game
(New $8) SOLD $5/ PAID $3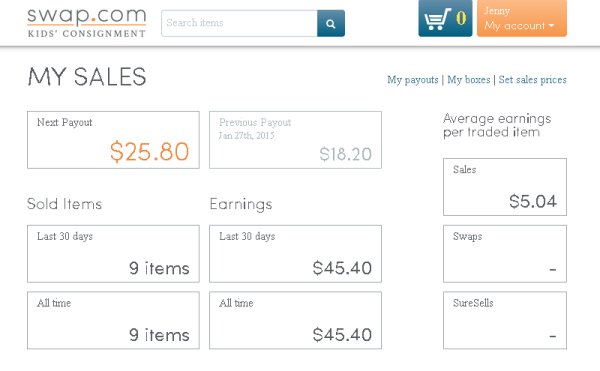 I have 15 items left to sell. Mostly books, then a button up shirt and a musical puzzle. The lowest price that you are able to list books for is $3 which is the price I listed all mine for.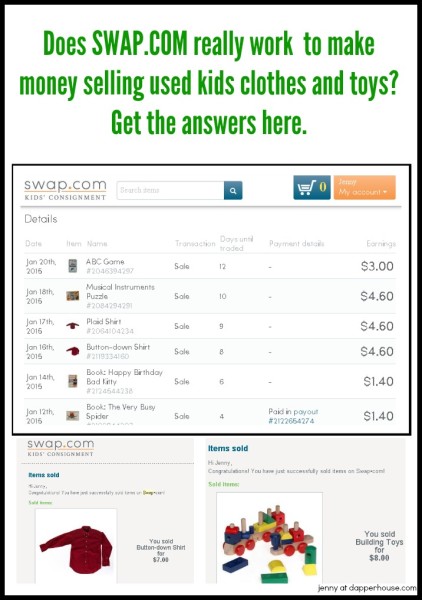 All in all I believe that swap.com is 100% worth the money. Perhaps selling to a local consignment shop would be good to avoid the original shipping fees, but for selling online I think it is a good deal. If I had time to sell the items myself on a site such as ebay, I may look into the fees and decide it that would be better, but for a person as busy as me, swap.com is a great choice.