Today there are many choices of wallpapers available in the market. Although the trends may come and go, stick on wallpaper ideas never run out of fashion.
However, with changing trends you'd also want to upgrade your home decor. Not to mention these peel and stick wallpapers are perfect for the makeover your home needs.
Check out these brilliant ideas to use peel and stick wallpapers to upgrade your home decor and match up with the latest trends.
Signature Accent Walls
Accent walls never fail to impress. Moreover, these walls are great for grabbing just the attention you need in any area.
You can patterns or textures to highlight a wall, be it in your living room or bedroom. Hang some heirlooms from your family, and your signature accent wall is complete.
You can also choose bright solids on one wall and keep the remaining in pastel shades. It should help bring attention to the area you want to highlight.
Bathroom Makeover
You wouldn't have thought of this idea, but believe us, it's trending.
Wallpapers are no longer limited to the living areas or the bedrooms.
Today, bathroom-friendly peel and stick wallpapers are quite common. You can pick up any bathroom wallpaper design, from herringbone to geometric shapes, and more.
It's the perfect way to improve the room in your home, that's also one of the most private places for all your family members.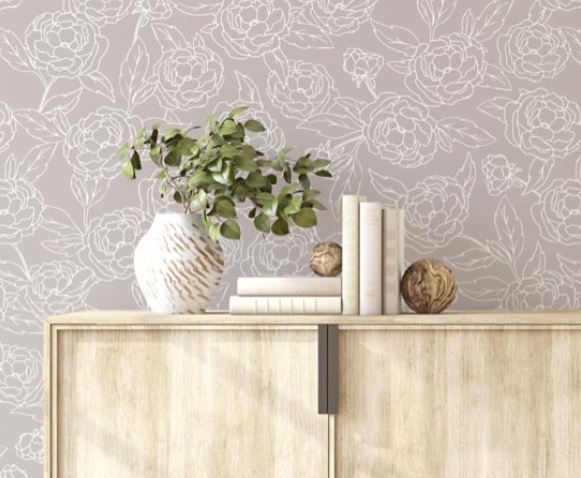 Highlighting Staircase
Yes, there's another latest trend that's fast gaining a lot of popularity. Staircases are no longer just utilitarian. Indeed, homeowners, these days are using staircases to showcase their taste in art.
You can add textures, or use solid designs paired with some of your DIY decor projects.
Imagine, with every step that you or your guests climb, a new feature is highlighted before the eyes.
Thought Of Ceilings Before?
If not, you're about to be amazed. You might have seen ceiling art before, it's surely not a new thing. But what you might not have seen is wallpapers being used on ceilings.
Imagine you get starry or cloudy designs for your ceilings. Simply stick on wallpaper and get ready to be amazed, all day all night.
You can even use wallpapers and coat them with a fluorescent finish. It would surely imitate the night sky in your room. And note that, it's one of the best ideas, especially for your kid's bedroom.
Have Some Good Dining
Your kitchen and dining area is probably the place where all your family gathers up to have some quality discussions. And not to forget the yummy treats that you'd be enjoying with your family and guests.
But, imagine if you could spruce up the boring old shades with new colors? Of course, with the help of peel and stick wallpapers, you'd also be protecting your walls from greasy deposits.
What could be better than enjoying your meal in a bright and happy environment that also increases your appetite?
Whether you believe it or not, peel and stick wallpapers are one of the most economical solutions to spruce up your home decor. And the best part is, with peel and stick wallpapers you don't need any special skill set. You simply peel the cover off, place the wallpaper ensuring the measurements, and it's done.
Peel and stick wallpaper is a perfect choice for making your rental house or apartment feel like home. Add your personal touch, protect the walls and do it all with ease. Then, just take it down when you are ready to move.
So, what are you waiting for? Get your designs and start making over your home like never before.