This is a sponsored post because I was sent some of these products free to try and review. Opinions are my own and content belongs to jenny at dapperhouse. I have added affiliate links to products for you to get more info and order if you wish.
One of the perks of being a blogger is that I occasionally get products sent to me for free to try. Word of mouth is still the best form of advertising and companies hope that if I like something of theirs that I will share it. I don't share what I don't like, but here are some products that I am using a loving right now that I recommend for you to try too! Check out these 5 "Must Have" Beauty & Hair Products for Summer. @dapperhouse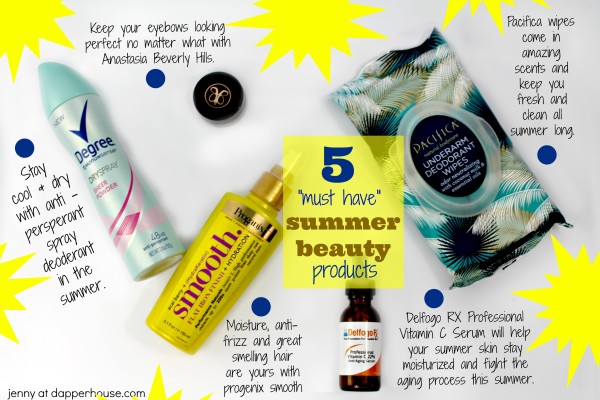 Delfogo Rx Professional Vitamin C 22% Anti-aging Serum – I was sent this product by the company to try out because they know that I use vitamin C serums daily on my face and neck. This one is stronger than I am used to because I feel a little sting when I first apply it. I think that means it is working because I have not had any irritation. This brand is good if you need extra moisture for your skin because it goes on like a rich oil but is instantly absorbed by the skin for a smooth and dry finish. I recommend using this morning and night to nourish aging skin. @DelfogoRx

Anastasia Beverly Hills – Dipbrow Pomade in Soft Brown – My sister got me this as a gift when I visited her and I am in LOVE with the results. I had been using a powder, but this gel is so incredible in the texture and the way it goes on smoothly and in layers that I am ecstatic! It stays really well too so no touch ups or worry about it looking bad throughout the day. I recommend this for beautiful brows. @ABHcosmetics
Degree Motion Sense Dry Spray – The aerosol can is back only new and improved to not damage the ozone! Thank goodness, because I am loving the ease of this spray as well as the completely dry feeling that it provides right away. I have been using it for awhile now and it works fantastically! This Sheer Powder scent is the one that the company sent to me to try and while I don't personally love the powder scent, I love the product so much that I bought the shower clean scent. I highly recommend this for staying cool, dry and stink free this summer. @DegreeWomen

Proganix Acai Berry + HydraKeratin Smooth – Is a fabulous summer hair "must have". It is made to prevent flat iron damage and I do use it for that, but when my hair is dry or looks bad from the humidity, I just spray some on my dry hair, brush through and it looks beautiful. Even better. . . it smells SO good and I love great smelling hair. I recommend this for moisturized and frizz free summer hair. @ProganixBeauty

Pacifica Natural Bodycare Underarm Deodorant Wipes – I love all things Pacifica and you can pick up their products at Target stores. This is a packet of wipes that they sent me to try and I LOVE them. I keep them in my gym bag because I do NOT like to sweat and I love to be clean so after a workout I just use a few of these to wipe down my body to feel clean and refreshed until I can get a shower. If you have smelly pits I recommend that you get a few of these and keep them in the car, your office desk and your purse or bag to save you from embarrassing moments in the hot summer! (Look for all the wonderful fragrances they have in their hand and body wipes.) @ILovePacifica

What beauty, skin care and hair products are you loving this summer?
Have you tried any of these products?