Baked Oatmeal with Pecans and Dried Cherries
Hi Jenny at dapperhouse readers! My name is Rachel Kocurek, and I blog over at Simple. Honest. Essential. I write about healthy and natural living with a focus on essential oils. On the blog, you'll find a little bit of everything from essential oil uses and tips to healthy recipes and easy DIY projects. Stop on by and say hello!
I'm so excited to team up with Jenny to share some healthy and easy recipes with our readers. I know that the two recipes we are sharing are recipes you will make again and again.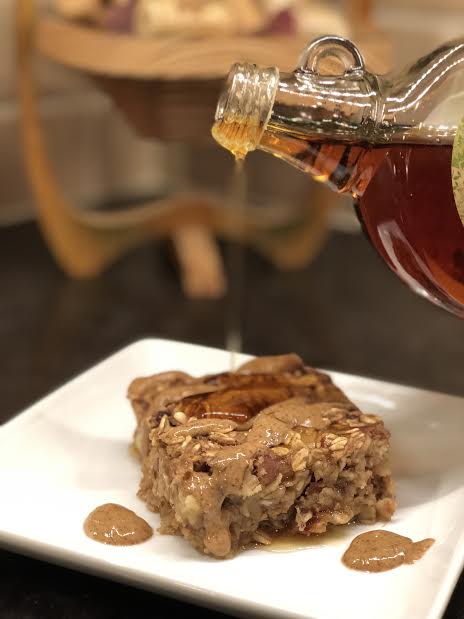 Today I am sharing one of my favorite easy breakfast recipes with you: baked oatmeal with pecans and dried cherries. I'm a big believer in batch-cooking. It's so easy to run out of time and make unhealthy food choices; cooking once for the week ensures that you have delicious, healthy food to eat and you have one less thing to stress about. This is a great make-ahead option for families or those with a busy life. To top it off, this recipe is dairy-free, gluten-free (as long as you use certified oats), and vegan.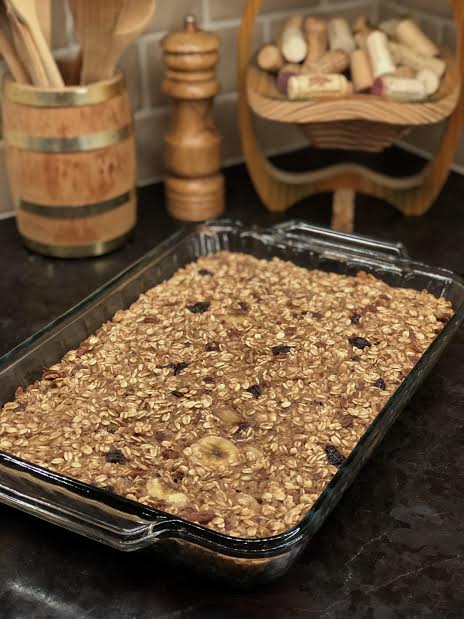 What you need:
2 flax eggs (see below)

¼ cup unsweetened applesauce

2 cups mashed banana (about 3 medium bananas)

1 banana, sliced

1 ¾ cups unsweetened almond milk or non-dairy milk of choice

⅔ cup brown sugar

1 tsp vanilla

1 ½ tsp cinnamon

4 cups rolled oats (gluten-free if necessary)

2 tsp baking powder

¾ cup chopped pecans

¾ cup dried cherries
How to make:
Preheat the oven to 375 degrees fahrenheit and grease a glass 9×13 pan.

Make two flax eggs by adding 2 Tbs ground flax seed and 6 Tbs warm water to a bowl and stir to combine. Let this mixture sit for at least 5 minutes.

In a large mixing bowl add the dry ingredients: oats, baking powder, and cinnamon.

In a second mixing bowl, add the mashed bananas, flax eggs, applesauce, almond milk, brown sugar, and vanilla. Stir to combine. Add the wet in ingredients to the dry ingredients and stir to combine.

Stir in chopped pecans, dried cherries, and banana slices.

Pour the mixture into the greased pan, using a spatula to even out the top.

Bake for approximately 40 minutes or until the top is golden.

Allow to cool. Slice into 12 pieces.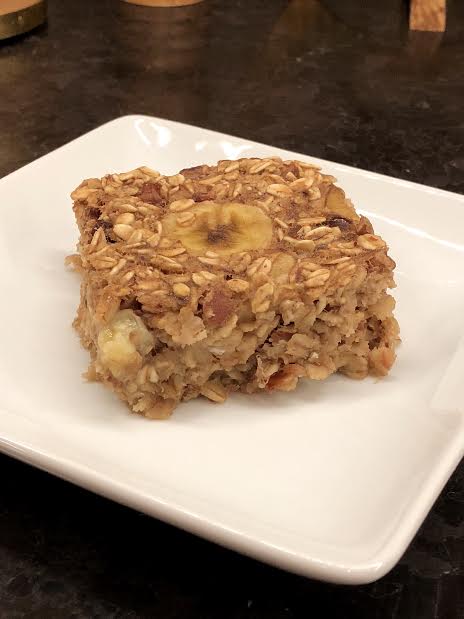 Feel free to play with the ingredients and use any nuts or dried fruit that you enjoy. If you don't plan on eating the oatmeal within a few days, it freezes well. Simply wrap each piece individually in plastic wrap and place the wrapped pieces in a plastic bag. Pull a piece out of the freezer the night before to defrost or heat for approximately one minute in the microwave. To turn this baked oatmeal into a decadent treat, try topping it with a spoonful of almond butter and a drizzle of maple syrup.
Thank you for taking the time to check out this healthy, filling, and easy breakfast recipe. I know that you and your loved ones will love this oatmeal as much as I do. Stop by Simple. Honest. Essential. for more recipes.
Pin this for later: