This post contains affiliate links for Madison Reed as I personally use and recommend their hair color and hair products. I did not receive compensation for this post. 
Can it really almost be Memorial Day? Here in Chicago we have certainly earned the warm temperatures and I can't wait to have some Fun in the SUN! Haircare definitely changes from winter to summer. Blonde turns brassy, frizz gets wild, dryness sets in. Here are 10 Top Tips for Keeping Your Hair Beautifully Healthy This Summer.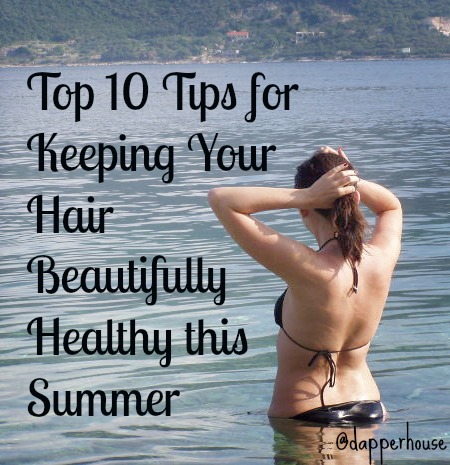 1. Wet hair. Whether you use pure water or leave in conditioner this simple and effective tip will keep Chlorine and Chemicals from penetrating your hair. Before taking a dip in the pool, drench your hair in fresh water or leave in conditioner. Like a sponge, your strands will soak up the water leaving less room for anything harmful.
2. Lock in moisture.   After you wet your hair,  work a hair oil over the ends. Rub some oil into your hands and either drag though long locks or scrunch into shorter hair. This seals in the moisture already in the hair as well as protecting the cuticle from chlorine and the sun.
3. Wear a cap.  If you take frequent dips, you'll want to embrace a hair cap's retro charm. If you think you look silly in a swim cap, it is a small price to pay for nice looking hair all the time! The additional barrier does wonders on keeping chlorine out.
4. Rinse off immediately. After time in the pool, prevent chemical damage and  green hair with a quick rinse. Better yet, use a clarifying shampoo followed by an extra-emollient conditioner to bring hair back to its original shine and bounce.
5. Deep condition. A shea-butter-rich treatment is a great anti-frizz secret but there are many fantastic options on the market. You know what they say about an ounce of prevention. It keeps hair more manageable and less tangled even in salty-windy beach conditions.
6. Use an SPF. Most of us dutifully slather sunblock all over our face and body, but we often forget our hair and scalp. Don't make that newbie blunder. UV rays not only fade hair color, they also dry out hair, cause split ends, and weaken hair's elasticity. Spritz on a liquid SPF (or DIY by combining 2 teaspoons of SPF lotion with one cup of water). For additional protection, summerize products with UV-fortified formulas. Psst: Madison Reed's shampoo and conditioner come with UV-shielding lupine flower.
7. Keep hats on. Luckily hats are the "it" accessory of the season and they offer protection against the color-fading effects of sun.
8. Skip the blow dryer. For natural curls and waves, just go with it. Work with, not against curls; straight styles that require flat irons and blow-drying will fry ends, deplete moisture, and end up giving you more pouf than sleekness.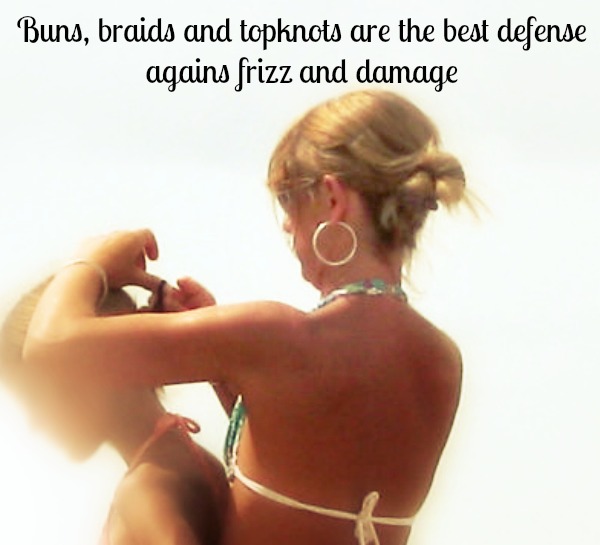 9. Pull it back. Your best line of defense against the pouf is often a sleek bun, ponytial, topknot and braids. Braids are all the fashion rage this season with plenty of options from fun to glamorous. Use scarves, clips, flowers and more to add some flair!
10. Don't mess with your hair. While the occasional flirty hair flips are encouraged, excessive handling of your hair only causes style disaster. Touching your hair adds dirt and oil and causes frizz.
Post courtesy of @dapperhouse and Madison Reed.
Madison Reed offers salon quality, handcrafted hair color delivered to your door on your schedule! Clear instructions, all the extras you may need and fabulous results really set Madison Reed apart from other home hair color options! New customers save 20% and get free shipping, too, at Madison Reed through May 31, 2014 – just use the coupon code NEWYOU at checkout.