Online shopping is a wonderful thing, isn't it? You can put the babies to bed and virtually transport yourself to Old Navy, Gymboree, or Children's Place with no kids! In addition to the kids being asleep, there's no need for makeup or real pants and you can eat a giant sandwich while you're at it. So many advantages to online shopping… Just sayin'. The problem is I hate paying full price for kids' clothes almost more than taking my kids shopping. Mix online shopping with your local children's consignment shop and you get threadUP. It is an online store that buys and sells (VERY) gently used clothing for kids. They are really particular about the clothes they buy so the ones they sell are in really good condition! They carry name-brand clothes in sizes 12 months and up.

I recently went shopping there and purchased some coordinating outfits for my son and daughter to wear on the 4th of July. Here is the run-down of my experience with threadUP.
PRICE
Pros:
You could get pretty close to a whole summer wardrobe for your little one for under $75 if you stick to the less expensive items.
You get free shipping if you spend over $50.
You can earn $10 for referring a friend and for signing up your first time.
You can sell your clothes to threadUP and earn cash.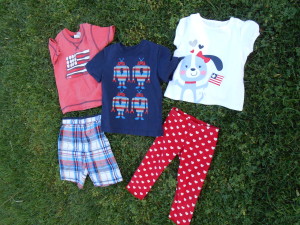 Cons:
Some of their items are priced too high. Right now there is a pair of gray Hanes sweatpants on the website for $4.49. On the Hanes website there's a pair brand new for $3.99.
You have to add $2.99 in shipping for the first piece and then $.99 for each additional piece.
Bottom Line:
Their prices are high if you are used to getting bargains and shopping cheap, especially when you add in shipping. A Circo brand t-shirt could cost you more than buying it new at Target. If you are currently buying new, name brand clothing for your kids and want to save some money then threadUP could really cut your costs.
SELECTION
Pros:
Filters filters filters! You can get very specific about what you are shopping for. This made it so easy to find coordinating outfits for my son and daughter.
The clothes I bought were in great condition. I didn't buy anything new with tags, but one shirt I purchased for $3.99 looked like it had never been worn!
Cons:
When you narrow down what kinds of clothes you need you will probably have a hard time finding a lot of choices. When I was shopping for my son they only had 15 t-shirts TOTAL in 4T and no shoes in his size.
Bottom Line:
To get the best bargain out of this website you will want to spend over $50, but their limited selection might make it difficult. Like buying clothes anywhere used, you could try to shop out-of-season to maximize the choices you have.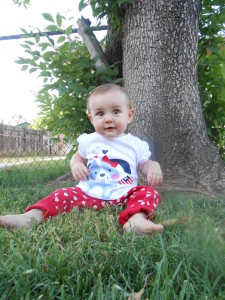 SHOPPING EXPERIENCE
Pros:
As I mentioned above, there are lots of benefits to shopping online!
Processing and shipping was REALLY FAST. I ordered our clothes in the middle of the night Thursday and by early the next morning they were shipped and we got them on Monday.
They have really clear pictures of their clothes.
You can reserve an item for a friend. They will send an email and put the item on hold in case they want to buy it. How cool is that? I always see clothes when I am shopping that I think would look cute on my nephew. Plus if your friend has never tried threadUP you can both earn $10 store credit.
Cons:
There are no descriptions of their items. Even just a few words about type of fabric or whether the pants are black or navy blue would be really helpful.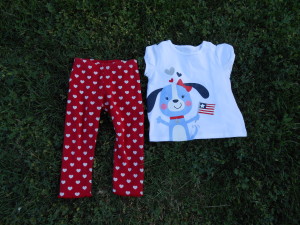 Bottom Line:
Shopping on threadUP is a great experience!
Shopping on threadUP is a great alternative to shopping at consignment stores. You will definitely not like the price if you are on a tight budget. However, the convenience of online shopping and the quality of the items that they have make me want to shop there again. Especially if I want to find coordinating outfits for my kids and get a good deal.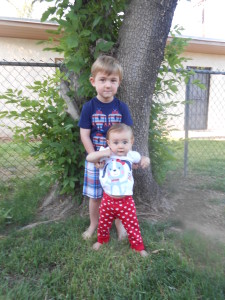 The clothes "Miss Moo" and "Tuto" are wearing would cost you a little over $20, shipping included! YAY! WE LOVE ThredUP!
*This post and review is authored by contributing writer Heather at dapperhouse.