Hello! I am jenny at dapperhouse and I love shoes a lot. I don't have as many as I would like but I do have a pretty good selection of colors and styles.  The last time I went shoe shopping was to buy some spring shoes. In Chicago the weather has been brutally cold and I have worn knee socks and boots every day! Now that spring is creeping up with the temperature and the green plants, I have had the urge to go shopping for something new and colorful for spring. Here are the three pairs of new shoes I bought to match my spring clothes. Can you tell I LOVE color? And wedges are my favorite because they are comfortable enough to wear all day. I also like them because they feel more stable than heels when I am walking around all day.
My first pair is an athletic shoe. I bought these at our local soccer store. My favorite brand is ADIDAS and I got the hot Neon Yellow that is so in style right now! They are vented to keep my feet cool in the hot weather and they are very lightweight!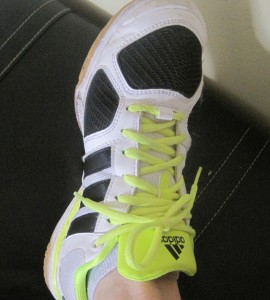 This next pair is a muted metallic gold that is a good neutral shoe in style and color to match many outfits that have lots of color! I love how these look with this new spring dress I just purchased. These shoes are from Target.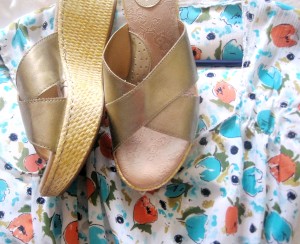 These are a Poppin' neon red pair of extra tall wedges to make a bold statement. I will pair them with clothes that are white and black to add an accent of color. This tube top mini dress is a good choice to wear with it. These shoes are BCBG from Nordstrom Rack.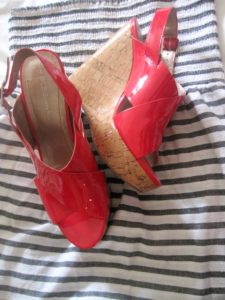 My next purchase will be a pair of Navy Sandals or wedges.
I would like an Apricot color as well!