*This is not a sponsored post but does contain affiliate links. Jenny at dapperhouse is responsible for prize fulfillment!
We all have a certain brand that we adore. A certain brand that catches our eye, makes us feel like a kid at Christmas, and gives us something to save for. Maybe your brand is your signature style and you accessorize your life with handbags, cologne, umbrella and key chain. Maybe your brand helps tell your story and from your ball cap to your shoes, your personality comes through. Maybe it is the color, like Tiffany blue. Perhaps it is the pattern like Burberry plaid. Maybe there is little evidence of a label or logo but just knowing you have something from the designer you love makes you smile to yourself every time you look at it, like Ralph Lauren paint in your dining room or a Dior throw to keep you warm in your favorite chair. Like most people, you probably have many brands that you lust after and love. One of the brands I love is Kate Spade.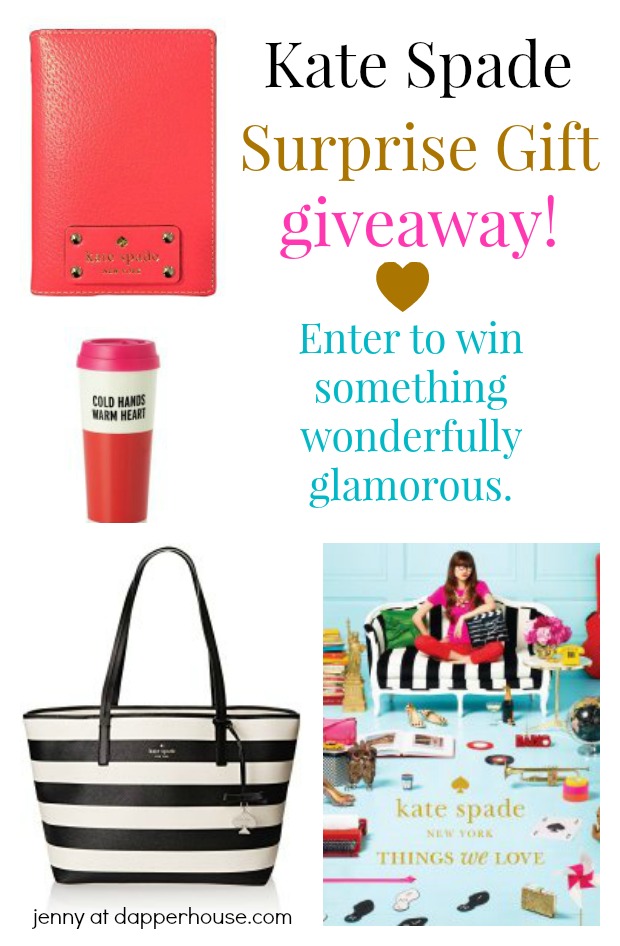 Kate Spade's simple elegance, metallic gold and pretty colors have had me hooked for life!
You all know that I love to hold giveaways because they are so much fun. I thought it would be a unique idea to hold a giveaway for a surprise item from Kate Spade!
I hope you will enter below for your chance to win!!
"Window Shop" the Links Below
Kate Spade Mugs

Kate Spade Office

Kate Spade Perfume

Kate Spade Home

Kate Spade Accessories

Kate Spade Jewelry
Why do you love Kate Spade?