Becoming a first-time mom can be so overwhelming that when it comes to choosing items for your baby registry, it's no surprise you don't know where to start. Between the many mommy bloggers and the latest popular baby gadgets on Instagram, it can get quite confusing. 
Don't get distracted by the hype around you. The best items to choose are the ones that fit your unique lifestyle. Your parenting style will be different from the next mom, so remember that as you're adding to your gift registry. 
The best gifts are the ones that keep on giving aka reusable items. Here are a few suggestions if you're looking for everyday reusable baby items that you are sure to use almost every day.
For those times you don't have a choice but to take your baby with you on a grocery store run. Since your baby won't be able to sit up for a few more months— think of it as a baby hammock that attaches to the grocery store cart while you shop. If baby is awake, you can leave the inconvenience of a heavy car seat in the car, attach the sling to the cart, and have baby lay in the sling on the cart while you shop. 
When you don't want to wake up a sleeping baby, the hammock is also strong enough to hold a car seat so you can still shop with ease.
Whether your baby swims occasionally or every day, reusable diapers are the best option over disposable ones. In fact, most municipal pools are now requiring cloth swim diapers for their pools because of their superior functionality. You'll only need 3-4 to last you until they outgrow them. You won't need to keep buying a new pack of disposable swim diapers since you can just wash these as you would a normal pair of swim trunks.
You no longer have to juggle a car seat and stroller at once. This 2-in-one car seat and stroller is worth every penny and all of the hype. The convenience of turning your car seat into a stroller with a push of a button is what makes this a necessity for new moms. With one click, the wheels fold in turning it into a car seat whenever you need to place baby in the backseat of your car or going up and down a flight of stairs. With another click, the wheels pop out and the handlebar raises converting it into a stroller.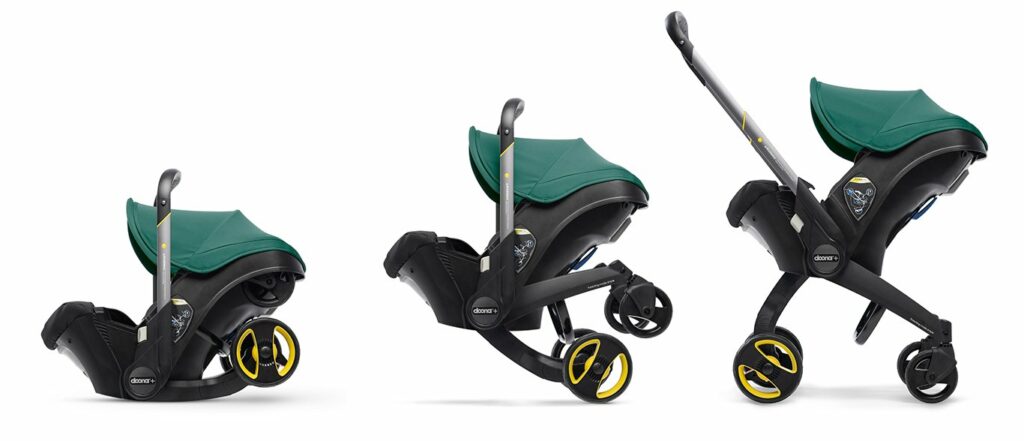 At 6 months, your baby will be able to enjoy that homemade applesauce you've pureed on-the-go. Avoid the store runs by keeping a pack of these at home. They are easy to clean as most are dishwasher safe, but can also be cleaned with your bottle brush.
To go along with your food pouches, the Baby Bullet makes pureeing quick and easy. This is one of those items that will grow with your baby. From baby purees at 6 months, to chopping fine bites of your family dinner, to blending smoothies at age 2 and 3. You will be so grateful that you have one of these in your kitchen. It's a life saver for those days when you can't figure out what to make for your child.