Super Amazing Gifts For Dad That Don't Suck
These gifts are so incredible that there is no way a dad that wouldn't like them. Get him a gift that doesn't suck.
Click the pictures to go to the product page.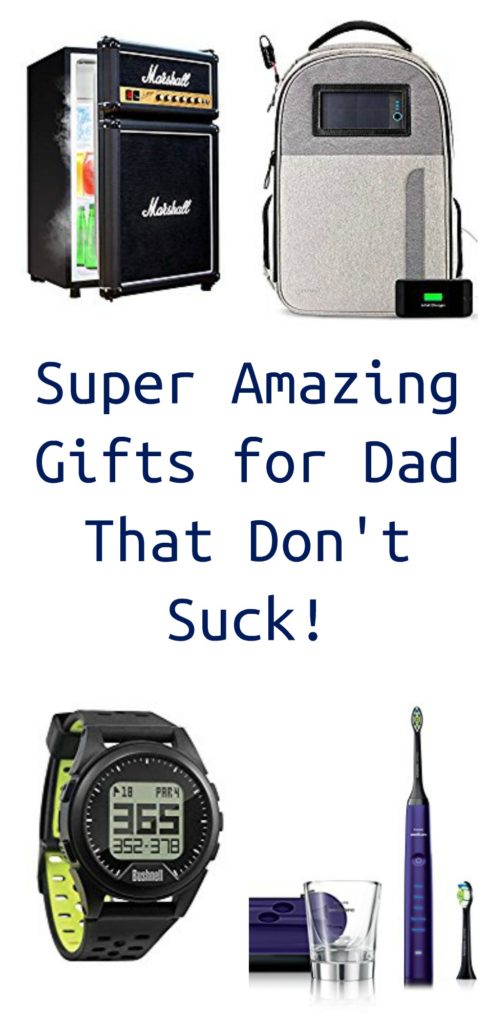 Lifepack Backpack, Titanium Grey


Lifepack, Solar Powered and Anti-Theft Backpack
includes Solarbank, a 3-in-1 Solar, Powerbank, and High Quality Bluetooth Speakesr
Lifepack includes an integrated cable lock
Solarbank stores 6 smartphone charges – regenerates 1 extra charge each 4 hours of sun
Clear, Full, and Loud Audio from built-in Bluetooth Speakers – Battery lasts for 96 hours of playback
Smart Luggage: GPS, Remote Locking, Battery Charger (International Carry-on Size)


Charge & Track – Battery with 2 USB charging ports can charge your devices up to six times over. 3G + GPS tracking lets you locate your suitcase anywhere the world.
Weigh – Built-in scale in the suitcase's handle allows you to weigh it through the app.
Lock – Remote digital lock means you can lock/unlock the suitcase using your phone.
Compact & Durable – Designed to meet international carry-on requirements, ideal for 2-3 day trips. Water-resistant polycarbonate exterior designed to withstand extensive travel.
5-Piece Twist Whiskey Decanter Set of 4 Glasses and Scotch Decanter with Stopper
(Okay, so the picture is a little cheesy, but the gift is great!)


This stunning glass liquor decanter set comes packaged with an embossed magnetic closure gift box that exudes style and a sense of occasion.
Premium High-Density Round Foam Roller

High Density Foam Roller is great for Physical Therapy, before or after Exercise, Yoga, and Massage Therapy. Foam Muscle Roller helps to relieve Muscle Tension and increase Muscle Reflexology.
FOAM EXERCISE ROLLER HELPS PREVENT MUSCLE INJURY – Perfect for positioning, balance, postural and muscle re-education, spinal stabilization, body awareness and coordination, and ranging and strengthening activities
YETI Hopper Portable Cooler


The YETI Hopper 30 is the first 100% leakproof, portable cooler that's built for the long haul and can keep ice for days
Features a DryHide Shell that is puncture resistant.
HydroLok Zipper (a design borrowed from HazMat suits) is completely leakproof, eliminating spills and locking in cold
The Hopper 30 can hold 24 cans
Bushnell Neo Ion Golf GPS Watch


Preloaded with 35,000+ courses in over 30 countries
Long battery life and comfortable dual injected silicone sports band
Auto course recognition and auto hole advance with easy-to-read front, back and center distances
Up to 4 hazard or layup distances per hole and a distance calculator and integrated step counter
Legal for Tournament play and comes with a One-year limited Warranty
Roof Top Cargo Carrier for Cars, Vans and SUVs


Completely Weatherproof: Our cargo carrier is ready to brave the elements! With welded seams to seal out water, it's totally weatherproof and protects your gear against rain, grit, snow, wind and sun. Ideal for family road trips, it increases the space inside your vehicle.
Easy to Use: Thanks to 8 built-in tie straps, our car top carrier attaches in only a matter of minutes!
Audio Technica AT-LP60 Fully Automatic Stereo Turntable System, Silver


Convert your vinyl records to digital audio files with Audacity; Mac- and PC-compatible
Built-in switchable phono pre-amplifier with RCA output cables to connect to audio systems and powered speakers.
Burt's Bees Men's Gift Set, 5 Products in Giftable Tin


Men's gift set contains 5 natural skin care products for men including Shave Cream, Aftershave, Body Wash, Hand Salve and Lip Balm Beeswax
Natural skin care for men
Formulated to refuel and invigorate dry and tired skin
Men's kit is ideal gift to introduce friends to Burt's Bees
Made with natural ingredients
LUCID 3-inch Gel Memory Foam Mattress Topper


3″ of ventilated gel memory foam adds softness and pressure-relieving comfort to your mattress
Special memory foam formula is extremely soft, airy and responsive
Smart Tech Handcrafted Natural Bamboo Wooden PC Wireless 2.4GHz Keyboard and Mouse


Handcrafted bamboo wireless keyboard and mouse
2.4GHz wifi wireless
The out shelf and keycaps are all made of natural bamboo wood
Keystroke and mouse life time over 5 million cycles
MiniPresso GR Espresso Maker


MiniPresso is the most compact espresso machine, capable of making quality espresso.
MiniPresso can make espresso anywhere.
MiniPresso is hand operated, no batteries, no electric power.
MiniPresso has a sleek modern design and intuitive operation.
Marshall Compact Fridge


4.4 Cu. Ft. fridge with authentic Marshall look
Convenient can storage
High efficiency freezer
Energy Star compliant and CPC free
DiamondClean Sonic Electric Rechargeable Toothbrush


The most loved electric toothbrush brand by Americans and their dentists
Removes 100% more plaque than a manual toothbrush in hard to reach areas. Includes 2 DiamondClean brush heads
Whitens teeth in just 1 week, Healther gums in only 2 weeks!
Happy Gift Giving!!
*If you purchase products from my links I make a percentage of the sale.