Breads are a perfect gift for the holidays for friends, neighbors and co-workers. They are also a heart warming treat for yourself and your family when heated up with a bit of butter and a glass of hot cocoa. Pumpkin and banana are always good choices, but this pear and ginger bread will wow everyone with new flavors that will take their taste buds by surprise. The distinct but mellow taste of pears perfectly paired with the spicy hint of ginger make this holiday bread the new favorite for everyone on your list.
Ginger Pear Bread
Prep: 15 mins
Bake: 1 hour
Ingredients:
Topping Ingredients:
1/4 C light brown sugar (firmly packed)
1/4 C pecans (chopped)
1/2 TBSP flour
1/2 TBSP unsalted butter (melted)
Bread Ingredients:
1 3/4 C flour
1/2 tsp baking soda
1 tsp baking powder
1 1/2 tsp grated ginger
1/2 tsp salt
6 TBSP unsalted butter (softened)
1 C brown sugar (firmly packed)
1 large egg
1 tsp vanilla
1/2 C whole milk
1 ripe/ firm pear (peeled and firmly chopped)
Directions:
Topping Directions:
Add brown sugar, pecans, and flour in a small bowl. Stir to combine.
Add butter.
Mix well.
Set aside.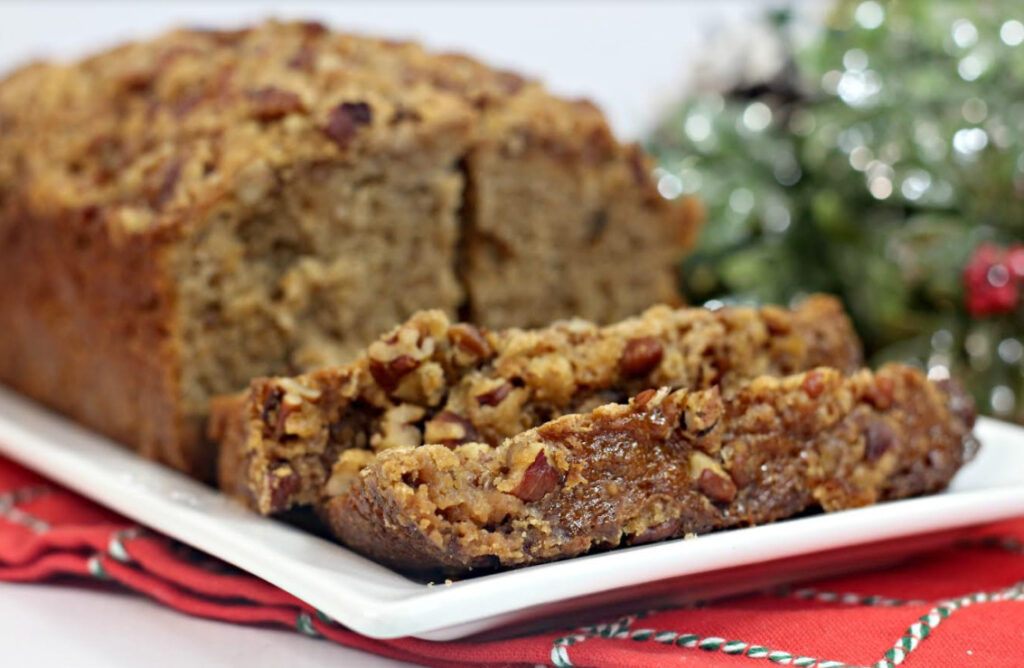 Bread Directions:
Preheat oven to 350 degrees.
Prep loaf pan with non-stick spray.
Add the flour, baking soda, baking powder, ginger and salt in a large bowl.
Whisk to combine.
Divide the flour mixture into thirds.
Set aside.
Add butter and brown sugar to a mixing bowl.
With the electric mixer beat the butter and brown sugar on medium speed until it becomes light and fluffy.
Add in the egg and vanilla
Mix until well combined.
Reduce the mixer speed to low.
Carefully add the 1/3 of the flour mixture Mix to just combine.
Add in 1/2 of the milk.
Mix lightly.
Add in the second 1/3 rd of the flour mixture. Mix to blend.
Add in the second 1/2 of the milk, mix.
Add in the last 1/3rd portion of the flour mixture.
Mix just enough to combine.
Stir in the pears.
Spoon the batter into the prepared loaf pan.
Use a spatula to evenly spread the batter in the pan.
Sprinkle the topping over the batter.
With your hands press the topping down gently into the batter.
Bake at 350 degrees for 50-60 minutes, or until the bread has browned.
Also insert a toothpick in the center of the loaf. If the toothpick comes out clean the loaf is done.
Set aside the loaf of bread in the pan for about 10 minutes to allow it to cool.
Flip the bread out of the pan unto a wire rack to cool it completely.
Pin this for later. . .