July 4th Red and Blue Ice Cream
Makes: 1 Pan or about 12 regular cones or 6 double scooped cones
Ingredients:
4 cups heavy whipping cream
1 – 14 oz can sweetened condensed milk
1 small tub of white icing – pilsbury
10 drops red gel food coloring
2 drops blue gel food coloring
ice cream cones
Optional: The flavor is a sweet cream taste. However you can add flavoring of your choosing. I find 3 tablespoons coconut extract is nice or sometimes I add a little cinnamon. But the icing will come through too making it have sweeter spots. This is totally up to you.
Instructions:
Place heavy whipping cream in a stand mixer with the whisk attachment. Add flavoring if you would like to, This can also be done with a hand blender with whisk attachment but will take much longer. Blend for 4 minutes on low speed and adjust speed going up to 6 as it thickens. Once it resembles whipped topping then it's ready.
Fold in the can of sweetened condensed milk and drops of red food coloring. Get it to the red you would like to acheive. Then pour some into a 9 inch square pan.
Mix in blue food coloring to the white icing. Drop some of the blue in different places into the red. Do not stir or you will have purple. Just drop it in and then top with more red. When if freezes and the ice cream is scooped the marbled effect will happen.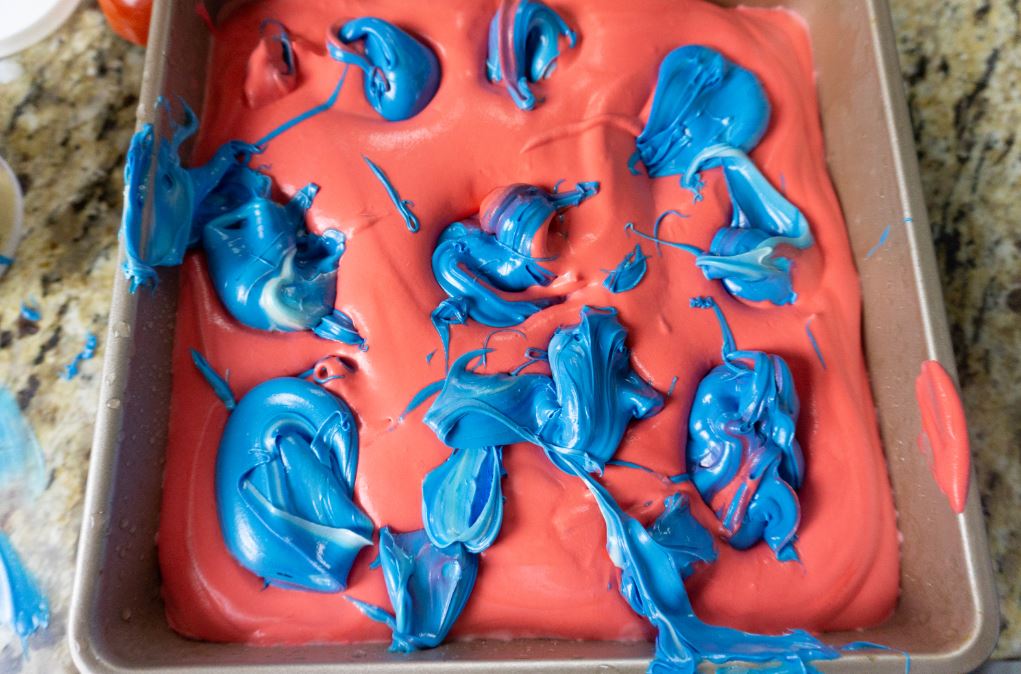 Once the ice cream is all in the pan. Place in the freeze for at least 6 hours but best if froze overnight.
Scoop and serve!
PIN THIS FOR LATER . . .