Berries are certainly delicious on hot summer days. They provide nutrients, satisfy a sweet tooth and cool you off as well. This basic recipe for berry salsa is a fast and easy one to make for guests or parties. Even better though, it is great to have in the fridge to have when the craving hits. I have included a few variations of ingredients as well as some paring ideas at the end. The possibilities are endless if you just add your favorite ingredients and top your favorite foods. Because this dish is red, white and blue, it is an obvious choice for serving at patriotic gatherings such as Memorial Day and the 4th of July.
We definitely have so much to celebrate this year and a whole lot to be thankful for living in the United States of America. Be happy, healthy, kind and grateful. I wish you all the best celebrating safely with loved ones and friends.
Berry Summer Salsa Recipe
Serves: 4 as a side dish or topping
Prep: 10 minutes
Ingredients:
1 regular package of strawberries
1 large package blueberries
1 container pearl mozzarella balls
1-2 sprigs of mint
1 Tbsp. lemon juice
1 pinch of finely ground pink Himalayan salt
Other delicious variations if this recipe include:
diced cucumber without the seeds
melon balls
sections of clementines
banana slices
cubed chicken
different types of berries
diced apples
grapes
white or semi-sweet chocolate chips
replace mozzarella with gouda or brie
Instructions:
1. Wash strawberries and blueberries.
2. Cut tops off strawberries.
3. Dice the strawberries.
4. Place all berries in medium a bowl.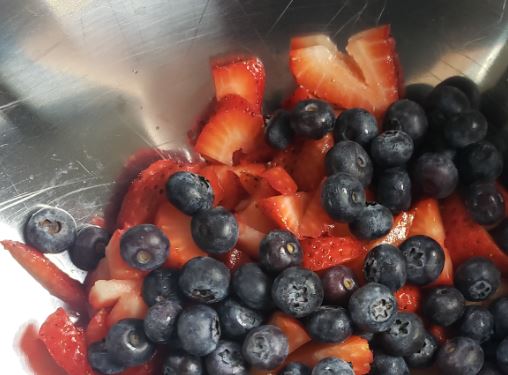 5. Pinch the pearl mozzarella balls into pieces (or dice) and add them to the bowl.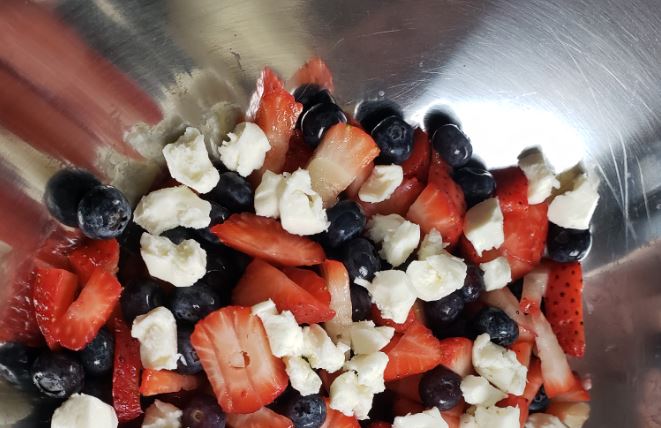 6. Chop mint into small pieces so it is not overpowering in a single bite. The amount of mint you will use is personal preference. (I happen to love it so I use more.)
7. Add to the bowl.
8. Drizzle with 1 Tbsp. of lemon juice and a pinch of salt.
9. Toss well and keep in fridge until ready to serve.
10. This is best when served very cold.
This easy and fresh dis h pairs well with:
tortilla chips
cinnamon pita chips
as a topping for mixed green or spinach salad
a topping for froyo or ice cream
topping for bunt cake and whipped cream
added to sparkling water or chilled wine