This shop has been compensated by Schwarzkopf. #HolidayHairCare #sponsored
How to go from Drab to Fab for the Holidays
Festive gatherings and parties are coming up and even in the hustle and bustle of getting things done, we have to take ourselves from drab to fab so that we shine during the holidays. I have some ways for you to get fabulous for the holidays  that you can do at home with very little time or expense. It is easy to go from drab to fab with these 6 tips.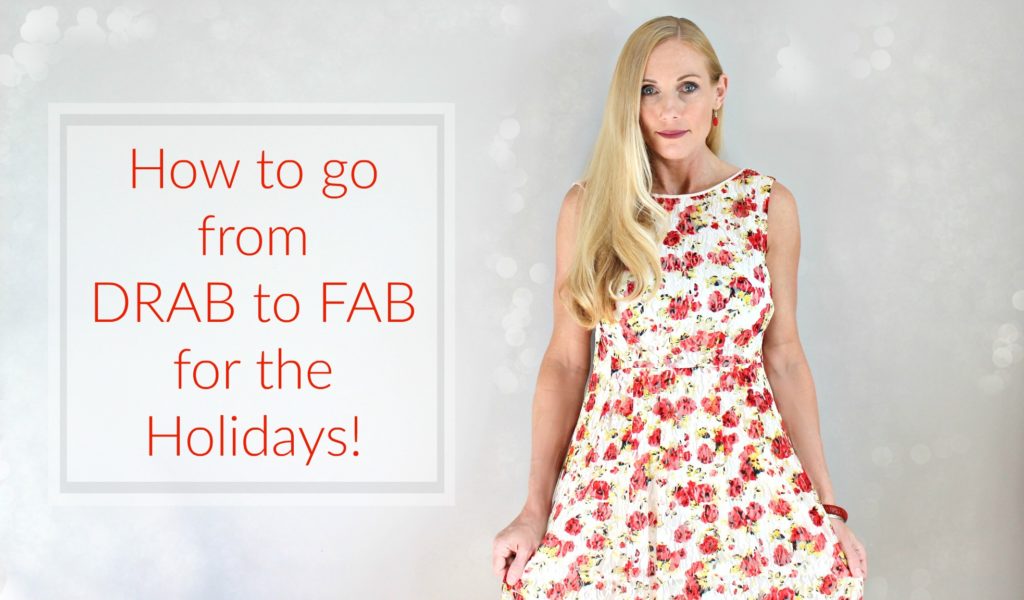 Makeup
Many of us get into the habit of doing our make up the same way. We know what looks good and we keep it that way. When doing your make up for a holiday event, add some of these tips to create a little extra glam but to still stay within your comfort zone.
Tip 1: Add some bright and light highlights to the inside corners of your eyes. This makes you look youthful and vibrant. It also makes your eyes pop and sparkle, especially in photos! The trick is to use a liquid or creme rather than a powder so that the look stays fresh instead of dry and cracked. Go a few shades lighter than your foundation.
Tip 2:  Choose a bold color and a little sparkle in your eye shadow. Do your eyes how you normally do and then add a swipe of color. I did my normal nude colors and then chose a deep purple color applied to the outside corners of my eyes with some shimmery gold under the line of my lower lashes.

Tip 3: Experiment with some different lip looks and colors. Even if certain shades or colors are out of your comfort zone, give them a chance. Take some selfies with each look so you can see it from a different perspective and so that you can send them to friends for some honest feedback. What if you never knew how beautiful you look in a nude lip or a deep red?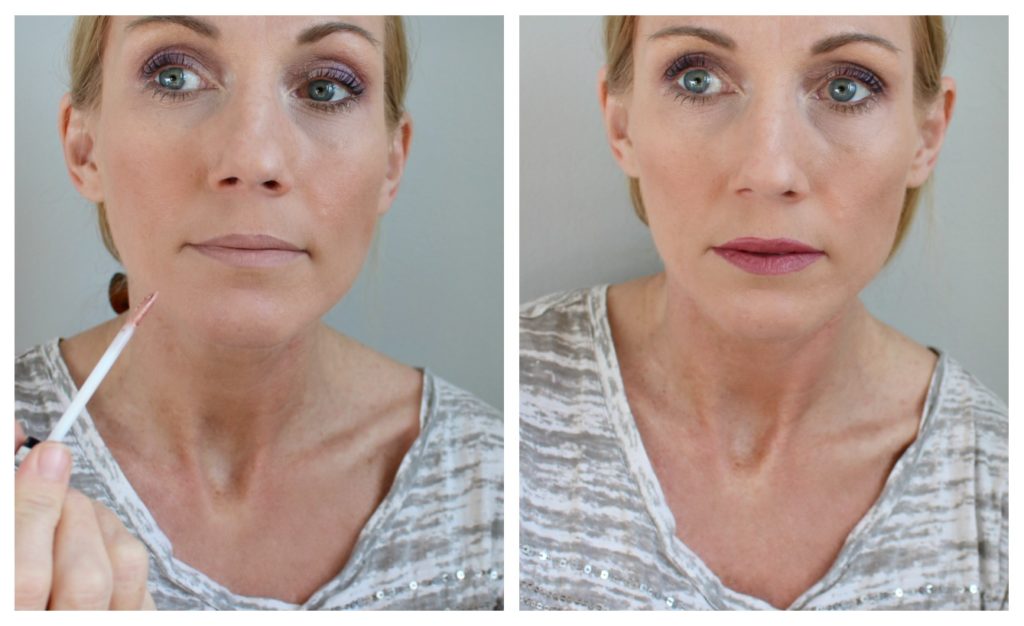 Skin: 
Tip 4: This winter it is important to keep skin hydrated. Cold weather and wind can cause dry, irritated and even cracked skin. When you are going out to a holiday event make sure that your skin is nourished head to toe with good moisturizers.
Tip 5: Give your skin a healthy glow. There are at home self tanning products that will give you a beautiful bit of color. You can also go get a professional spray tan and sport some all over bronze. Having a youthful glow to your skin can make you feel radiant.
Hair: 
Tip 6: Refresh and revive your hair with an all over color from Schwarzkopf® Keratin Color. One if the biggest things that make a woman look drab is her hair. We have talked about some makeup tricks and some skin advice but hair is a deal breaker! Especially if you have an old, faded color or roots that are growing out, you have to fix that before attending or hosting anything for the holidays. Even if you have not previously colored your hair you may want to pick a shade close to your own and add some dimension, shine and vibrant color.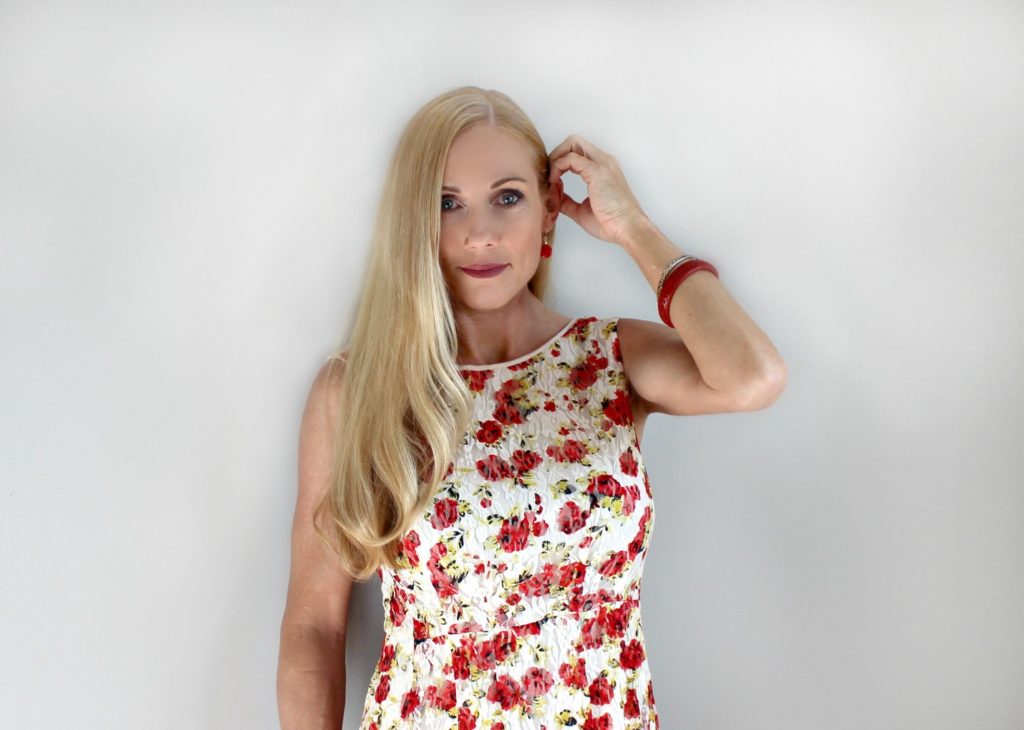 Imagine walking into your office holiday party with bright makeup, glowing skin and lustrous hair with luminous highlights. You will certainly wow the crowd with your better than ever, fabulous new look!
How to go from Drab to Fab with Your Hair Color
I colored my hair with Schwarzkopf® Keratin Color a few moths ago so I needed to touch up my roots where the darker color and the grey had grown out. There are full head instructions for the hair color and there are also directions for regrowth application which is what I did.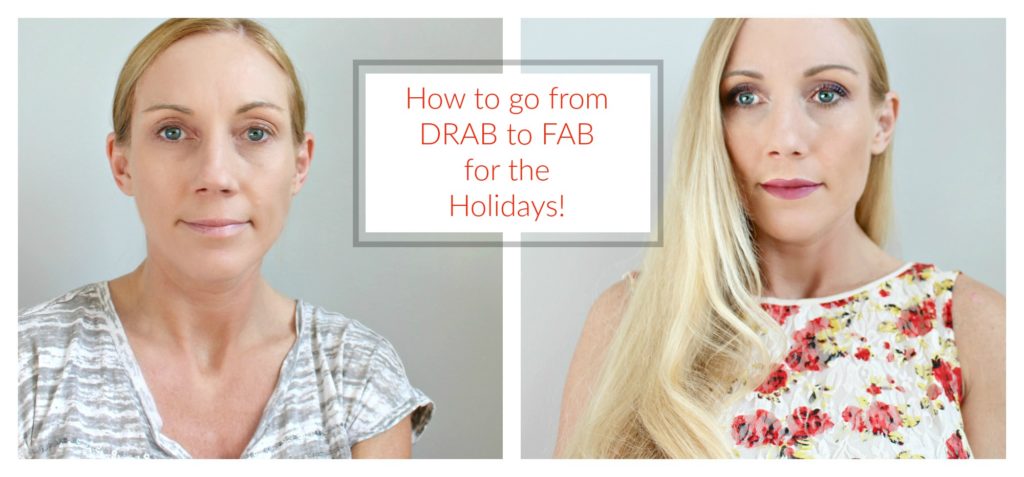 Step 1: Remove the contents of the box and make sure that you have all the supplies.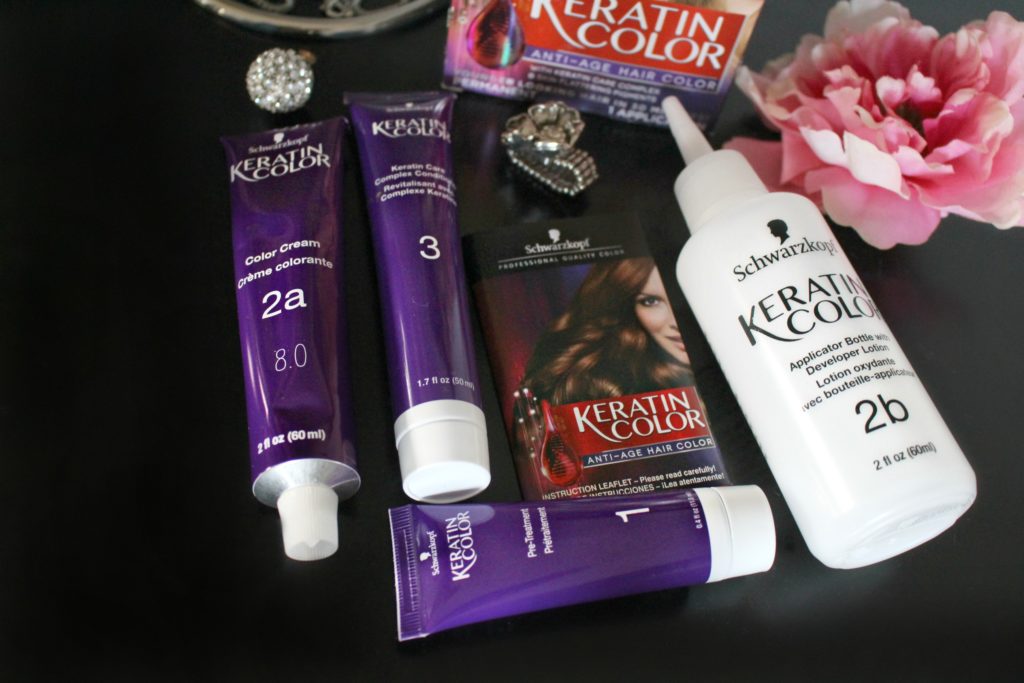 Step 2: Open the directions packet and you will find your gloves inside. Put them on to protect your hands.
Step 3. Twist open the cap of the Schwarzkopf® Keratin Color pre-treatment and squeeze some onto your gloved fingers. Apply to the dry ends of your hair. This protects hair for less breakage but also nourishes dry ends so that the color is absorbed evenly from roots to ends.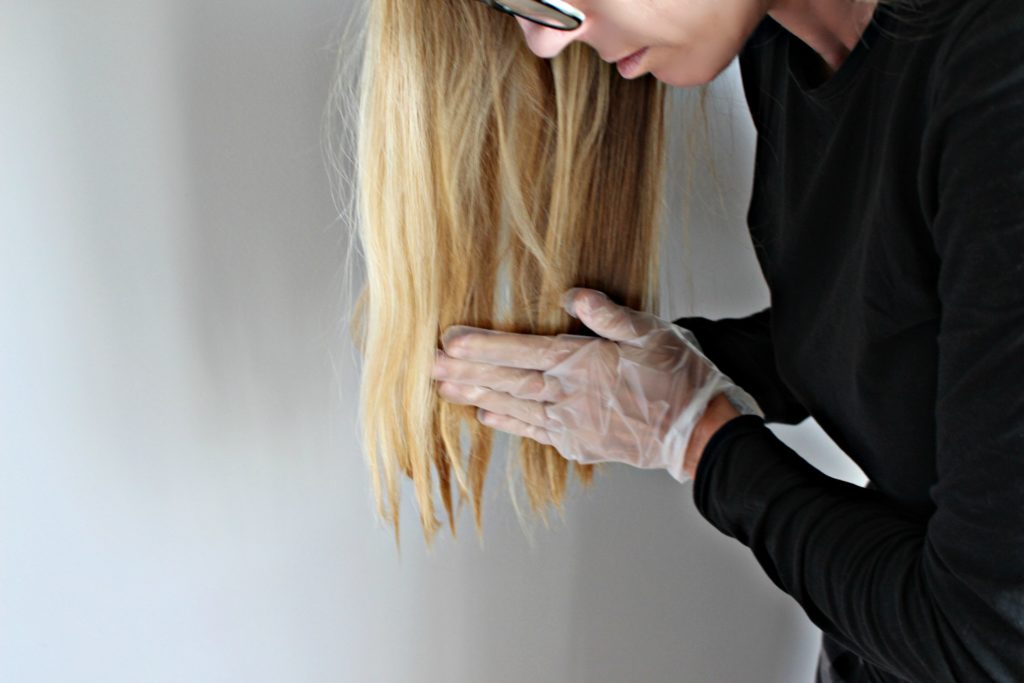 Step 4: After breaking the seal, squeeze the contents of the color Creme into the application bottle. Make sure to twist the cap off of the application bottle before putting it back on.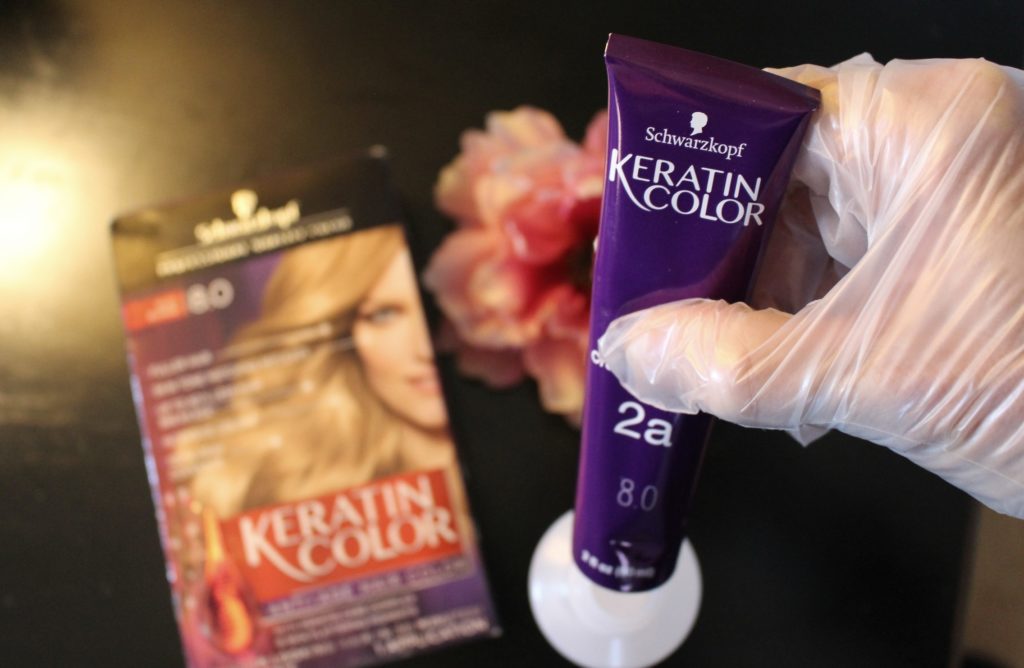 Step 5: Hold you gloved finger over the top of the bottle and shake well.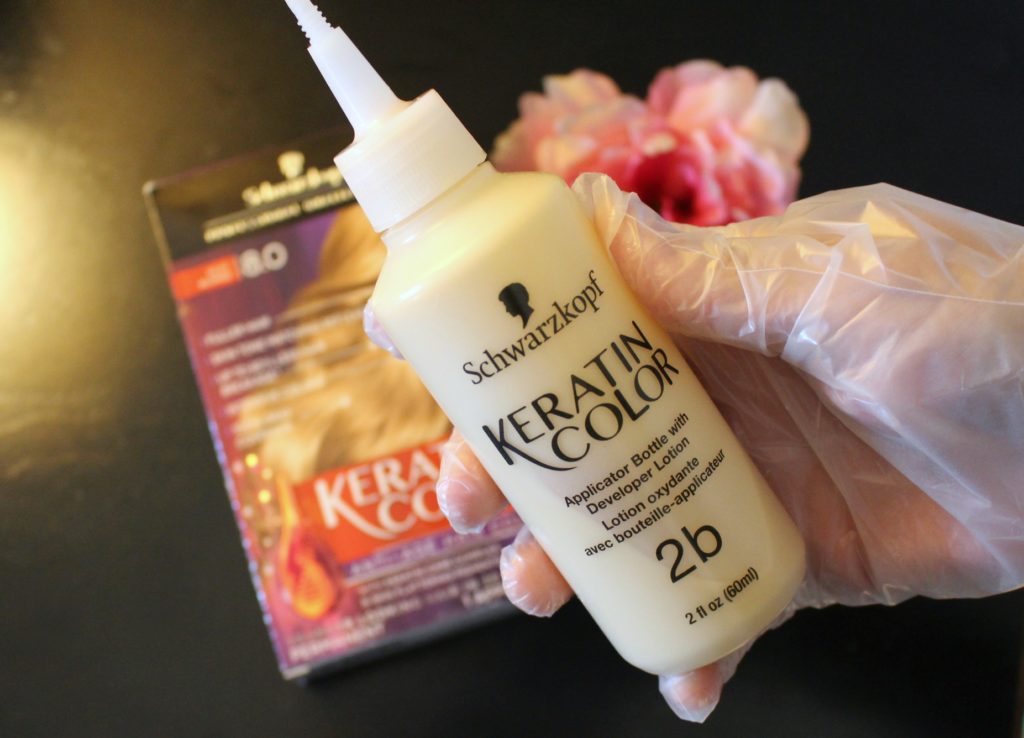 Step 6: Make a part down the center of your head. Squeeze a line of the Schwarzkopf® Keratin Color down the part and then smooth out with gloved fingers.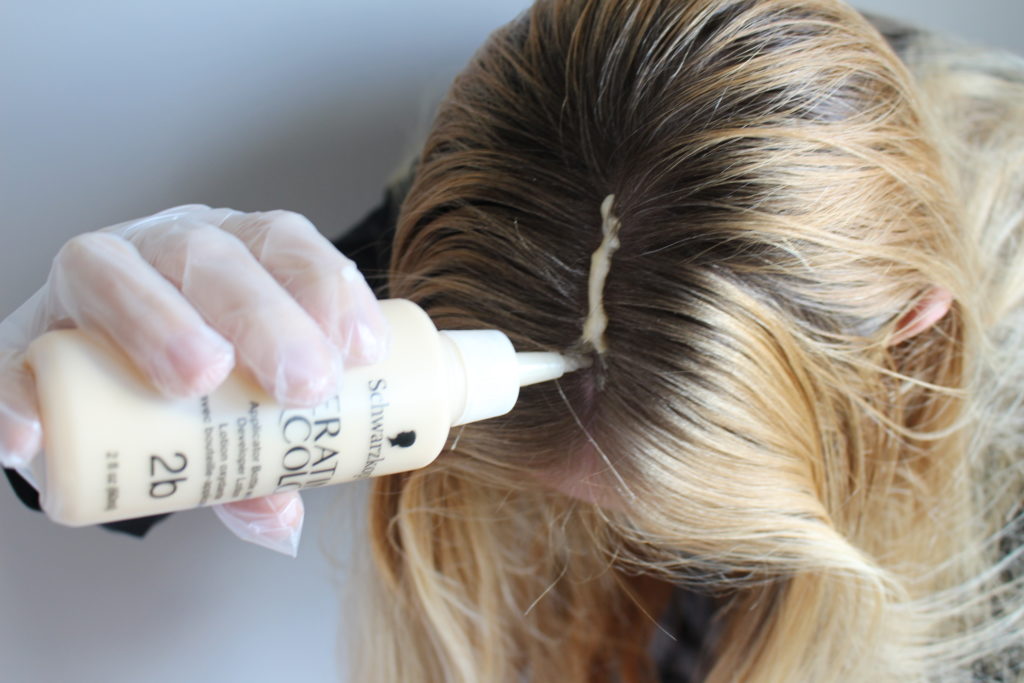 Make sure that the hair color covers the outgrowth of your roots. Continue on parting sections of hair and applying to the regrowth until your  entire head is done.
TIP: You will use about 2/3 of the bottle for your outgrowth.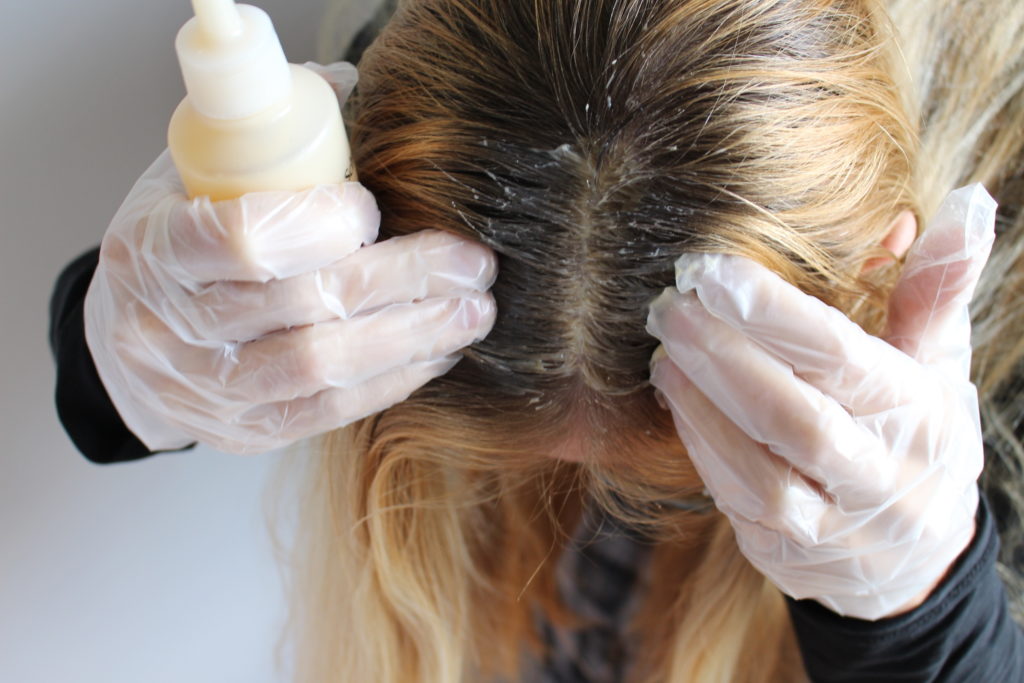 Step 7: Time the color to stay on your outgrowth for 20 minutes. And don't worry about stinking up the house because Schwarzkopf® Keratin Color is low odor thanks to their advanced ammonia control technology.
Step 8: After the 20 minutes, apply the rest of the Schwarzkopf® Keratin Color to all of your hair by squeezing the color down sections of your hair and massaging it in. Time this for an additional 10 minutes.
Step 8: Rinse your hair. It is easiest for me to do this in the shower. I keep my eyes closed tight and let the strong stream of water rinse away the color as I massage my scalp and make sure that the water is getting to every place on my head. Rinse thoroughly.
Step 9: Open the tube of Keratin Care Complex Conditioner and squeeze a generous amount into your hands. Massage this into all of your hair from roots to ends. Leave this in for 2 minutes and then rinse thoroughly.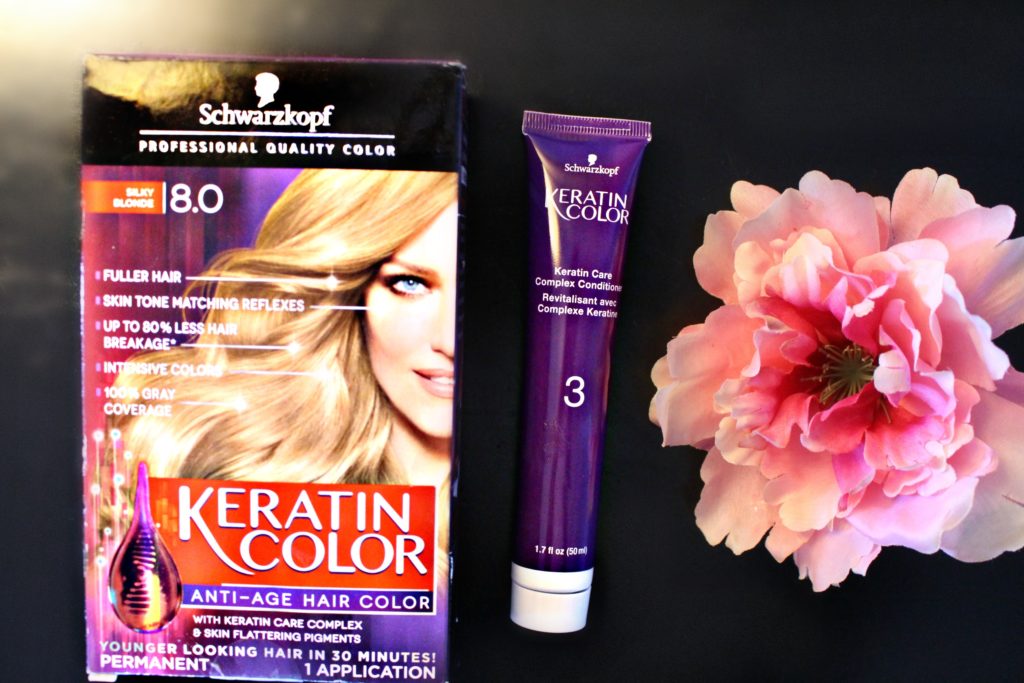 You have now completed your hair color and are ready to blow dry and style!
The reason I love Schwarzkopf® Keratin Color is because it looks shiny and feels soft. It provides 100% gray coverage with intense color.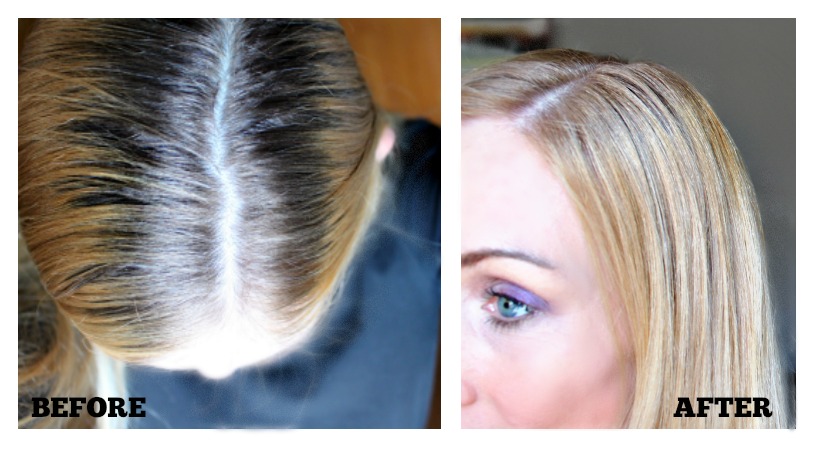 *Please note that due to the long length of my hair I used 2 boxes of Schwarzkopf® Keratin Color. I chose the color "Silky Blonde 8.0". I naturally have very dark ash blonde hair with some grey. This Silky Blonde color gives me a medium to light blonde shade that is beautifully golden and radiant. It makes my skin looks luminous too with its skin flattering pigments. Look how pretty the hair color is and how nice my ends look!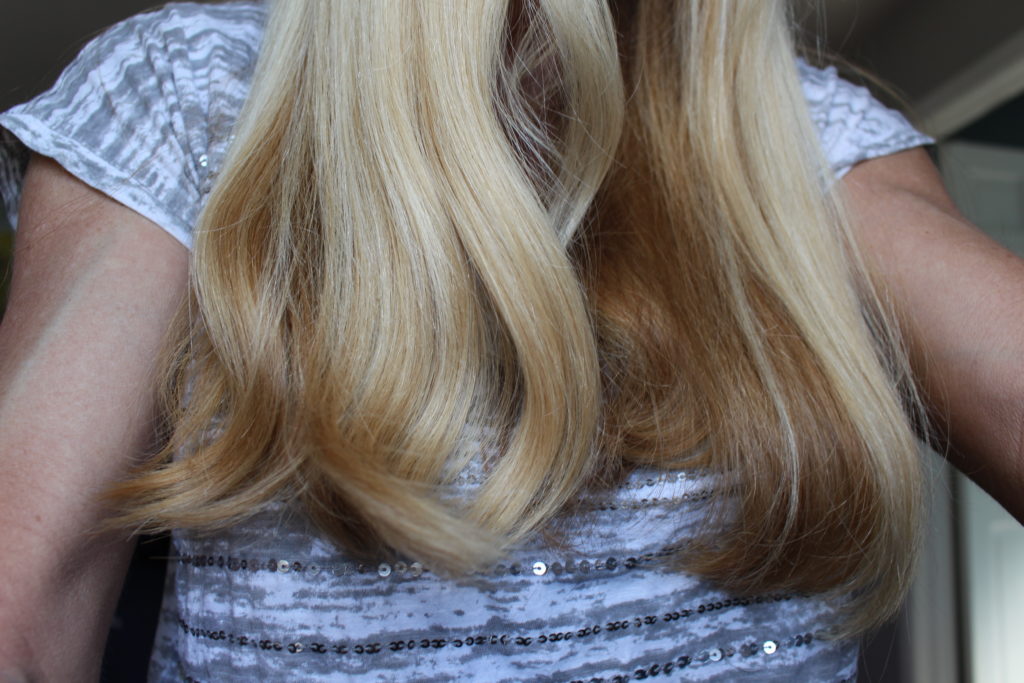 Here are two money saving ways to purchase Schwarzkopf® Keratin Color
Ibotta has an offer to earn $2.00 cash back on Schwarzkopf® Keratin Color
There is also a Try me Free Rebate to get your hair color for Free!
You can get yours in the Hair Color aisle at Walmart.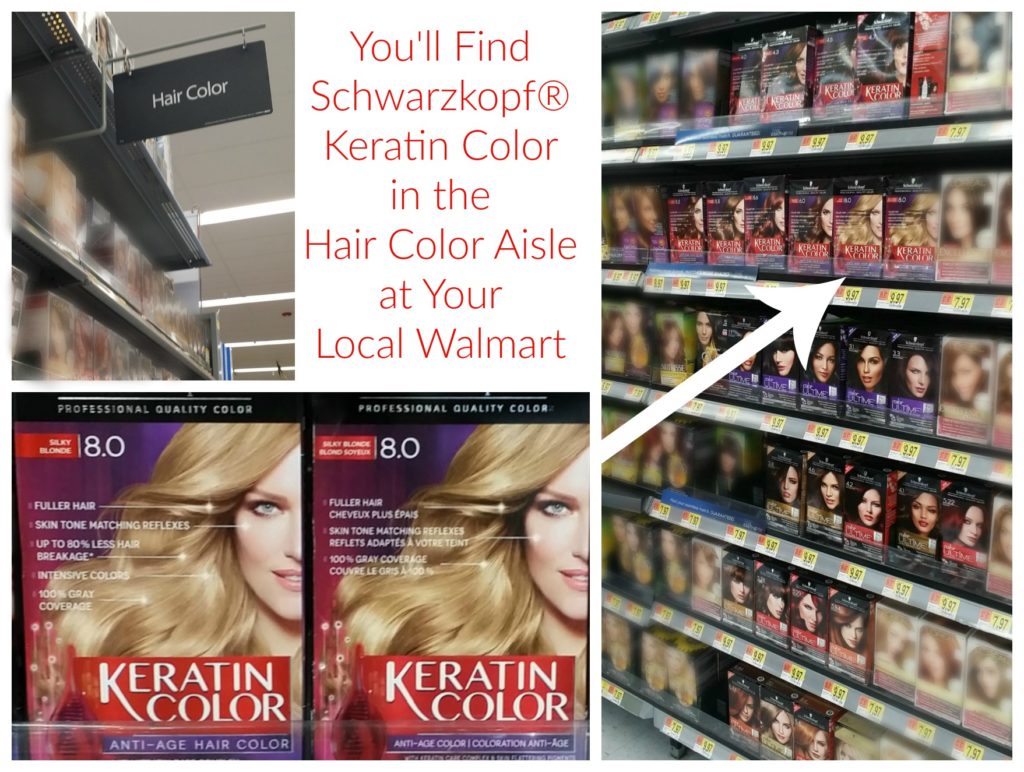 Here is my finished look. With my tips for makeup, skin and hair it is easy to go from drab to fab for the holidays!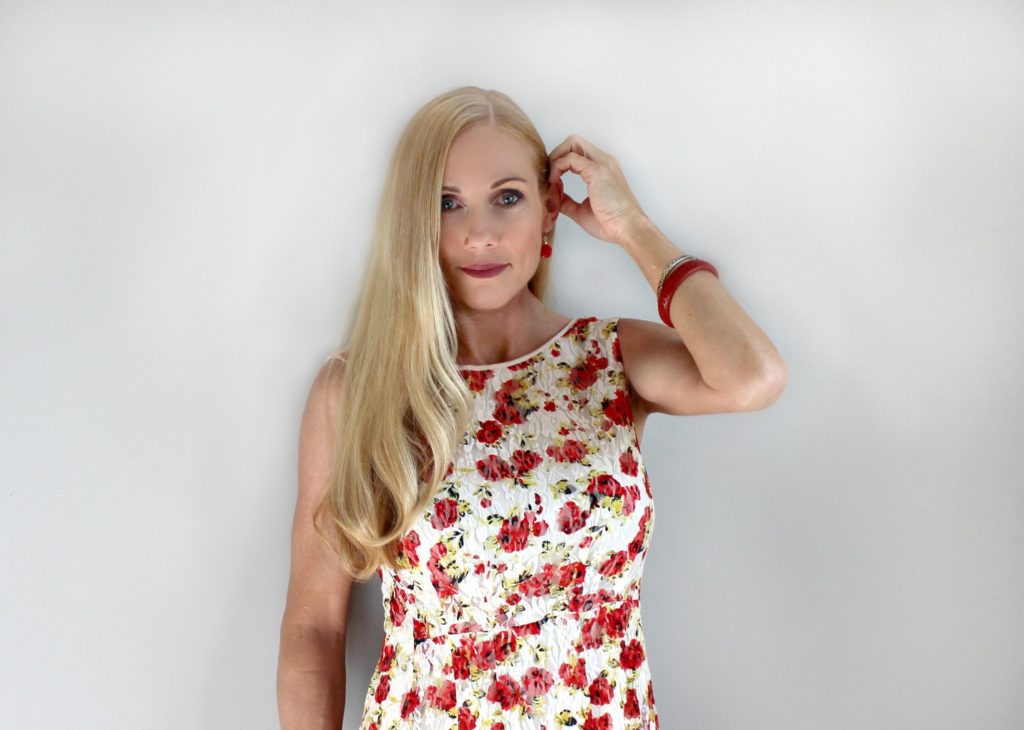 Another Reason to Use Schwarzkopf® Keratin Color is their partnership with and support of Dress for Success®
Keratin Color brings out confidence in every woman by giving her beautiful hair. With every purchase of Keratin Color we can also help women get a fresh start through a partnership with Dress for Success®.
This organization is so important to me because poverty is a vicious cycle that is sometimes impossible to overcome. Women who can barely afford their rent and food certainly don't have the funds to go and buy hair color and clothing that is much needed to feel and look their best at a critical job interview. Dress for Success Worldwide empowers women looking for upward mobility to rejuvenate women's hair and clothing options so they can be as successful as they look and achieve economic independence. Through education and mentoring, they're making a difference in your community and across the globe. Over one million women have been served by this international organization and its programs. This partnership empowers women looking for upward mobility to revitalize women's hair and clothing options so they can be as successful as they look.
Pin this for later. . .