Guest Post by Meaghan from BeautyfromBurntToast
Happy October, y'all! Recently I had the pleasure of meeting Jen from dapperhouse blog. She is a fantastic blogger who, like me, also happens to be a mom to 3 and someone who strives to be real with her audience, in all areas of her life. We connect on a lot of levels, and for a new blogger like myself I look to her for inspiration and advice as I am trying to grow my brand and cultivate my style.
I've realized that one of the best (and most unexpected) parts of the blogging world is the community. How great is it to share passion and creativity with a supportive group of fellow creators who truly want you to succeed? It's been an amazing experience and I have met so many talented, caring and astounding people along this journey. Another exciting by-product of being in the blogging world is guest posting. To be able to share my work with a new audience, and in return give my readers a peek into someone else's talent is such a plus. I'm so grateful to be guest posting for Jen. I use her blog as a resource for a lot of different areas of my life, from arts and crafts to self-care, from health and fitness to style a beauty. Me, I do what I do best. And that's cook. So today I want to share with you my recipe for Pumpkin Spice Pancakes. I received this recipe a long time ago from my daughters pre-school teacher. It's easy. It's fun, and it's sure to be a hit with all of your family–whether your kids are elementary age like mine or growing into adulthood like Jen's.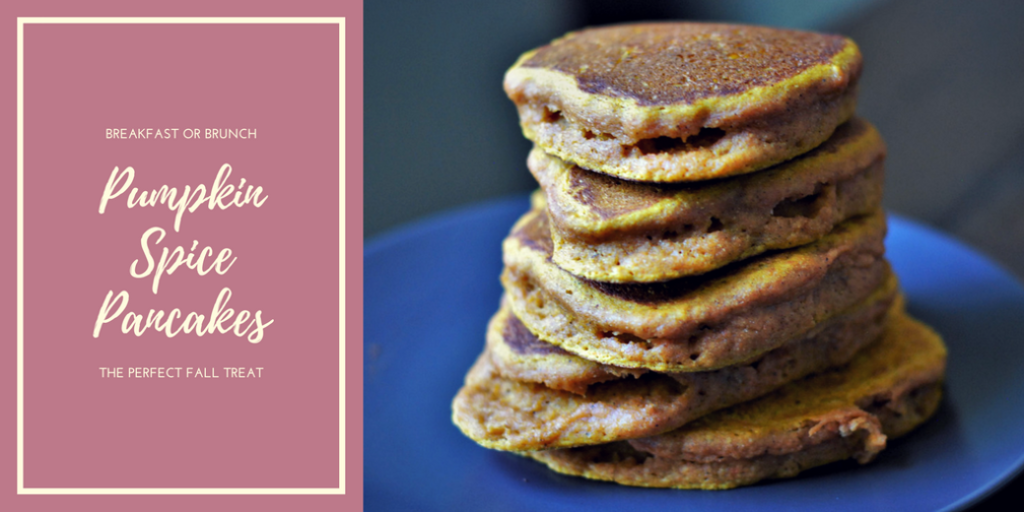 Pumpkin Spice Pancakes
2 Cups Pancake Mix (I use Arrowhead Mills)
2 tsp Cinnamon
¼ tsp. Nutmeg
2 large Eggs
2 Tbsp packed brown sugar
1 cup pumpkin puree
3 Tbsp Oil (I use melted Coconut Oil but Vegetable oil would work. If you want to cut fat, use Applesauce)
2 tsp. Vanilla Extract
1 cup Water (or more for consistency)
To Make:
Whisk pancake mix and dry spices together.

In another bowl, beat eggs and brown sugar together, then add the rest of the liquid ingredients.

Combine dry and wet ingredients and mix well.

On a griddle heated to medium heat (or 350), drop by ladel-full about 2 inches apart. Cook on one side until bubbling and flip, cookig 1 or 2 minutes more.

Serve hot with Syrup.
Pin this for later. . .