Disclosure: I asked to participate in this Collective Bias Social Fabric Community compensated shop because I use #STAROliveOil and want to share the benefits with my readers.
The Holiday Season is here and celebrations always involve food. Many traditional dishes are high in calories and fats.  People like me who are actively trying to lower high cholesterol levels have learned ways to modify recipes to eliminate unhealthy ingredients and replace them with beneficial ones. Substituting eggs with applesauce in baked goods for example, is a favorite of mine to reduce cholesterol. I also use rich and delicious olive oil to replace butter or margarine in recipes to lower unsaturated fats by as much as 85%. Other Olive Oil health benefits that I care about include monounsaturated fats that promote "good" cholesterol and regulate insulin levels, and antioxidant polyphenols which scientists have recently reported can reduce inflammation, prevent cell damage and may even assist in bone and digestive heath.  (Olive Oil is also Gluten Free!)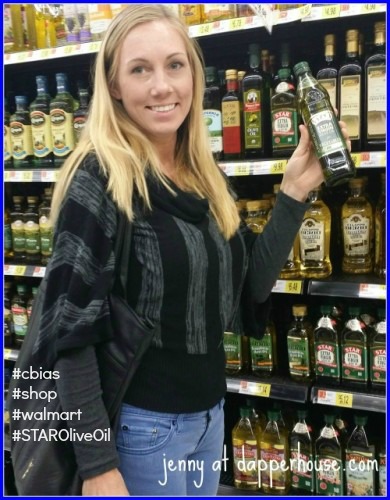 STAR brand EVOO is a fantastic substitute for other oils because it is light with incredible flavors that add richness to your recipes. My favorite is the STAR Pairings because they are high quality but moderately priced.  Being that they are created specifically for certain dishes makes it so easy to get the right flavors every time. The STAR Oil from Hojiblanca Olives is best with delicate meats such as poultry and fish.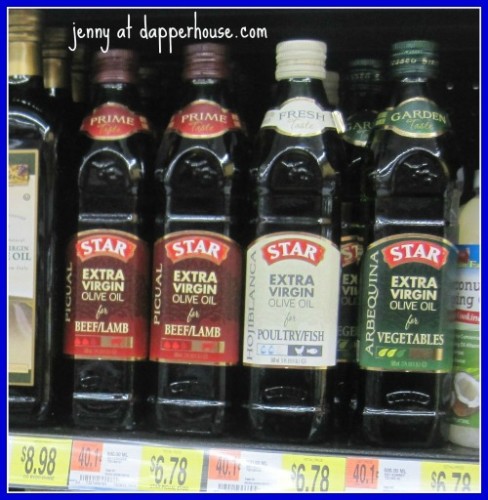 Although I am a vegetarian, I still eat fish for protein and prefer to use the STAR Arbequina Olive Oil  for cooking, baking, grilling and just to drizzle for flavor and consistency. My family eats all meats so I use the Picual Olive Oil for their beef dishes and on my eggplant and mushrooms. Drizzling this oil on a Holiday Beef Roast makes the meat incredible tender and adds to the robust flavors.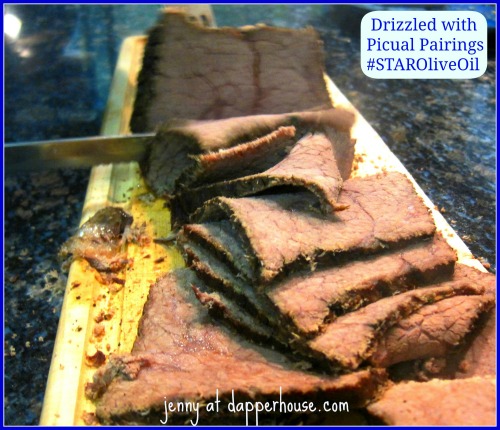 But let's get to the sweets because that says HOLIDAYS like nothing else! I love to make Pumpkin Cookies for this time of year because the Traditional Pumpkin Flavor is PREFECT for Entertaining, Gift Giving and Making Lasting Thanksgiving Family Memories!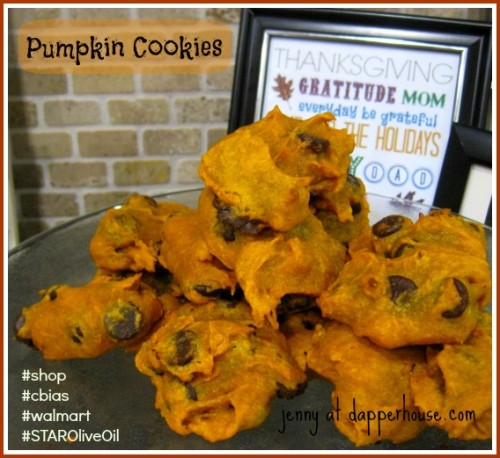 I will share with you one of my favorite pumpkin cookie recipes using the STAR Pairings Olive Oil that is traditionally used for vegetables. It is made from fully ripe Arbequina Olives and I use it for baking because it has subtle almond and fruit notes that add so much to the flavor of sweet, baked goods. (I am not a Olive Oil snob people, but you do get to know your flavors and consistencies after using them for a while.)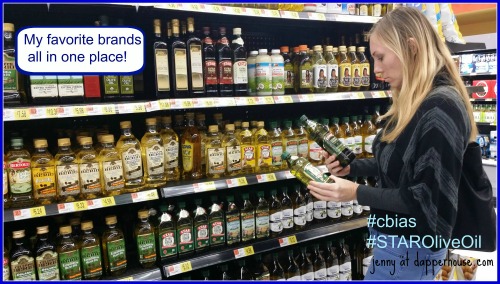 I ran up to Walmart to grab what I didn't already have at home. Here is what you will need for your shopping list to make my Scruptios Pumpkin Cookies. . .
1/2 cup STAR brand olive oil
1 cup sugar     
2 cups pumpkin
1 tsp vanilla extract
2 1/2 cups all purpose flour
8 shakes of salt
1 tbsp baking powder
½ tsp pumpkin pie spice
you can add chocolate chips if you like (I use 10 oz bag of Dark)
So here is . . . How to make the cookies.
Directions:
1. In your mixing bowl pour in the STAR EVOO Olive Oil,  sugar and pumpkin
2. mix well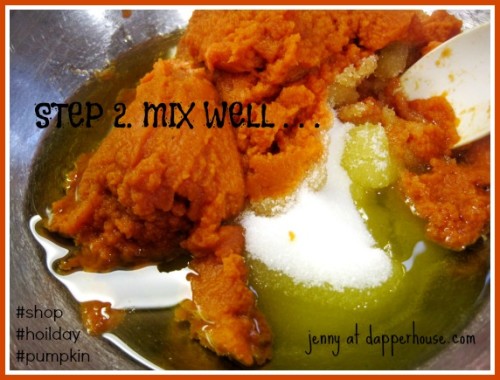 3. Add vanilla, flour, salt, baking powder, pumpkin pie spice 4. mix well again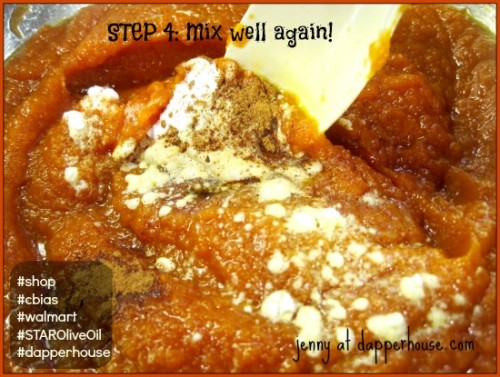 5. Add flour and stir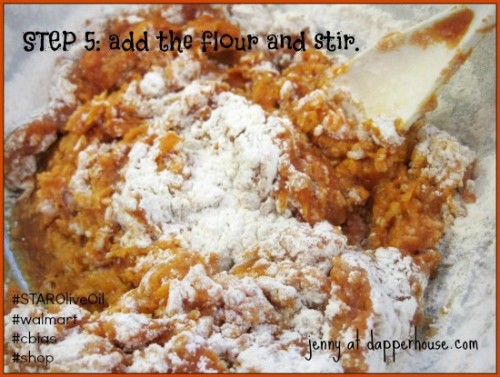 6. Fold in bag of chocolate chips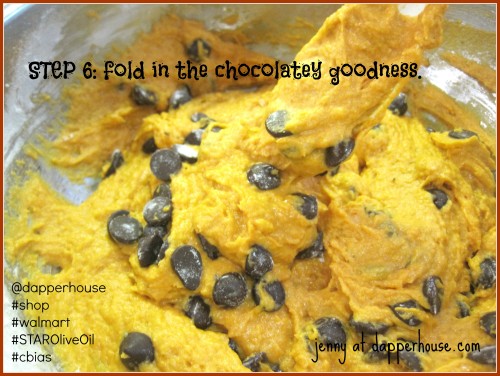 7. Spoon onto cookie sheet (cookies are fluffy so dough does not spread)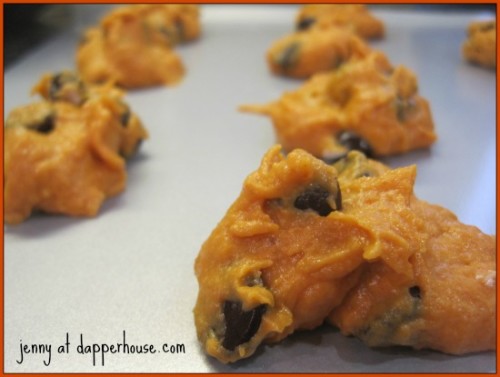 8. Bake for 375 degrees for 12 – 15 minutes.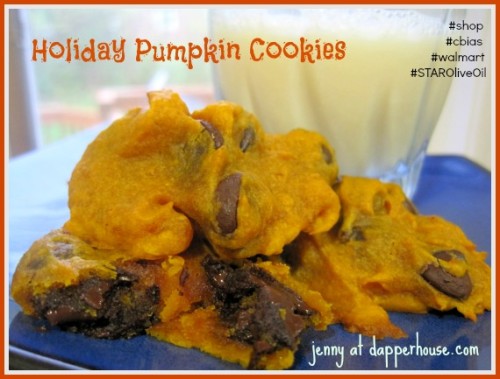 Want to try this for free? I entered to win a set of All 3 Pairings Olive Oils from STAR Fine Foods! I go to their facebook page often and enter their contests and giveaways – they run all the time!!!
*I made these to please may family, but I like them with a 1/2 cup of pumpkin seeds and 1/4 cup of sunflower seeds added at the time of the chocolate chips!! (SO Yummy and Crunchy!)  Let me know what you think by leaving me a message in the comments section!