*This is a sponsored post compensated by Collective Bias, Inc. and its advertiser. All opinions are mine alone. #IKnowAFighter #CollectiveBias. #ad
Have you heard of Neurofibromatosis (aka NF)? May is NF awareness month and it means so much to me to be able to tell you a bit about it. Chances are, you know someone dealing with a serious illness, disease or disorder. As a society we seem to approach major medical issues as an attack on normal life. But, if you look at life a bit differently you might recognize that normal life unfortunately does include major problems and medical issues. From the small things to the overwhelming ones, all families are affected in some way by medical conditions. The difference with NF from other diseases and the reason we are promoting action and awareness this month is that NF is a common but rarely heard of disease. In fact, 1 in every 3000 children is born with this genetic disease. That makes 100,000 people in the US with NF. We hear a lot about Cystic Fibrosis yet only 30,000 people have this disease. Another common genetic disorder is Muscular Dystrophy with 50,000 people in the US affected, and yet still only half as many as those affected with NF. Isn't it hard to believe that with so many people affected by NF it is rarely even heard about or known? We need to change this so that the many people suffering from this disease can get treatments and cures. We need to be part of making NF a thing of the past!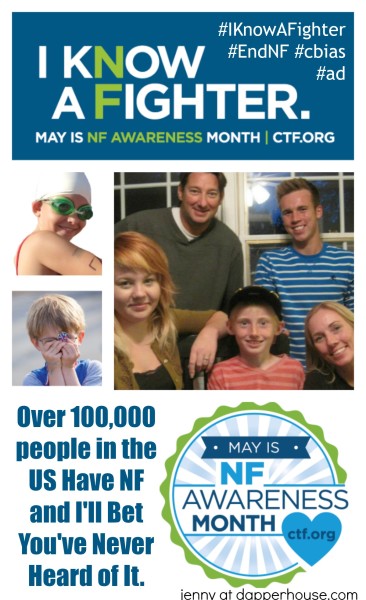 Neurofibromatosis is a set of distinct genetic disorders that cause tumors to grow along various types of nerves and, in addition, can affect the development of non-nervous tissues such as bones and skin. Neurofibromatosis causes tumors to grow anywhere on or in the body. I know people who have had tumors removed from the nerves in their teeth, spine and other places that cause a lot of pain and suffering.

While we do not have NF in our family, we know first hand what it is like to live day to day without answers, without enough research and without a cure. My husband has a rare and deadly (non-contageous) virus contracted as a result of his kidney transplant six months ago. There is so little known about it that he signed up to be in a medical study and take experimental drugs just to help medical science gather data in hopes that there will one day be information and eventually a cure.
Did you know that doing something wonderful in the world will make you a happier person? It's true. Volunteering and getting involved in something that makes a huge impact on our world and individual people can make you feel like you are accomplishing something larger than life. . . like you are changing history for the best! I challenge you to pick a cause each month to support by spread awareness and getting involved when you can. Do whatever moves you and influence others to be moved as well. It is a beautiful domino effect that can move mountains.

What Can You Do? 
There are many ways to support NF this month (or any time).
Follow NF on 
You can help awareness by sharing what you learn about NF on your social channels like Facebook and twitter using the hashtags #IKnowAFighter and #EndNF
[tweetthis]May is the month to learn what NF is all about – Please read more #IKnowAFighter #ad #cbias [/tweetthis]
Do you know someone fighting NF?
How can YOU get involved to spread awareness and make a difference?