It is so fun to take a little extra time to make something special when having friends over or even for your family just for fun. I decided to have two friends over for a quiet and relaxing evening celebrating summer. Inside our four season's room I set up a small but cool partyscape and then we took our food and drinks outside to the patio. I didn'd choose one particular theme when decorating so I used Hawaiian, Beach & Nautical to encompass "SUMMER". I will show you how to put this together in under an hour so that you can make one too! Let's celebrate summer by having some crafting and home decorating fun followed by a party!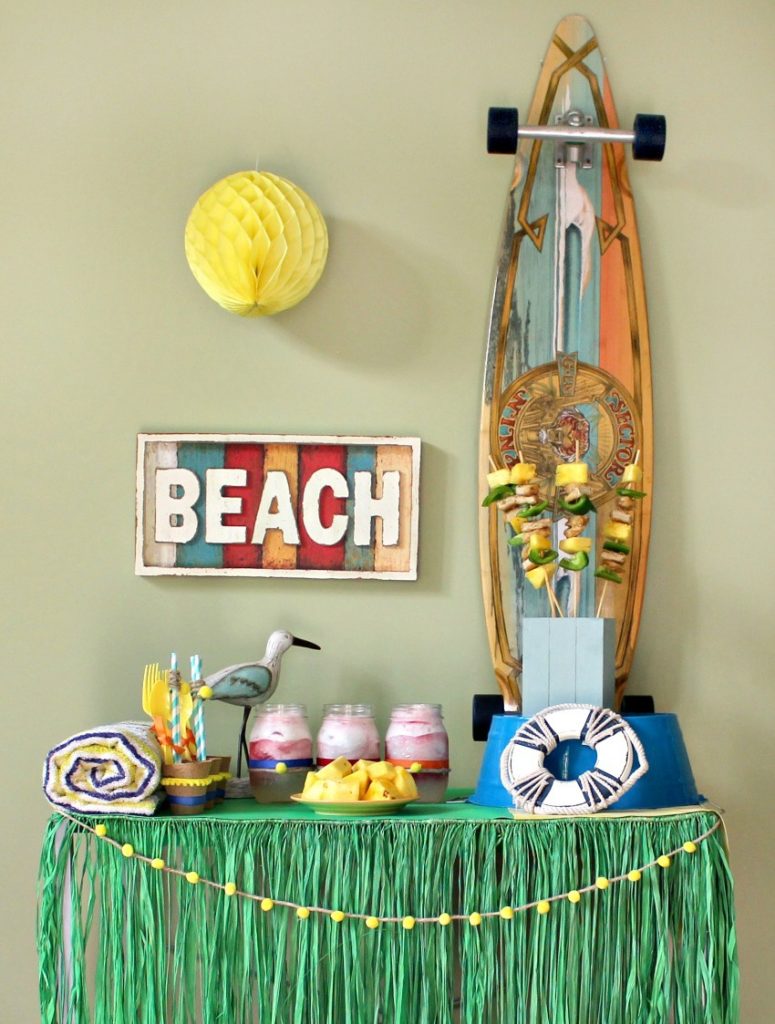 How to Create a Summer Themed Partyscape
First you will have to pick a color scheme to adhere to. I decided to use yellow circles in my decor to represent the sun. I also decided to use some of the rainbow colors just so that I didn't end up with only one or two colors overpowering this generalized summer theme.  
Next, you will choose a space. I chose a wall in our four seasons room that leads out to the patio.
You can pick a space that has shelves or a counter top or you can add a table like I did.
TIP: My party was small so I did a smaller version, but you can make it as big as you need depending on the amount of people and food you will have.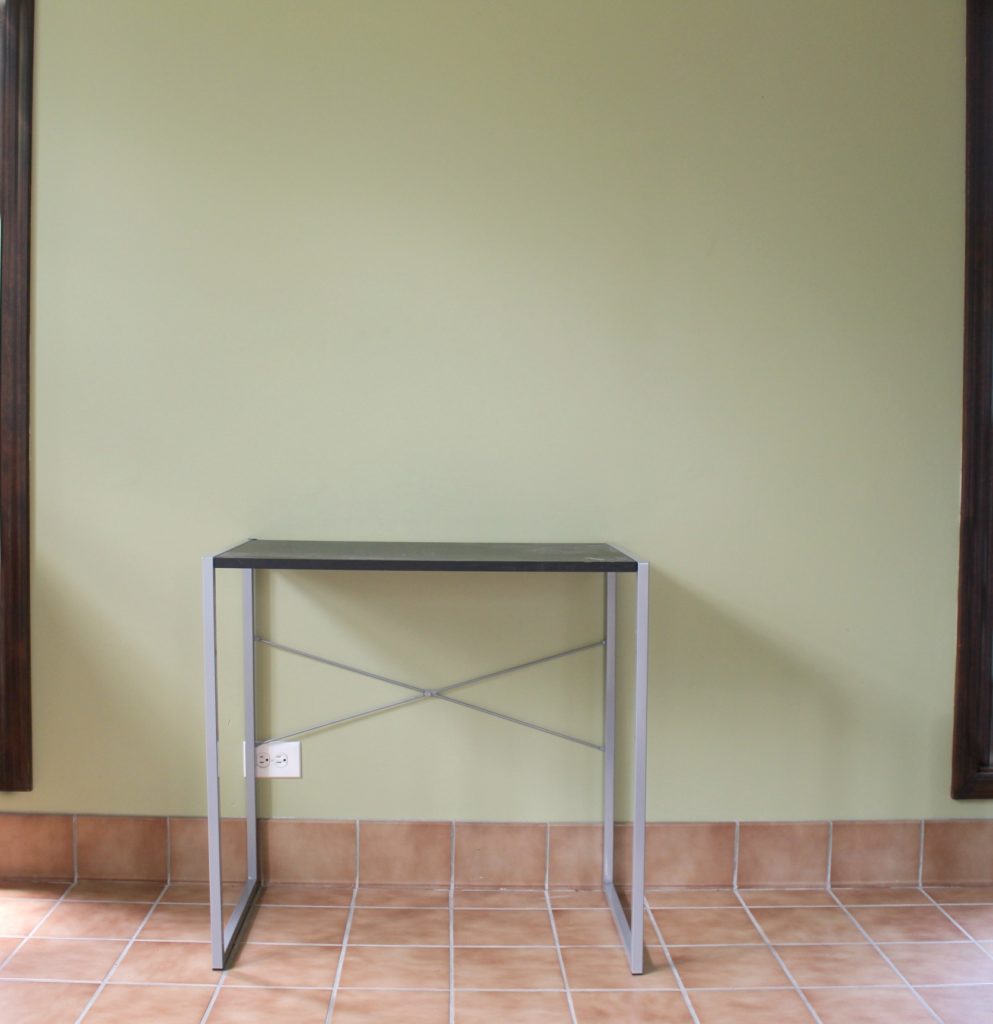 Get a hula grass table skirt for your table. This is in my opinion, a necessary element of the party looking cool.
I used green poster board paper for the top of my table but you can use any table covering you wish. I secured the grass skirt to the poster board with a glue gun.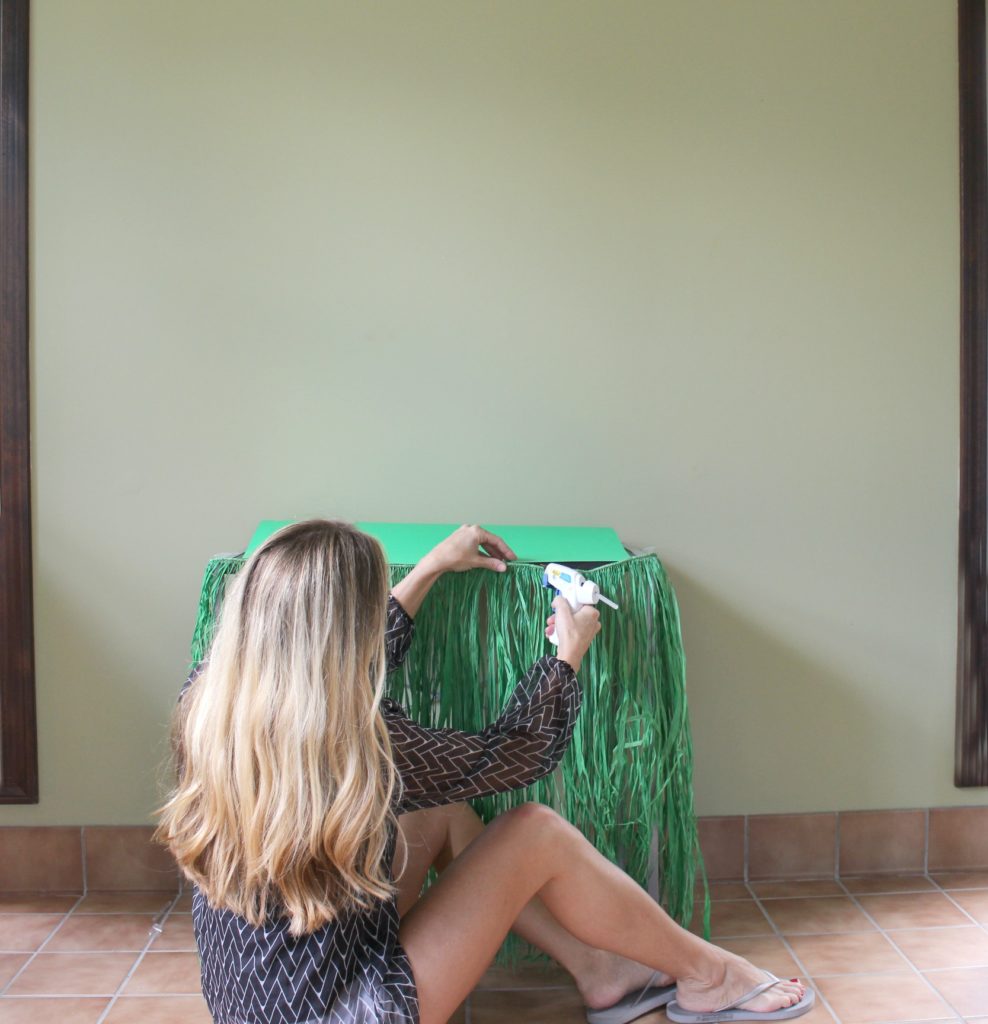 Then I added the wall and table decor. I borrowed my son's longboard as a decoration. I propped it up against the wall and put a small nail on either side near the top to keep the board from moving.  I also turned a small tub upside down to create a raised area to set some food on.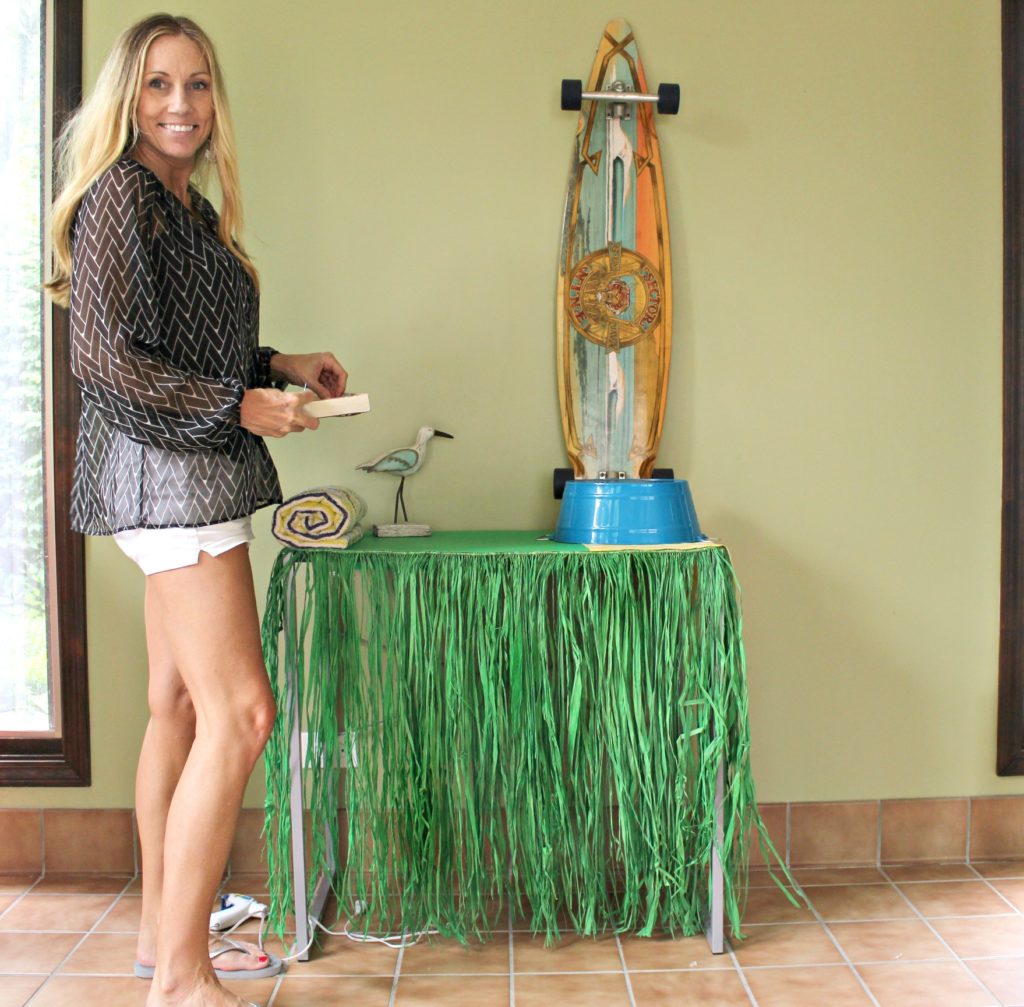 Here are some of the items I used to decorate. Some I purchased and some I had around the house (including the rolled up beach towel).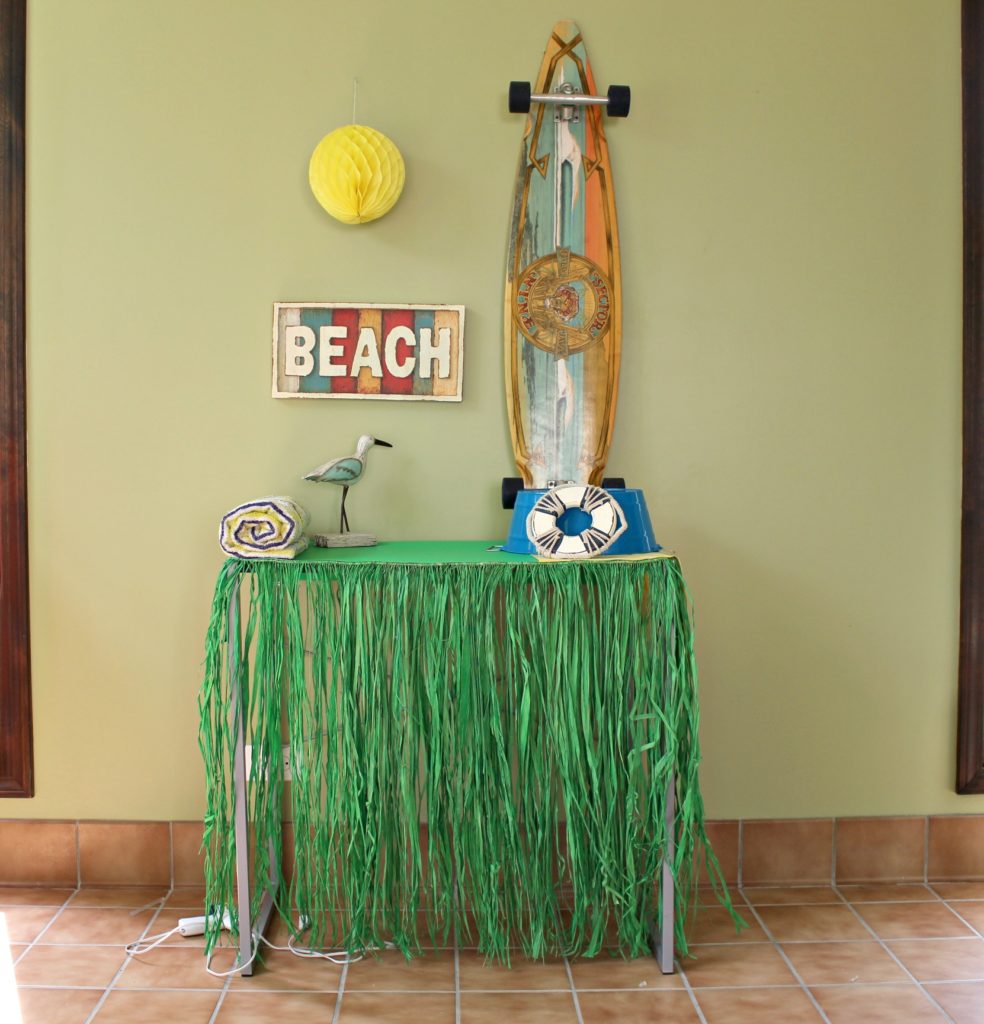 List of Decor Items: 
After that, I wanted to tie in the yellow sun representation so I used the glue gun to make a pom pom banner on a string of rope.
Then I made the other items to decorate the table and to facilitate the meal.
You can find the individual DIY projects for each of these things:
Summer Themed Mason Jar Glasses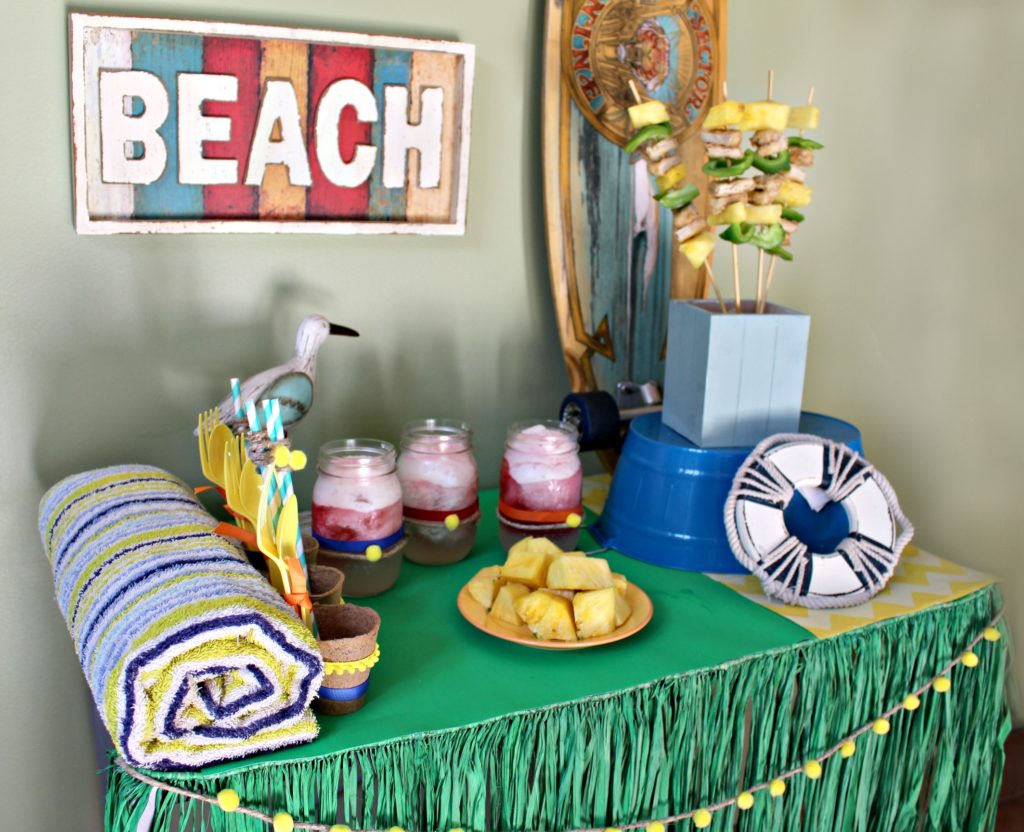 I kept the food very simple making skewers of fresh pineapple, bell pepper and tofu shish kabobs to toss on the grill when we were ready. I used a wooden box that I had at home, put some flower foam inside, and stuck the kabob sticks into that to hold and display them.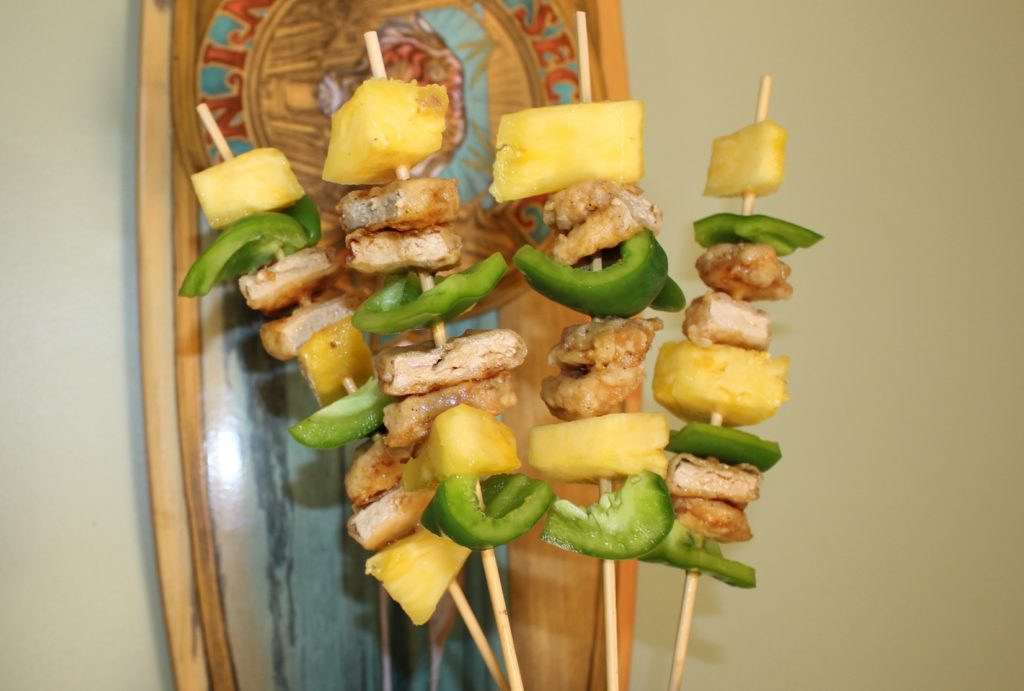 TIP: This is a great way to put food out when you don't have a lot of table space but also adds eight and dimension to your partyscape.
I made a blended frozen cranberry lemonade for us. Take lemonade and ice and blend it into a slush. (Add rum or vodka here if you want "adult" drinks.) Add ice cubes to the mason jars and pour in the slushy. Slowly drizzle about  1/4 to 1/2 cup of cranberry juice around the top of the slushy. Serve.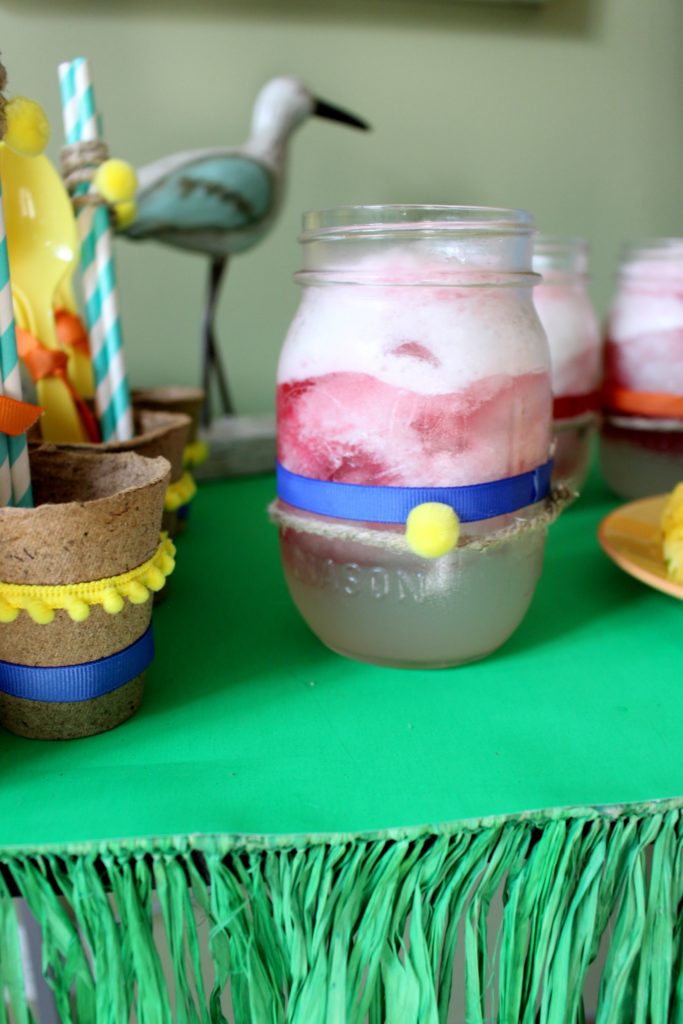 Add some fresh pineapple chunks to the table so snack on and you are ready for a summer celebration!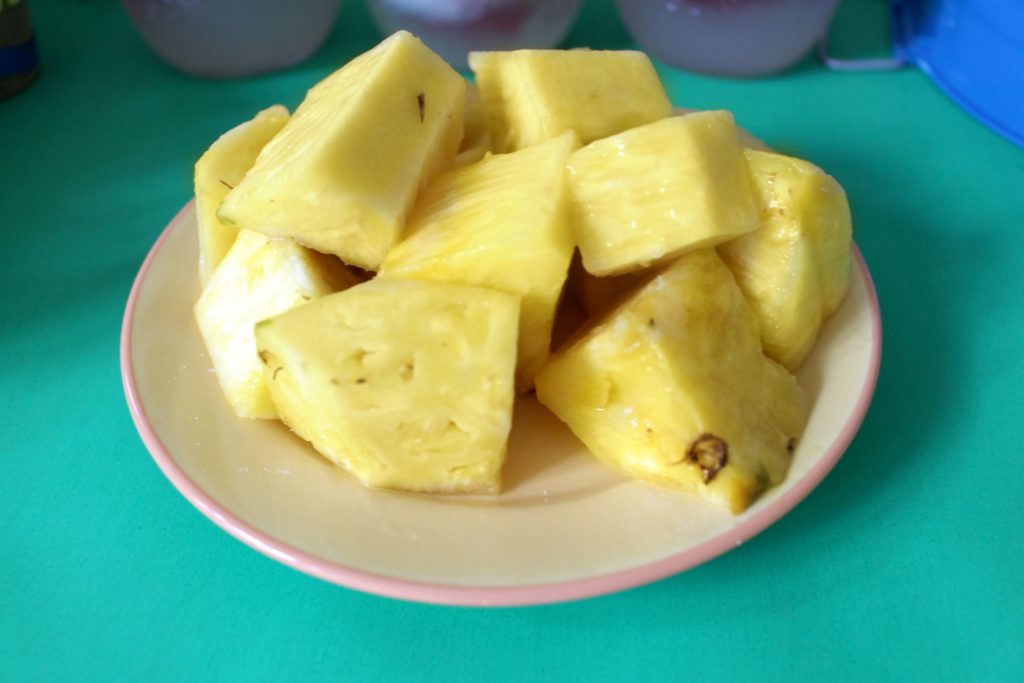 See how fast and fun it is to create this summer themed party! You can do it on a small scale or a large scale using all the same steps and ideas.
Who are you going to have over for a summer celebration?
Pin this for later. . .