With the modest fashion movement gaining traction on runways and magazines, the industry is finally showing its support for women who are into fashion but also choose to honor their religious beliefs through their apparel.
According to CNET, over the last few years "mainstream brands from H&M and Uniqlo to high-end labels like MaxMara have launched their own modest-clothing collections" and "Dolce and Gabbana debuted a line of hijabs and abayas…and Nike announced it's Pro Hijab along with an ad campaign featuring fencer Ibtihaj Muhammad and boxer Zeina Nassar."
So now they know. 
Modest fashion isn't just a trend or a fad. It's here to stay. With the fashion industry behind them, women who choose to follow these guidelines can still express themselves, be modest, and fit in anywhere with their own idea of style.
That is, until COVID-19 hit.
How can Muslim women still celebrate the strides they've made in fashion during a pandemic? How can they still be fashionable at home?
Show Up
First of all, you may be self-isolating, but you're not invisible. Stay active in the world. Use Zoom or Google Meet to connect with the office or your community, and dress for the occasion. Not only will you look fabulous, but dressing like it matters (and if it's important to you, it matters) will help you fight the COVID blues.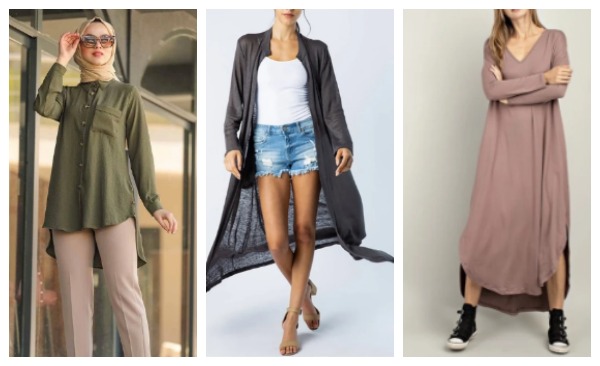 Cater to Comfort and Beauty
Since you're at home, be kind to yourself by wearing soft fabrics that look and feel great. RIISH is a fantastic source for beautiful clothes that easily dress up or down. While you're there, pick up two scarves: one for your outfit and one to be used as a mask. So when you do have to go out, you'll have a face mask that matches your outfit.
Accessorize
Pick up a pack of bangle bracelets or a five-strand necklace at H&M. As one of the companies willing to cater to modest apparel, let's support them by taking an outfit from drab to fab with a couple of carefully chosen accessories.
Shoes
We know, no one will see your shoes. But ask your favorite podiatrist – running around barefoot doesn't exactly give you tons of support. And while you're lounging at home, you don't exactly need stiff leather ankle boots either, no matter how stylish they are. Comfort rules for house wear. But why not pick up a pair of adorable Birdies--designer flats that have the softness of a slipper, but support you like a sneaker! You can stroll through a garden or lounge at home. Either way, your feet will be happy. They feel made for home, but if you have to run a quick errand, you can do so in style.
During COVID, you'll do better mentally if you keep in contact with your friends, family, work and community. Don't let cabin fever take away your style. You'll feel better about how you look and you'll be less likely to let the COVID doldrums get you. 
Stay strong! We'll get through this together.