I used to have a mantle back before my husband purchased his big screen television. There is no longer a mantle above the fireplace, but there is a constant display of Sports Center being that the men in the family control the remote. (LOL) So, to get my crafty fix and add a feminine touch to our home, I decorated a cool space in my kitchen. It is an open area on the counter top and back splash perfect for "framing" a bouquet of flowers (hint to my hubby who clearly does NOT read my blog – LOL) and decor. It is also a space that draws your eye upon entering the foyer! (So who needs a mantle anyway?) If you don't have a mantle use the top of a dresser, a shelf or a section of counter top like I do! Here is how to get the look I created for a designer decor Thanksgiving. (You can Download the blank pictures I created at the end of this post. – Just add your customization!)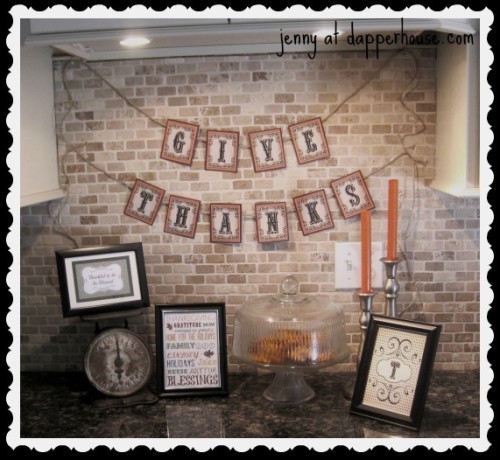 I did a google search for "Give Thanks Printable Banner" and this is the one I liked. I am crediting a FAB website called Simplicity in the South for this download * If you use this banner be sure to leave her a comment saying "THANK YOU" because blogs seriously stay alive via comments! (so please leave me a comment too!!!!) You can read the instructions here on how I made the banner.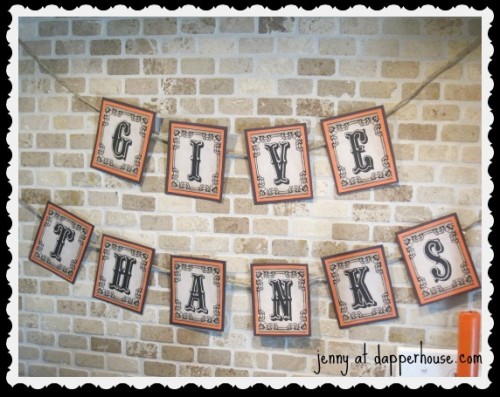 I googled "orange polka dots", "green chevron", "brown stripes", etc. to find backgrounds that I liked to make framed art.
I saved the designs to my desktop. Then I went to my FAVORITE editing program picmokey.com make the art using "labels", "garnishes" and  "text".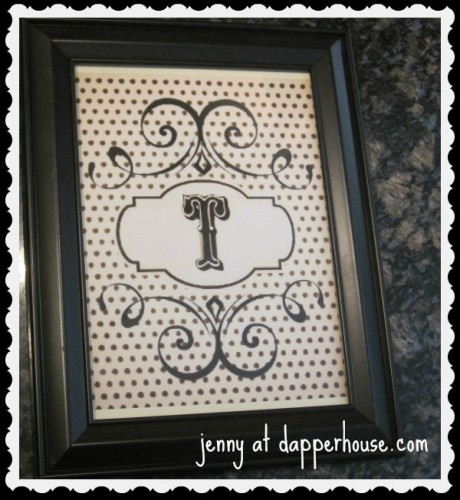 I also used picmonkey.com to make a custom subway art picture with our family's names and meaningful words. Of course we included our sweet dog in this too since he is obviously a family member. (This example is one that I was playing around with, but I eventually created one I liked better.)
TIP: When using picmonkey to create a blank pic, you have to save a blank doc  to your desktop as a jpg and then upload that onto picmonkey to start your work.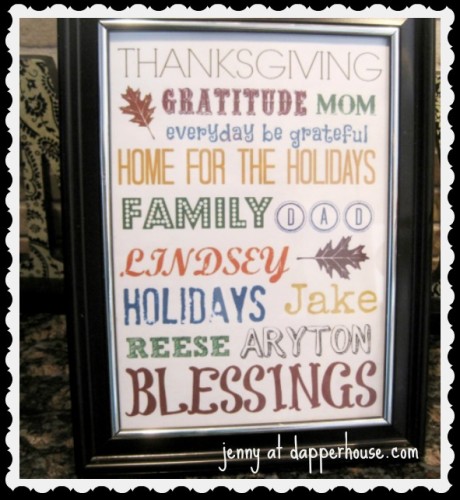 I added frames and words in my desired colors and fonts, then printed them out to the size of my frames. (I used 5 x 7). If you don't already have frames and don't have a lot to spend, go to second hand stores or even the Dollar Store to make this DIY project Gorgeous while staying on a next-to-nothing budget.
TIP: Color Ink can really be pricey! You can save money by using coupons and going with your memory stick to a copy or mail store to do your printing!
Two orange candles, a vintage scale and a tray of sweets and the look complete! What do you think?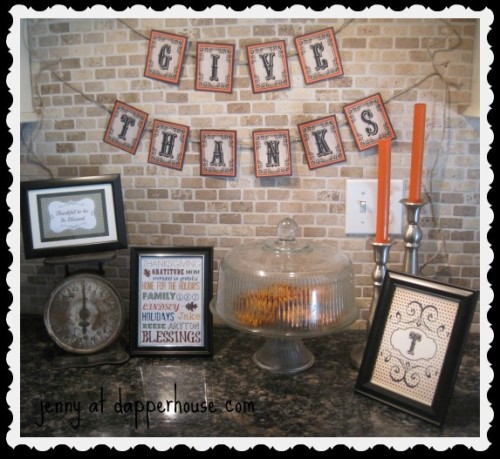 Create Your Own Custom Decor with My FREE Thanksgiving Printables!!