Our favorite beloved toys hit the road in "Toy Story 4" alongside friends—new and old—foes and, of course, Forky. Filmmakers welcomed Christina Hendricks, Keanu Reeves and Ally Maki to the toy box today, revealing the three new characters they help bring to life. This is going to be a family fun night that everyone of all ages will love! The original movie came out in 1995 and this most recent movie will be released June 21, 2019.
Among the new faces is GABBY GABBY, an adorable, talking pull-string doll from the 1950s. But unfortunately for her, a manufacturing defect in her pull-string voice box has left her sounding anything but adorable. She has spent more than 60 years forgotten in the depths of a jam-packed antique store—her only companions are a band of voiceless ventriloquist dummies. Gabby Gabby knows someone will want her if only she can find a working voice box to repair hers. Gabby Gabby is voiced by Christina Hendricks.
LEADING THE WAY — In Disney•Pixar's "Toy Story 4," Bonnie's beloved new craft-project-turned-toy, Forky, declares himself trash and not a toy, so Woody takes it upon himself to show Forky why he should embrace being a toy. Featuring Tom Hanks as the voice of Woody, and Tony Hale as the voice of Forky, "Toy Story 4" opens in U.S. theaters on June 21, 2019.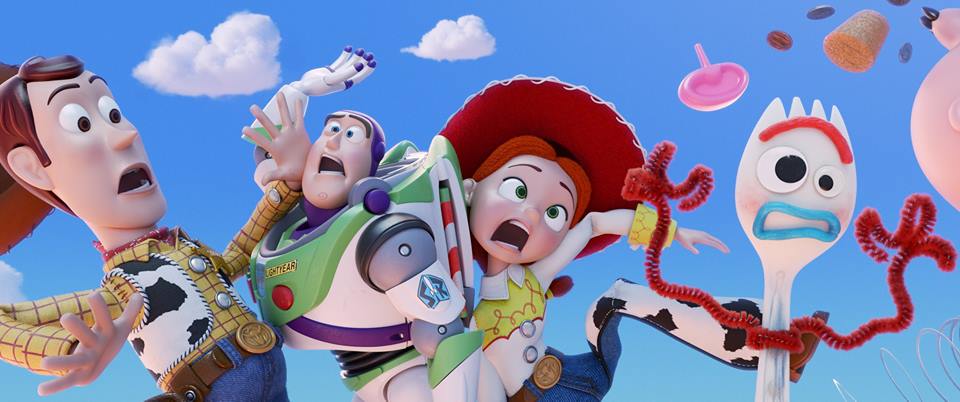 GIGGLE MCDIMPLES is a miniature plastic doll from the 1980s Giggle McDimples toy line. Giggle is Bo Peep's best friend. Small enough to perch on Bo's shoulder, Giggle is Bo's confidant, supporter and advisor. "Giggle is Bo's Jiminy Cricket—we're able to get insight on Bo through their relationship together," says Cooley. "Giggle is definitely the smallest toy in the Toy Story universe. She's been stepped on, vacuumed up, and probably put up a kid's nose in her time." Ally Maki voices the tiny character.