*This is not a sponsored post but may contain affiliate links.
Imagine how great it would be to have a thoughtful gift, wrapped and ready, to give to your dog loving neighbors and friends!  The following recipe took just a short time to prepare and my dog loves them!  The ingredients are all natural and I usually have them on hand.  I added flax seed and oatmeal to the mix to give it a healthful crunch.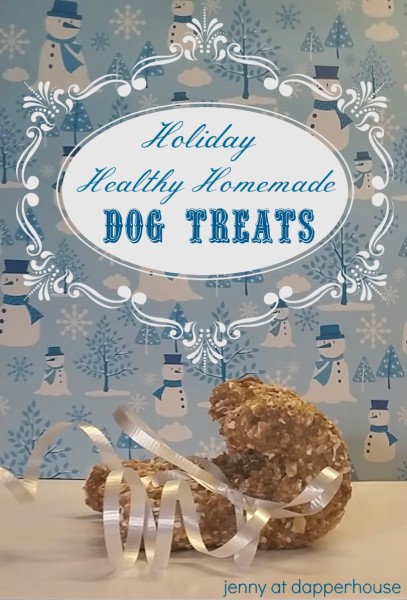 Like this candy cane cookie cutter, any holiday cookie cutter would make for a cute dog treat – a pumpkin shape for the fall or Halloween, an Easter egg or flower shape for spring, different bug or beach ball shapes for summer. Also, different flavorings may be added to make it specific to your pet – try adding peanut butter or some chicken or beef broth to personalize your treats.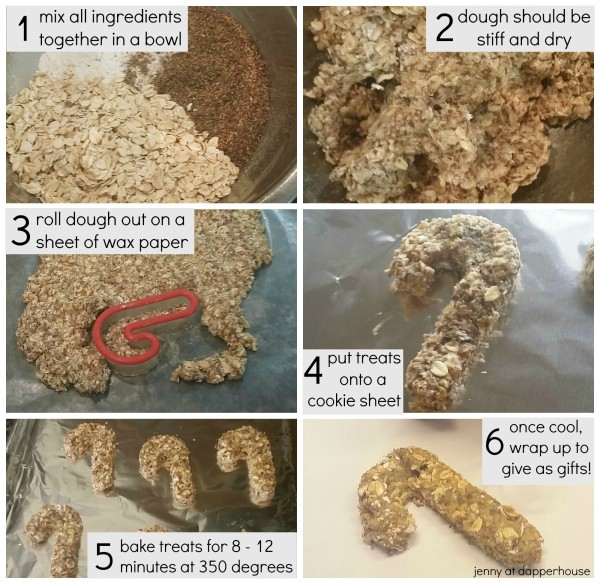 Tying them up with a seasonal bow makes for a darling presentation!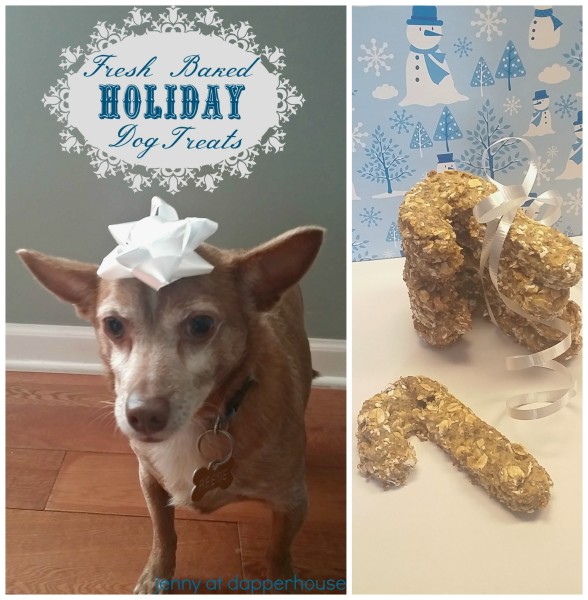 Recipe: 
2 eggs – slightly beaten
3 oz. apple sauce
1 cup Flour
1/2 cup Flax seed
1 cup oatmeal
*Mix should be stiff! If it is too dry, add a teaspoon of water at a time. Dough will be a bit sticky but should be more dry than wet. (See tutorial pics for consistency)
Roll dough out on wax paper about 1/2 inch thick.
Cut your shapes with a cookie cutter and place them on a greased cookie sheet.
Bake on 350 degrees for 8 – 12 minutes (until solid)
Cool and gift!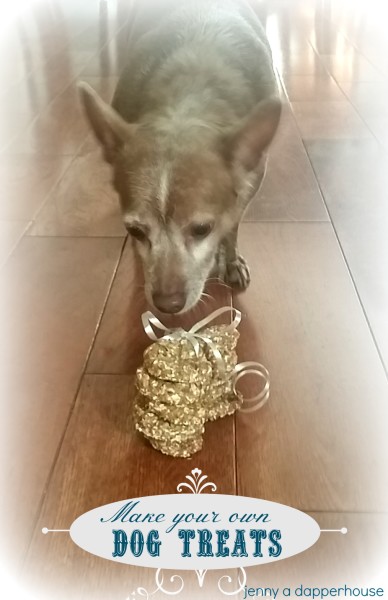 Have you made your own healthy dog treats before?
Check out this easy way to make dog treats! This might be more your style? $20 Nostalgia Electrics Doggie Biscuit Treat Maker Kit