Typically, my recipe posts feature Fast & Easy ways to good food. This post however, is featuring a recipe that takes a bit of time and a bit of prep work. It is post worthy because it is a healthier version of Deviled Egg Potato Salad that still tastes like the real thing! Your family will love it and so will you!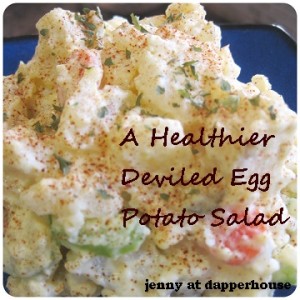 My family initially wanted me to make deviled eggs but  I am sneaky and have to make them eat their veggies, so I made a vegetable filled salad that has a few twists to make it much healthier. One of the tricks is to substitute Greek style yogurt for mayo. Another is to add extra veggies to the mix. Lets make this together! Here is how. . .
In two separate pots boil . . .
6 large eggs
10 small/med potatoes
* I use this egg timer that you put right into the pot with the eggs and it        makes them turn out perfect every time! (I got mine at Crate & Barrel.)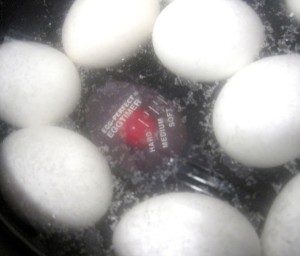 While those are boiling dice the following . . .
1/2 cup carrots
1/2 cup celery
1/4 cup white onion
*You can add 1/2 cup of bell peppers as well.
and set aside.
In a large mixing bowl combine . . .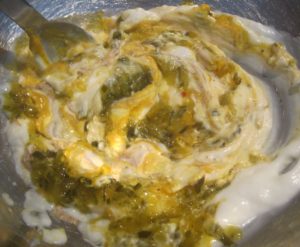 1/4 cup sweet pickle relish
1/8 cup brown mustard
1/8 cup yellow mustard
1/4 cup plain Greek Yogurt
1/2 cup of Vegenaise
1/2 cup real mayo
1 tsp of salt
3 grinds of fresh black pepper
Stir Together to blend ingredients.
Remove potatoes and eggs from heat when ready.
Cool and peel both eggs and potatoes.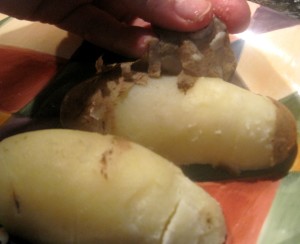 Remove yolks form the eggs and whip into wet mixture.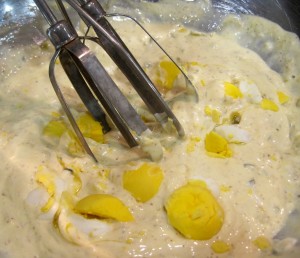 Use a fork or knife to dice up the eggs . . .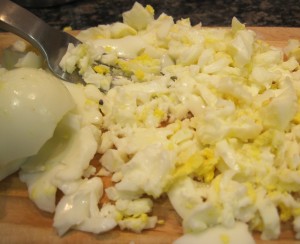 Dice up the potatoes in to varying sized chinks. . .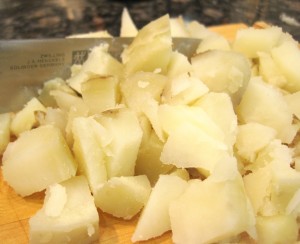 Gently fold the veggies, potatoes and eggs into the mixture.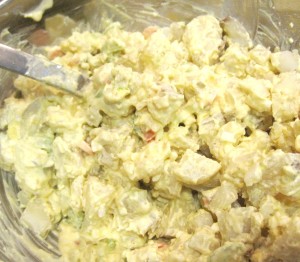 Serve topped with paprika and parsley flakes.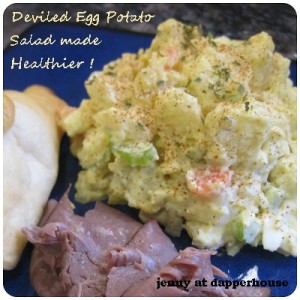 I served this to my family with croissants and roast beef.
One of my boys mashed the potatoes in his salad and put it into the croissant with the roast beef for a creative and hearty sandwich!
This is a great side dish to make for pot luck dinners too!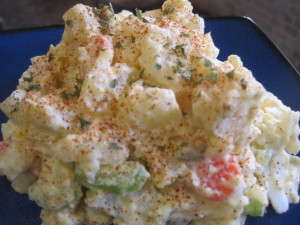 *Disclaimer – this post was not sponsored. I did not receive products or compensation for this post. All opinions are my own.