*This is not a sponsored post. Opinions and content belong to jenny at dapperhouse.
Hate to run? I have a love-hate relationship with running because I used to crave (no, seriously CRAVE) running and now it is a chore. I do it though because I want the exercise and the heart rate up and the lean runner's legs. . . but I am waiting for that real love to come back. The bottom line issue is boredom right? So we have to find ways to kill the boredom so that we can have some positive experiences. This will give us the opportunity to find the love and passion for running again. Here is my plan of action to get through a run. I hope that some of these strategies work for you.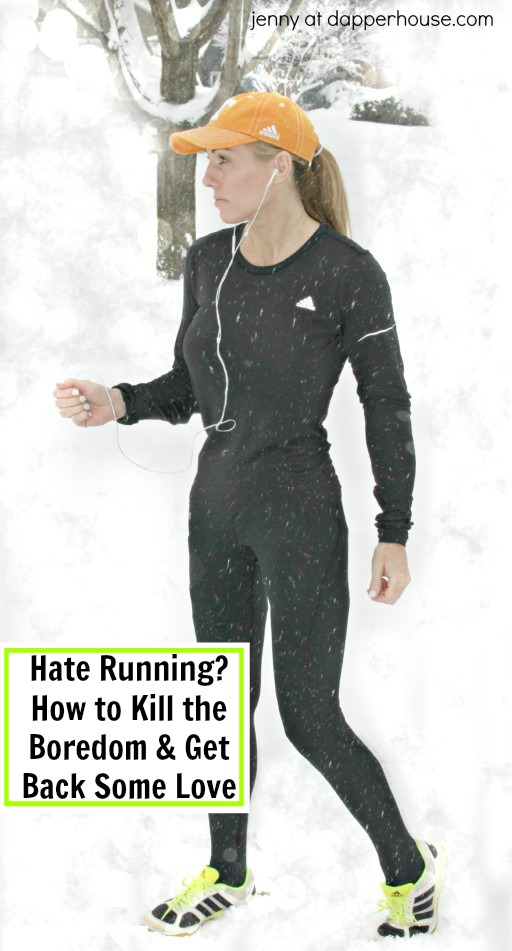 New Music
The easiest first step is to find new music. Get the old favorites that motivated you when you had the passion but mix them up with some new, fast paced music that will help you keep the pace, feel motivated and excite you! Here are some of my favorite running songs that will help get your search started.
Get a New Attitude
Get yourself in a new frame of mind. Every time you think about running ditch the bad attitude, the sighing, the eye rolling (the whining) and replace that negativity with a curiosity for something new and an attitude that makes you want to meet your goals! Instead of slumping your shoulders when you are planning a time to run,  do a few leg stretches and imagine yourself feeling energized. Instead of feeling apprehensive when you are tying your shoes, imagine how it will feel to be gliding along at a fast pace and how invigorated your muscles and lungs will feel.
Distract Yourself
Maybe you are at a point where you really hate running and you just need a way to pass the time. If this is where you are at then lets just cut to the chase and get some ways to kill the boredom. Get an audio book on your ipod and listen to an engaging story while you run. You can also listen to podcasts, news and more! These will certainly make the time seem to move faster. Or, watch a movie or other show on your ipod while you are on the treadmill. I have done this many times to make the dragging time move along and be done with my run before I know it. (hint: The Walking Dead and Breaking Bad)
A Change of Scenery 
The last suggestion is to change it up for awhile. If that means driving to a new place to see new places then go! It will be worth it. Jog a new park, a pretty subdivision or downtown in a cool city. There will be lots of distractions to keep you interested. If it is bad weather outside and you have to run on a treadmill, buy a day pass or get a free guest pass to some other nearby gyms. Grab a treadmill and look around, people watch and get yourself motivated to show off your running!
Reward Yourself
Set a running goal and when you meet it, reward yourself and set another! I love to set goals to earn my work out gear. Here are some athletic inspirations that you can reward yourself with. Or sign up for a run and have that be your goal AND your reward, to train for and finish the race!
What do you do to motivate yourself to run and kill the boredom?