DIY Upcycled Valentine's Day Gift Box
This gift box is unique with the individual gift holders in the front and a slot for a gift card in the back. In the tube shaped gift holders you can put a variety of things like candy, rolled up socks, flowers, money and tons of small gifts!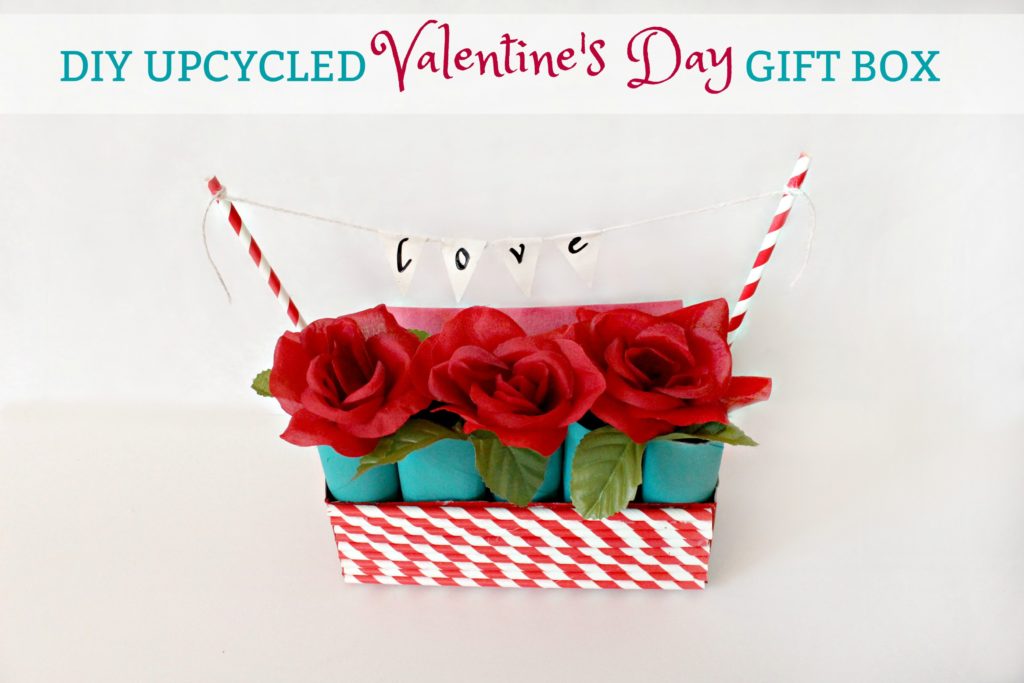 Supplies:
Instant oatmeal box

5 toilet paper rolls

Red paint

Turquoise paint

Paint brushes

12 red and white striped paper straws

Hot glue gun

scissors

Lightweight twine

White construction paper

Small stickers in the letter "L,O,V,E"

3 large, silk roses
Step 1. Cut the instant oatmeal box in half and choose one side to use as your box. Use the hot glue gun to secure any loose flaps.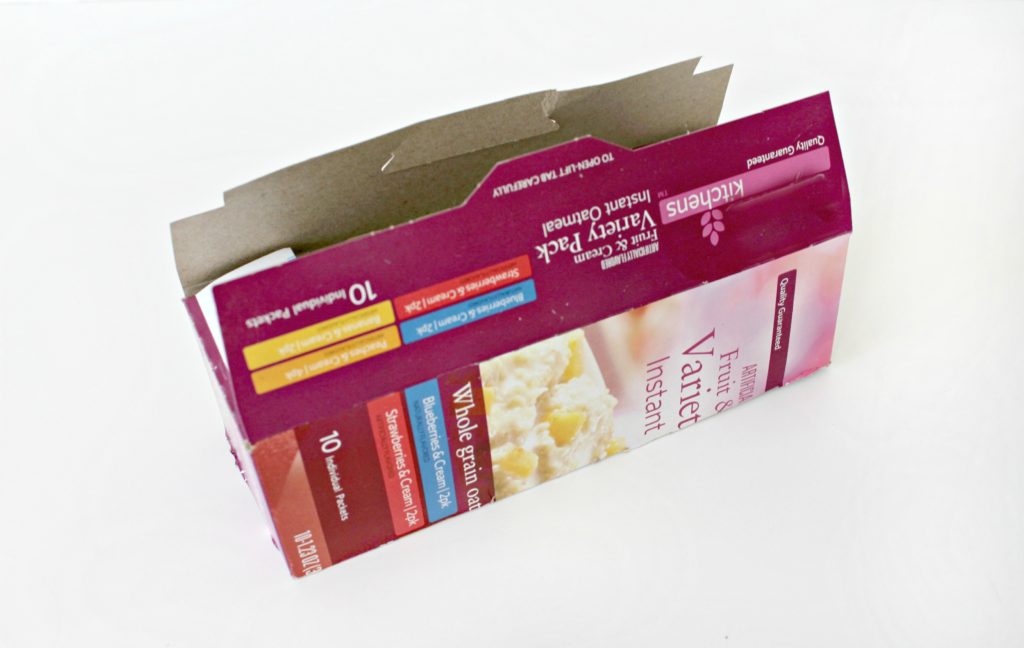 Step 2. With the turquoise paint and a paintbrush, paint all 5 toilet paper rolls and let dry.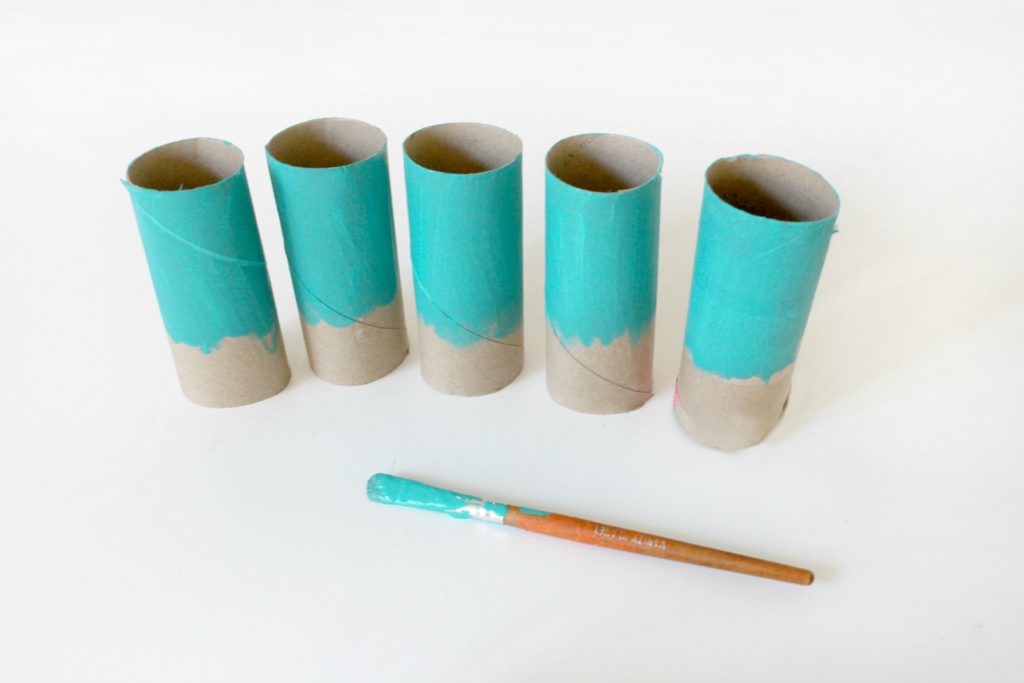 Tip: (You don't need to paint the rolls all the way to the bottom as they will be inside the box.
Step 3. Using the red paint and the paintbrush, paint the box red and let dry.
Step 4. Use the glue gun to secure straws horizontally along the entire front of the box.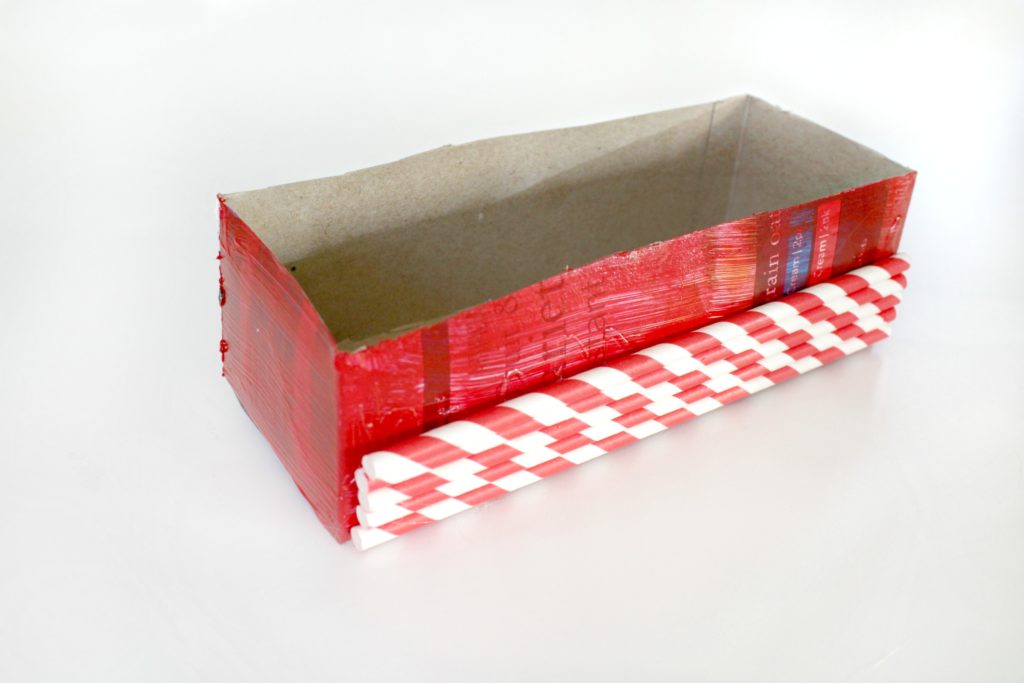 Step 5. Push the turquoise tubes in a row to the front of the box to make certain they fit. (It will be a tight fit.) One at a time use the glue gun to secure the tubes to the inside front of the box.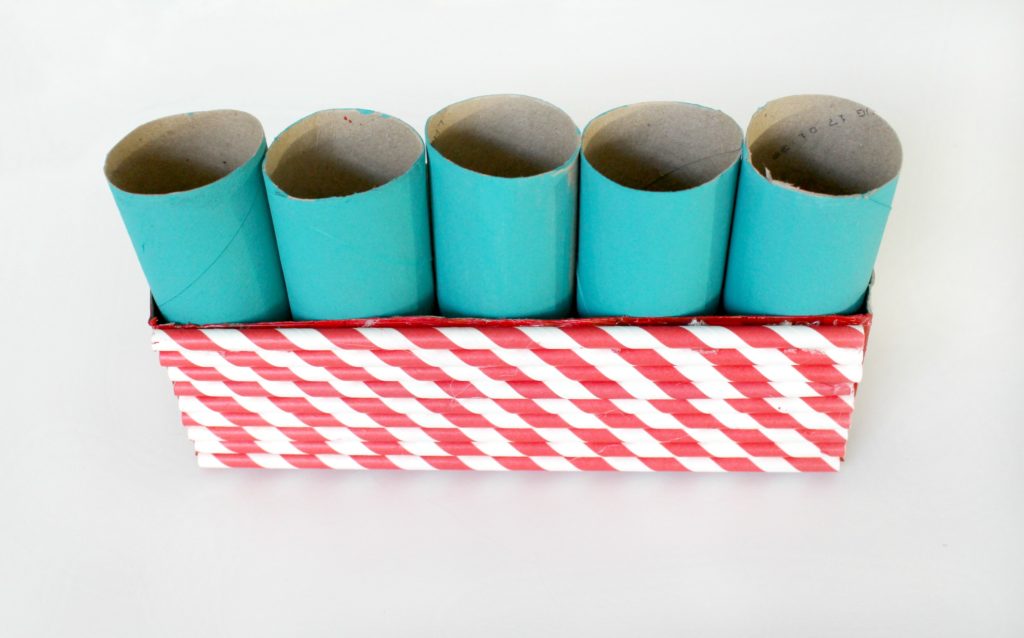 Step 6. Draw a triangle on the piece of white paper. It should be 1 inch across the top and about 1 ½ inches long. (The picture shows that there is an extra bit o space at the top of the triangle. Allow for this to be folded over the string to secure the banner.) Cut out 4 of these triangles.
Step 7. Cut a piece of string that is 18" long. Find the center of the string. Using the hot glue gun, attach the letters "o" and "v" on either side of the center of the string. (Attach the triangle by folding a small flap at the top around the string.) Add the letters "l" and "e" to the string.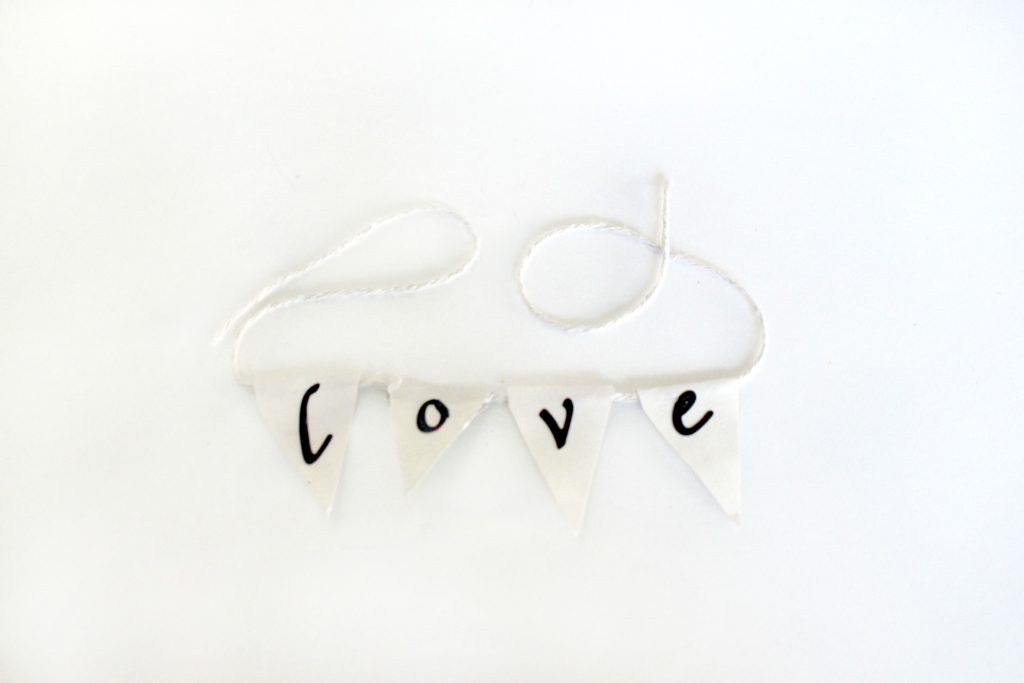 Step 8. Use the glue gun to secure two straws at the back, inside ends of the box. Make the straws facing at an outward angle at the top.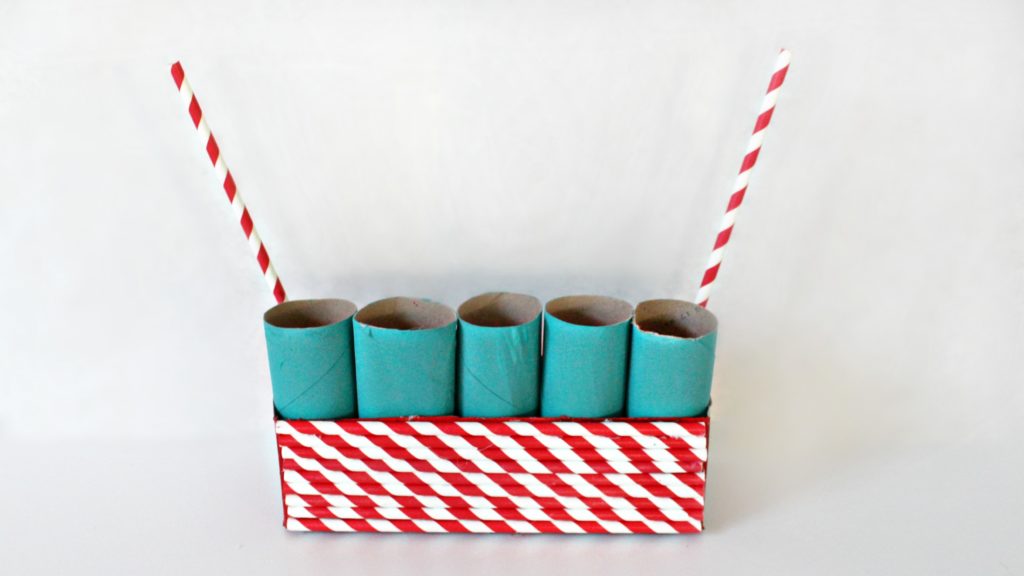 Step 9. Tie the string to the straws to create a banner.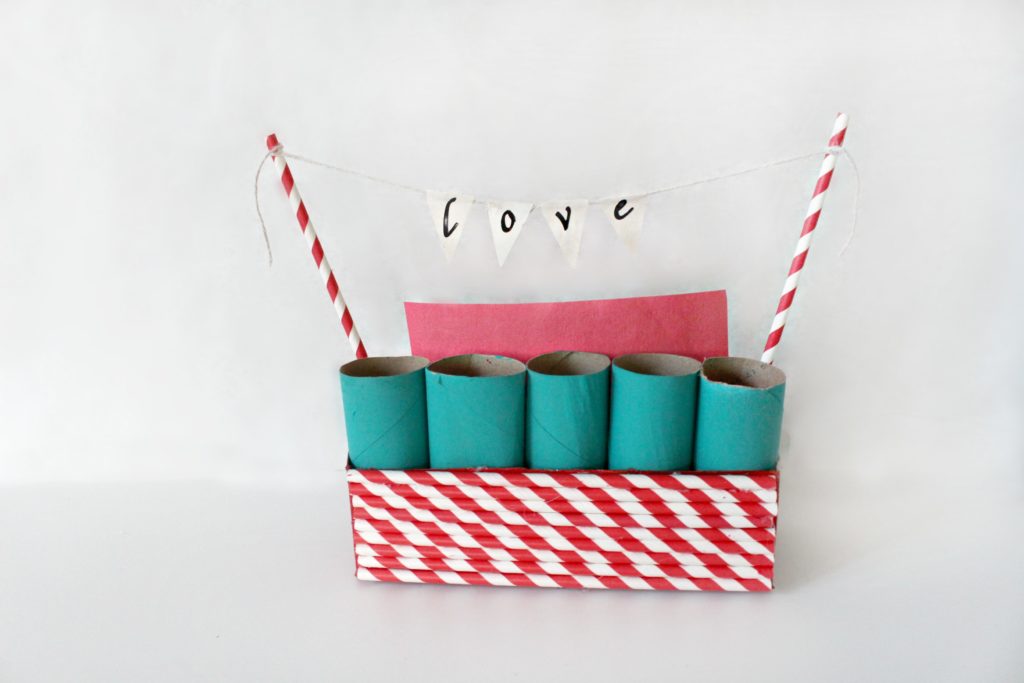 Step 10. Add a Valentine's Day Greeting Card in the back of the box. Add gifts or flowers to the paper rolls in the front.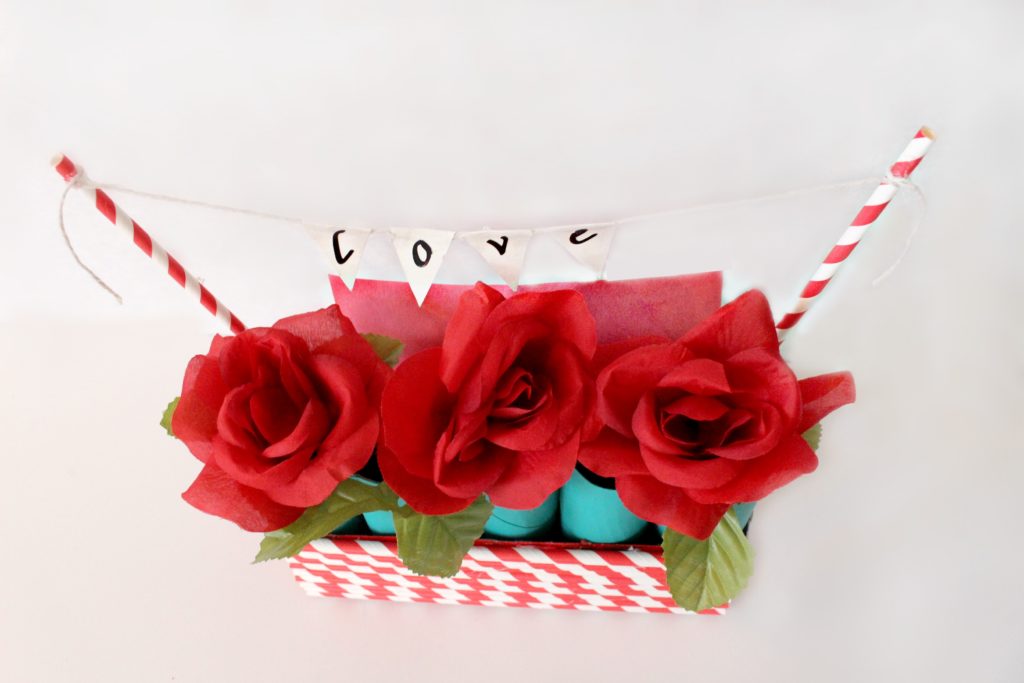 Save this to pinterest. . .