Hello and welcome back! I NEVER wear scarves! I think that they are the cutest accessory on other women, but not on me. I don't like all that fabric bunched up around my chest because it gets in the way! But today a co-worker had the coolest and cutest scarf! It was black with little white bicycles on it, but the main reason I liked it was because it was not big and fluffy, and it looked casual. It was made of T-shirt fabric; soft and thin jersey cloth! I was inspired to make my own and I couldn't wait to get home tonight to give it a try. (Luckily it turned out Awesome so I can share it with you.) Here are the steps I took to complete my DIY jersey knit infinity scarf from an old dress. Super Cute Casual right?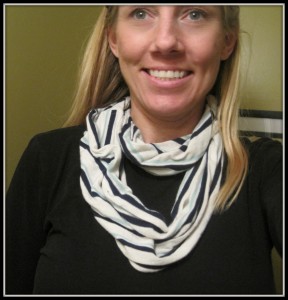 STEP ONE:  Choose an old jersey dress or T-shirt. (I had this Max Studio dress from Nordstrom that I wore to work at the Early Childhood Center. Of course it got stained in a few places from art projects, but I loved the fabric and couldn't bear to throw it out. What a great coincidence that I thought to make this scarf before I tossed out this dress!)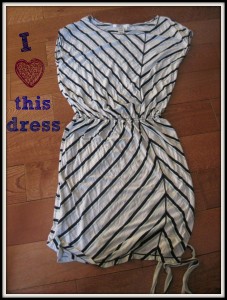 STEP TWO: Measure from the bottom seam of the dress or tee. (I used 12 inches because it came to the bottom of where the biggest stain was and I liked the results! You could play around with the size if you like.)  Cut in a straight line across the tee or dress.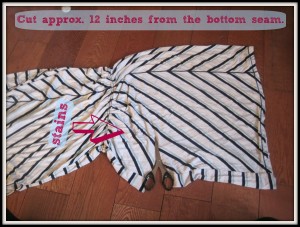 STEP THREE: Cut off the seam at the other end because you are going to do a lot of stretching out the fabric in the next steps.
STEP FOUR: Now stretch the fabric. (I pulled in sections as I went around the circle of fabric. )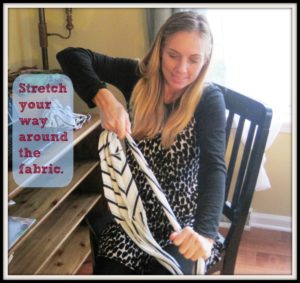 STEP FOUR & 1/2: Keep going around the fabric a few more times.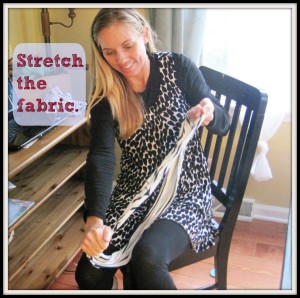 STEP FOUR & 3/4: Now REALLY Stretch that fabric out so that it will be able to wrap around your neck twice and look long enough. (Don't rip it! Be reasonable.)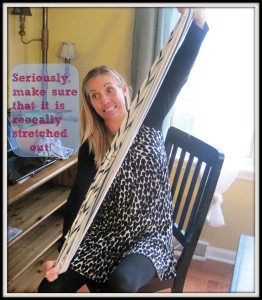 STEP 5: Wear your super cute, handmade, infinity jersey scarf!