When it comes to getting new flooring in your home, you need to consider what is the best flooring type for each room. Some floor coverings are better in certain rooms then others. For example, carpet is normally suitable for bedrooms, whereas wooden floors or tiles are more suited to kitchens and bathrooms. These days, there are lots of different flooring options, including several that are very affordable. Vinyl, laminate, and ceramic tile can all cost as little as $1 per square foot.
So, before you start on your flooring project, the best thing that you can do would be to do a little bit of research and figure out what sort of flooring type you would like. It would also be a good idea to learn about their costs and their benefits. If cost is an issue for you though, then you might be interested in looking at this Discounted Flooring, so that you don't miss out on getting the flooring type that you want. Keep on reading to learn more about the different types of floorings that are out there though.
Hardwood
This is one of the most popular types of flooring that people get. The method behind its construction is incredibly simple, all people need to do is get the planks and then nail them to the floor. They can also be made from many kinds of wood, from domestic species such as oak and maple to exotic varieties such as Brazilian cherry or purpleheart.
Hardwood is incredibly popular due to it's warm classic look, that will suit most homes. However, it's not good if there is a lot of moisture or if it experiences rough treatment, so that is something that you should bear in mind, particularly if you were planning on using them in your bathroom. However, a lot of people do say that can increase the resale value of your home, so if you are thinking of moving soon, then this might be a good idea.
Engineered Wood
If you are interested in getting something a little bit cheaper than Hardwood flooring, then Engineered Wood would be the next best thing. This type of flooring looks like solid wood; however, it is made in a slightly different way. It has a thin veneer of natural wood on the top, but the rest of it less expensive plywood, which people won't see.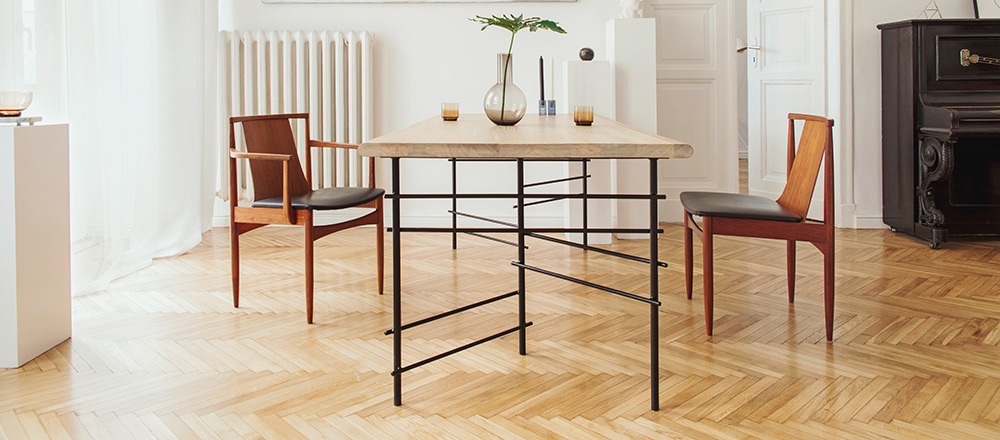 Engineered wood is good because it gives you the look of solid wood, however, it comes at a much lower cost. There are a few things that you need to know about engineered wood though, they are less sensitive to changes in temperature and humidity, so are a good choice for a basement room (unlike solid wood). However, they can scratch and be dented easily. They also aren't as durable as hardwood, meaning that in the long run they aren't as good.
Laminate
This is another popular choice that people go for, due to it being considerably cheaper than the other two options. It is like Engineered Wood, however, instead of having real wood on the top, it has a photograph under a clear plastic coating.Laminate can mimic the look of wood or stone for much less money. It's also easy to clean and requires very little maintenance so is good for people with a busy family life.
The main issue with laminate flooring is that when it becomes wet, it is very slippery, so this is something which you need to consider as well. Particularly if you are planning on putting it in the bathroom. However, it's a good type of flooring for kitchens or playrooms as they don't scratch and don't mind a tough environment unlike Hardwood. For more information on laminate flooring click here.