*This is not a sponsored post. All opinions belong to jenny at dapperhouse.
Looking for a healthy and easy recipe for dinner tonight? Here is a chicken and veggies in garlic butter sauce that I made yesterday and it was well received by my picky boys. To make it more healthy I suggest using alterations such as margarine for the butter and plain yogurt for the mayo. You could use no carb pasta and extra veggies too! It is packed with lean protein and healthy spinach that make it a good choice for dinner. If your family is not a fan of spinach, substitute with green beans or other dark green veggie. Great served with a side of couscous or baked potato.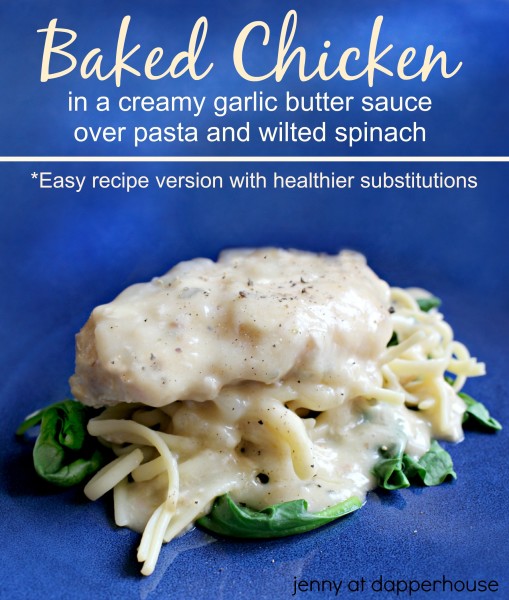 Garlic Butter Sauce
Combine
1/3 cup butter
3 Tbs olive oil
1 clove of garlic crushed
1/4 tsp salt
1/4 tsp ground pepper
1/4 cup sour cream
1/4 cup mayo
1 tsp dijon mustard
Season to taste with a few shakes of:
basil
oregano
thyme
red pepper flakes
Combine ingredients in a saucepan on medium heat and stir gently until butter melts and a sauce if formed.
Pour on top of 2 chicken breasts in a baking dish and bake for 40 minutes (or until chicken is fully cooked).
While chicken is baking, cook and drain pasta and wash spinach leaves.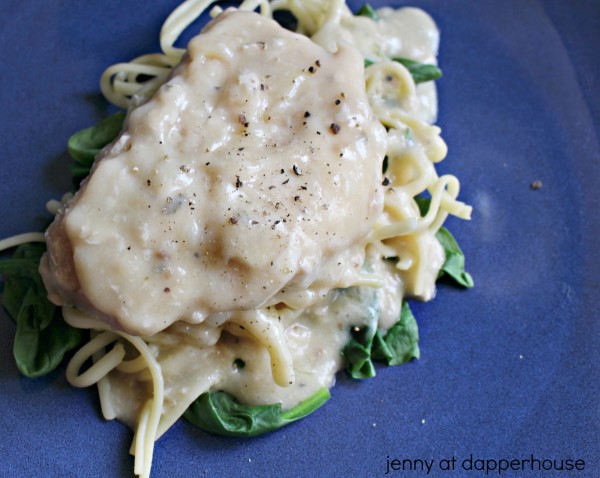 To Plate:
Add a generous handful of spinach leaves to a sauce pan on medium heat with a dash of olive oil. Add a dash of salt, pepper and a squeeze of lemon. Stir to coat leaves, then cover stirring a few times until leaves are wilted.
Transfer to the spinach to the plate.
Cover with pasta.
Top with baked chicken breast and spoon extra sauce over everything. Sprinkle with crushed pepper and or parsley flakes for presentation.