"OH Yea! One of the Best Toys of All Time" quoted from my 9 year old son after playing for over a week with his new Air Hunterz Z-Curve Bow™ and arrows from Zing Toys. This bow definitely promotes both because of the
hand-eye coordination and because the running around.
On the day we took these pictures it was rainy outside and my son
spent a ton of time setting up targets, running after his arrows and
finding new ways to make the bouncy arrows ricochet off of as many things as possible and end up in a designated place!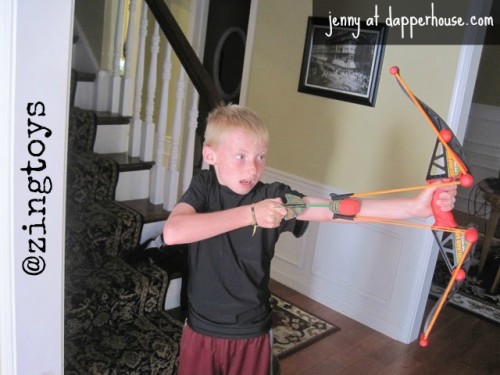 There are 2 bouncy arrows and one suction cup.
He LOVED this one too, although with the incredible power of this
bow, I was nervous that it would go right through my window!
It shoots up to 125 feet, is super durable and
is easy to load but demanding enough to be
taken seriously by an older child.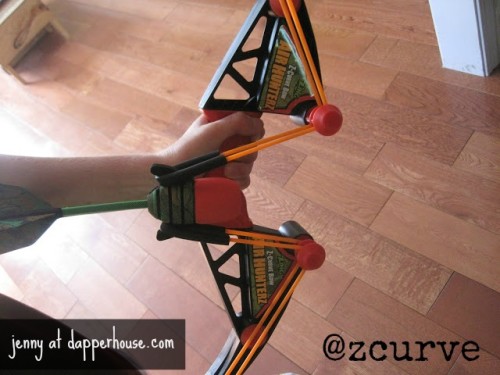 We took it to the forest for him to play and thank goodness there is some
red on that camouflage so we could collect the arrows.
It comes with a ammo holder for carrying the arrows
to keep your hand free.
He felt like a real hunter and had so much fun.
We are going to have to buy one or two more so that on play dates
 him and his friends can all play together.
My son wants to try out this crossbow as well,
I recommend this toy 110% and believe it would make a GREAT Holiday Gift.
If your child wants to try archery this is a fun alternative to actual arrows
because they can actually practice without an adult present.
The Air Hunterz Z-Curve Bow™
 sets 
are sold at Toy Stores, Amazon and Target, but also at Hunting Equipment and Outdoor Outfitter Stores.*I asked to review this toy from Zing Toys Online because it looked like a high quality toy that promotes athletic play.