*This is not a sponsored post. Opinions and content belong to jenny at dapperhouse.
If you are dieting you know how slow the progress can be. You know how hard it is to summon up your will power all day long to make healthy eating choices. You know how defeating it can be when you do great for so many days in a row and then ruin it all in one delicious meal or a night of drinks. . . If life was fair and we didn't have to work so hard then we wouldn't have so much to be proud of, right? We can do this dieting thing!!! Here are 5 fast dieting hacks to satisfy your cravings without ruining your progress.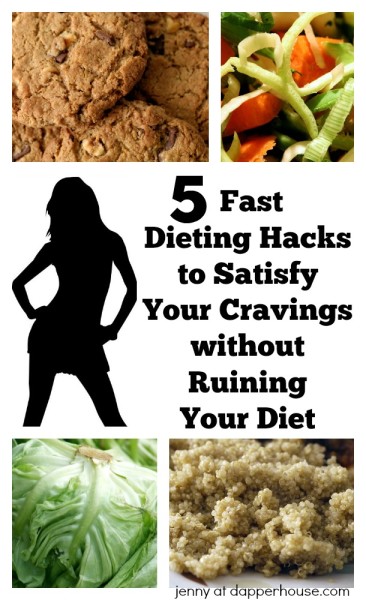 1. If you just can not avoid making those cookies that you love hot and fresh from the oven, try substituting white flour with whole wheat, or with black bean puree! The measurements are the same and it is much better for your bod! Using black beans gives you the protein that your muscles need to ward off the fat!
2. Use unsweetened applesauce in place of sugar. Sugar is a drug for our bodies. It is also a poison and is counteractive to eliminating fat. (And it is Sooooo delicious! I have a bad sweet tooth!) Using applesauce instead of sugar in baking is a hack that you should always be using. You'll get used to it.
3. Sometimes we just want a bit of substance after eating lightweight salads all the time. Rice is a good way to feel full and can be added to your salads with chopped chicken, vegetarian meats and hard boiled egg whites. Never use white rice however, or you will be undoing your progress. Use natural brown rice or even better, quinoa to feel full and get important nutrients that work for you instead of against you! Only a small amount can do the trick.
4. I dont love the carbs and calories in pasta but I need a way to eat marinara in a more socially acceptable way than dipping a whole baguette straight into the jar. I fill a plate with fresh baby spinach, spaghetti squash, or shredded raw veggies and savor the fact that I am doubling down on the nutrients while getting my robust meal! (How to cook perfect spaghetti squash in the microwave)
5. I love foods that have a crunch to them! It makes me feel like I am eating something of substance. . . tortillas for wraps and bread for sandwiches even when whole grain and healthy are still so many calories! I buy a big, crisp head of iceberg lettuce to make my wraps and even though there are not a lot of nutrients in iceburg, there are also no calories, carbs or fats!
What is your best dieting tip? Share in the comments.