*This is not a sponsored post. Opinions and content belong to jenny at dapperhouse.
It is absolutely true that eating healthy can be really expensive. Sadly, highly processed foods loaded with sugars, fats and unhealthy carbs are inexpensive when compared to lean meats and whole grains. For goodness sake, even a candy bar is half the price of a health or protein bar. But it is possible to find inexpensive and nutritious food in your supermarket.  You just have to be creative and take the time to shop for the right things.  The cool thing is that you can mix and match the foods on this list to make healthy meals just by adding some olive oil, salt and pepper, garlic or other seasonings. Here are 10 cheap and healthy foods that will fit into your budget and be just fine for your waistline. Enjoy eating healthy on the cheap!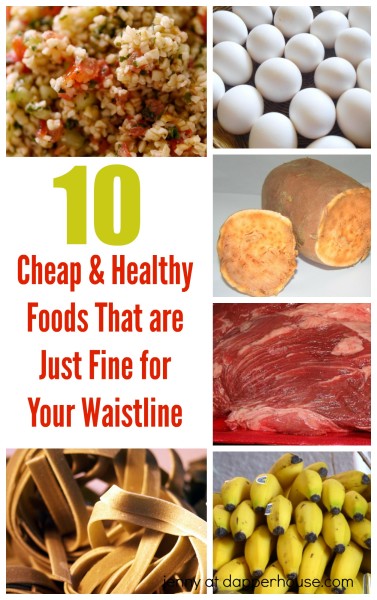 Eggs.  You simply can not go wrong with this versatile food. Egg whites are incredibly high in protein that they are great for every meal from breakfast to a late night snack.

Beans.  Loaded with lots of dietary benefits, beans can be bought in bulk and keep for a long time. They can be used as main dishes, side dishes and an excellent addition to salads and homemade soups.

Canned Tuna.  Fish provides your body with much needed omega-3 fatty acids, so buying canned tuna in water is a cheap bet.  Served with oil and vinegar instead of mayonnaise not only is tasty, but saves fat and calories as well.  Add on top of salads too for a great addition of protein.

Bananas.  One of the most portable fruits, bananas are high in magnesium and potassium so offer not only essentials nutrients, but are extra inexpensive as well.

Canned Tomatoes.  Nature's fruit which comes in so many varieties is one of the best meal starters you can buy. Whether they are crushed, diced, or pureed, they are cost effective and you should stock up when the price is right.

Frozen vegetables.  When this amazing product is on sale, grab them up and store for up to one year in your freezer.  When frozen, they don't lose their nutritional value and the taste when used as side or especially in your favorite recipes is perfect.

Flank Steak.  Since flank steak is a leaner cut of beef, you would think it is more expensive, but it's not.  Look for it sold in family packs for the best deal. Super high in protein, flank steak is perfect for fajitas, sliced on top of salads, or grilled for a quick dinner.

Whole Wheat Pasta.  Loaded with fiber, whole wheat or multigrain pasta packs a punch of nutritious value.  It's usually less than $2 a box and paired with your store brand marinara makes a cheap meal that's tasty and easy too.

Sweet Potatoes.  Loaded with Vitamin A, good carbs and even a bit of protein, sweet potatoes cost less than a dollar and are absolutely delicious. They also contain calcium, fiber, and vitamins A and C.  They are available year round and served baked with olive oil and salt or sugar, they are super yummy.

Brown rice.  Not only is brown rice very cost effective, it also is better for you than white rice and can be used as a side to a healthy dinner or added to soups.  Because it is a whole grain, it holds all of its nutritional value. Brown rice is one of the best whole grain carbs that you can eat.
What are some other healthy foods that are inexpensive for families on a food budget? Share your ideas in the comments below.
More articles about nutrition and healthy foods. . .
Foods that contain High Amounts of Vitamin C
Delicious, Healthy and Cheap Recipe for Sweets & Beets
The Truth about reaching your weight loss and health goals