This is a sponsored post for Sincerely Silver. All opinions are my own.
Sincerely Silver, specializes in high quality jewelry and custom made designs. Whether you see the design and style you are looking for on their page or not, they can make it!

Their dedicated team works to ensure that the vision you have of your jewelry can be made into reality. Each of their jewelry items is put through a 3-step polishing process and multiple quality checks to make sure that your custom bracelet is flawless when it gets to you.
I really love wearing bracelets so I ordered a custom one that I had engraved with my own words "Be Courageous & Kind". I was shocked at how fast it arrived and shocked again at the quality of this delicate bracelet that means so much to me.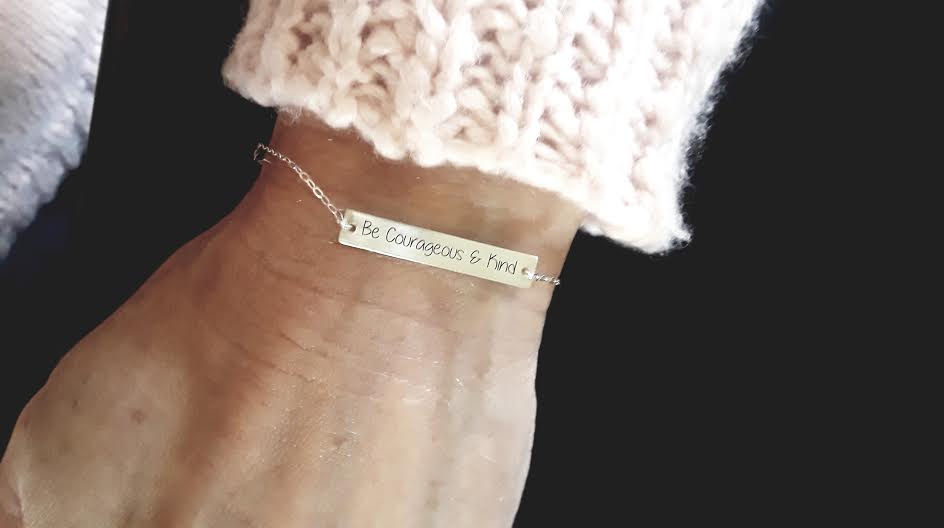 Changes are made when you are courageous enough to take risks and dare to do things differently than before. I am taking big risks in changing career paths (especially at my age) and it is taking a lot of courage!
Being kind is the most important thing we can be when human nature causes us to pass judgement on people when we have no idea what they are going through. For years and years I have been smiling at as many people as I can and it is so rewarding to see other people smiling back with a little kindness in their day.

Contact them today to get started crafting your one-of-a-kind custom engraved bracelet!
Use my exclusive promo code SINCERELY15 to get 15% off your order at Sincerely Silver.