*This is a sponsored post by @BrandBacker. All opinions belong to @linx tea who received samples for her review.
Hey guys! I got the chance to check out some pretty cool products. Makeup by One Direction is now in stores! You can find them at places like Dillard's, Macy's and Lord and Taylor. Right off the bat I was afraid that these were going to be "kid friendly" makeup products, But! to my surprise they were pretty freaking awesome! All the products have cute names that are one direction themed and the colors are definitely wearable! A cool feature of many of their products is that they are UV Glowing for the clubs and maybe even the One Direction Concerts!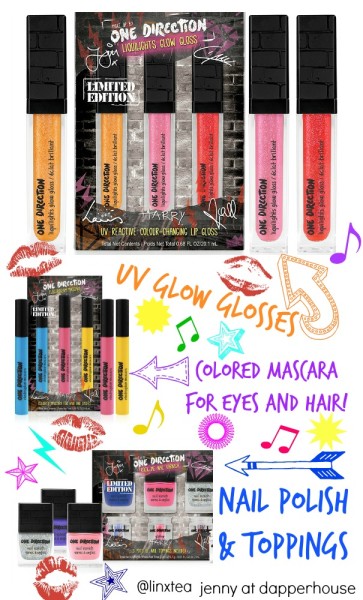 In My little care package there were a few different sets. The first one was the "Rock Me Nail Kit" which is the Nail Varnish and Glitter Toppings set. It came with 3 UV nail colors and 3 ultra glittery pots of UV nail toppings. They are all so bold and fun and I cant wait to mix and match and wear them all!
The next thing I got was the "LIQUILIGHTS GLOW GLOSS" which was a set of 3 vitamin E enriched UV reactive Lip glosses. Let me just say this was by far my favorite set out of them all! It comes with the shades "Through the dark" which is a red-pink glittery gloss that glows red-orange under the UV lights. "Taken" is a hot pink glitter gloss that glows Neon Orange under UV and finally my favorite one "kiss you" which is a orange glitter gloss that glows Yellow under the UV lights. "kiss you" is my favorite because you don't find a lot of Bright orange Lip glosses like this. It goes on with just a tint of orange but is very wearable! Its fun to put on something so bright in the bottle but have it not look crazy on you! Also the idea of all these products glowing in the dark is super fun!
The last thing I got in this package was the "ELECTRO GLAM MASCARA" I know I'm going to have a lot of fun with this one! The kit came with 3 different colors of mascara the you can use on your lashes and in your hair! I have always love putting crazy colors in my hair and playing with crazy makeup looks and products so these are perfect for me. It came with blue, pink, and yellow. I cant wait to wake up every day and choose which streaks of color to put in my hair! They are also super pigmented and buildable! So you can go as BOLD as you want!.
All these are limited addition One Direction products so Grab them while they are hot… and believe me they are!
Now check this out! You guys have a chance to win a Limited edition makeup set by One direction! Lucky ducks! Winners will Receive one of the 3 makeup by one Direction Sets that I just talked about! Make sure that you read the official rules to see if you are eligible. The winners will be selected at random and I have no say in it. I'm just bring you guys this awesome chance! There is absolutely no Purchase necessary to win so check out the giveaway, fill out the form and may the odds be ever in your favor!
;
So guys who is your favorite 1D boy?
And What is your favorite One Direction song?
Let me know in the comments below! I like harry. 🙂
Thanks for stopping by!
xoxo,
linx tea
*This is a #sponsored post Powered by BrandBacker.