The 5-hour ENERGY® samples, gift card to purchase drink products, and information  have been provided by the makers of 5-hour ENERGY®. Opinions are my own. Jenny at dapperhouse is not responsible for contest or prizes. 
Do you love 5-hour ENERGY® shots? Enter the Yummification Contest for a chance to win BIG! You can win a share of $100,000 for creating a short video (less than 60 seconds) of your favorite way to mix a 5-hour ENERGY® shot with an everyday beverage. You have to think of a cool and fun name for your "Yummification" drink too. The contest will be judged on the creativity of the video and the taste of the creation!! Ready to see what you could win?
Grand Prize (1): Fifty Thousand Dollars ($50,000)
Second Prize (1): Thirty Thousand Dollars ($30,000)
Third Prize (1): Ten Thousand Dollars ($10,000)
Fourth Prizes (10): One Thousand Dollars ($1,000)
*Entries must be received by 
August 19, 2014 at 11:59 p.m. EDT
 to be eligible.  No purchase necessary.  US residents only.  18 years and up.
Here is the Yummification drink that I made: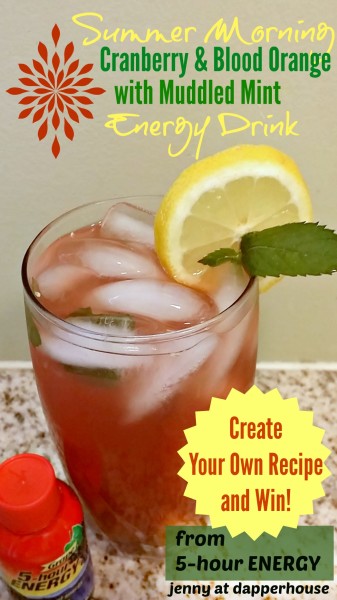 But, to win the contest, I have to have a creative name for my Yummification concoction. CAN YOU HELP ME NAME MY DRINK?
RECIPE:
2 cups cranberry juice
1 blood orange squeezed
5 mint leaves
1 shot of your favorite flavor of 5-hour ENERGY
ice and garnish
Add the juices to a glass. Muddle the mint leaves. Pour in up to one 5-hour energy shot. Add ice and garnish.
To enter the contest, visit www.5houryummification.com and follow the instructions to complete the entry form; "Like" 5-hour ENERGY® on Facebook, then create and submit your video. You can use teas, juices, sodas, juices, waters….anything that is decaffeinated and non-alcoholic. Please follow all label instructions for proper use when creating your beverage. You can follow the contest on Twitter.
Additional Information about 5-hour ENERGY® shots:
5-hour ENERGY® shots are dietary supplements that provide hours of energy and alertness
Contain a blend of B-vitamins, amino acids, and essential nutrients
Helps people feel alert and energized for hours
Zero sugar, zero carbs, zero herbal stimulants and 4 calories!
Caffeine in a 5-hour ENERGY® shot is comparable to a cup of the leading premium coffee
May consume up to 2 bottles of 5-hour ENERGY®, spaced several hours apart. For moderate energy, drink ½ bottle of 5-hour ENERGY®
Important Information: 5-hour ENERGY® is not an energy drink or intended to be mixed with alcohol. It is not intended for children, women who are pregnant or nursing, or people with medical conditions. It does not increase physical performance, dexterity, or endurance and does not treat or cure any disease or medical condition. Do not drink more than two per day, do not drink more than one at a time.
  LEarn more about how I use
5-hour ENERGY here
.