The world is now a digital and tech-centric place with everyone having access to a mobile device. If your business fails to leverage technology, you will get left behind by your competition. You need the Microsoft Power Platform, which is an integrated application that will help you manage your electronic forms, automate your business operations, and help with the mobility of your company data. 
To help you onboard this system efficiently for your company, you need the help of Power Platform Experts to craft a customized system and train your team. These groups of pros will help everyone in your company cope with a modern work environment. Here's why you need this platform and service for your business:
Improve Company Efficiency
With the help of Microsoft Power Platform, you can display rich visuals on real-time dashboards. You can connect a lot of devices to assure your business workflow is seamless. With this kind of tool at your disposal, you are assured that your team is connected for optimum efficiency. When everyone is informed, you and your team can make concrete decisions that are based on real-time information. 
When you have control over the processes, you get the assurance that the right insights fuel your business strategies, so there are fewer chances of errors. The best part, your team of experts will be able to tailor-fit solutions based on the needs of your company. This platform works across a broad range of industries so you will be able to find a customized setup that will work for your requirements and specifications. 
Provide Key Training
If you consult with these Power Platform Experts, your employees are assured of getting knowledge, skills, and depth of experience. Microsoft Power Platform contains three complex systems: Power BI, Microsoft Power Apps, and Microsoft Power Automate/Flow. If you try to do this by yourself, you may end up frustrated because of its technical nature. It has a bit of a learning curve so it will take a lot of your time. By relying on an expert, you and your team will receive sufficient training. No time is wasted so you can focus on the more essential aspects of growing your business and dealing with your customers. 
Offer Significant Return on Investment 
Getting the help of Power Platform Experts will need a small monetary investment, but this provides value for money. In time, you will be able to reap the rewards as your business receives financial gains because your operations are more productive and effective. You can opt to integrate this power platform with your current systems to enhance what is lagging. 
With the Microsoft Platform, you can also choose to automate specific processes which assure better and more accurate results. Unlike human counterparts, your chosen software doesn't experience fatigue. On top of that, this can be accessed anytime, anywhere by your team. The versatility of this platform assures your team is productive, and this will translate to an increase in revenues.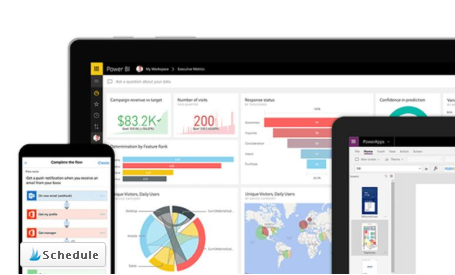 Protects Your Business
With that aid of this platform, you get security, connectivity, and data management rolled into one. These tools exist within the bound of Microsoft's established cloud infrastructure system. With this brand, you are guaranteed that your all relevant information and data are secure. With cybercriminals loitering in the virtual world, you need this assurance so you can confidently conduct your daily operations, which churns out massive amounts of data for your every transaction. 
With the help of the Microsoft Power-Platform tools, along with the aid of experts in this field, you can stay competitive in a cut-throat marketplace. If you want to stay ahead of your competition, you have to do everything in your power to optimize your operations. Failure to do so can spell between the success and demise of your business. Choose wisely!