*This is not a sponsored post. All opinions belong to jenny at dapperhouse. This post contains affiliate links.
Why is wheat germ a vegetarian superfood? Because it has essential dietary components that are mainly found in meat! While supplements are necessary for many people, it is nice to get nutritional benefits from the foods that we eat. Getting these from wheat germ are delicious because it has an incredible rich and nutty flavor as well as an added texture and crunch. Here are some of the incredible health benefits that can be found in wheat germ and a few delicious ways to add it to your diet.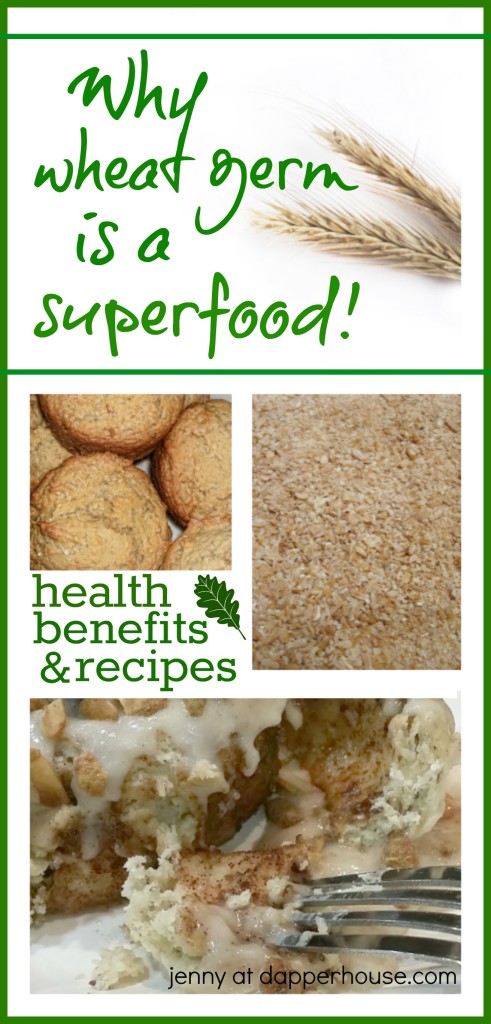 Benefits of Wheat Germ
Omega 3 fatty acids
Protein
Zinc
Calcium
B Vitamins
Vitamin A
Fiber
Healthy & delicious wheatgerm.
How to Add Wheat Germ to Your Diet
This is super easy to do. Just keep a bag or container of wheat germ on hand and add a little to anything at all. I add it to:
pancakes
granola
oatmeal & cooked cereals
spaghetti sauce
chili
"meatless" meatballs & taco meat
burritos and wraps
all baked goods (replace approx. 2 tablespoons of wheat germ for every 1/4 cup of regular all purpose flour)
salads
cooked veggies
fruit
yogurt
dips
Recipes Using Wheat Germ
I am habitually adding wheat germ to everyday recipes and meals when cooking for myself and my family. You can check out these recipes where I have sneaked in amazing wheat germ, like Ooey Gooey Cinnamon Rolls and Sinfully delicious zucchini bread.
What is your favorite recipe using wheat germ?