There are parts of our home where we want and need changes. We find these places utterly boring. It times to get something new to look at, especially on our fireplace mantels. Many of us are good at decorating our homes but often miss the mark. This means you have bland areas that do nothing for your decor. If anything, your tacky setup distracts and gives off a bad vibe. Maybe you've mixed the wrong colors or have mantel pieces that are outdated. You might still have old items entwined with new hip figures, and it doesn't work. Either way, you're in need of a change and need new ideas. Here are ways to upscale your home's mantel.
Artwork
Try using decorative artwork that stands out. You can do an overlap design that gives your mantel more life. The artwork will draw visitors to it. Pick frames that are different in size when overlapping. Consider adding some oversized candlestick holders to offset this look. Buy or choose artwork that's bold visually. This is part of the draw and purpose of making your mantel less dull.
Mirrors
Use a huge mirror over your mantel. This brings this area alive where you'll find yourself stopping to check your appearance. You can place a smaller mirror alongside or within a bigger one. The effect is stylish and grabs attention. Make sure each mirror has the same shape. You can always consider installing a floating mantel that can help reach your decoration desires.
Entertainment
You can always place a television above your mantel. This turns it into an entertainment media space to watch your favorite shows or sports games. Use a television that lies flat against the wall and isn't bulging out. It's best if the screen is the same width as your mantel so it doesn't look out of place.
Colors
Choose vibrant colors to make your mantel stand out from the rest of the house. This could be a hard solid color choice that still blends with the other walls near it. You can go with one color for the entire living room area that also covers the mantel space above. Pick those colors that pop and differentiate from your fireplace. Use basic accessories on the mantel to avoid clutter.
Classy
You can turn your mantel into a classy area with some of your most expensive household pieces. This might be using crystal for the mantel. It could be a plant vase, bowls, or candlesticks. If you go with all silver items, make sure they bring a brightness to the fireplace decor.
Christmas
Most Christmas ideas for a mantel will involve a list of stockings for everyone in the house. Candles are great with wreaths or sparkly ornaments. The one thing to keep in mind is to not crowd the mantel or overdo it. Your beautiful Christmas display will quickly turn tacky with too much clutter. Items that are out of sync with the others on your mantel doesn't do your decorating justice.
These are ways to upscale your home's mantel. Most times our fireplaces are boring to look at. However, if you take some time to generate some ideas you can make your mantel interesting and captivating to the eye.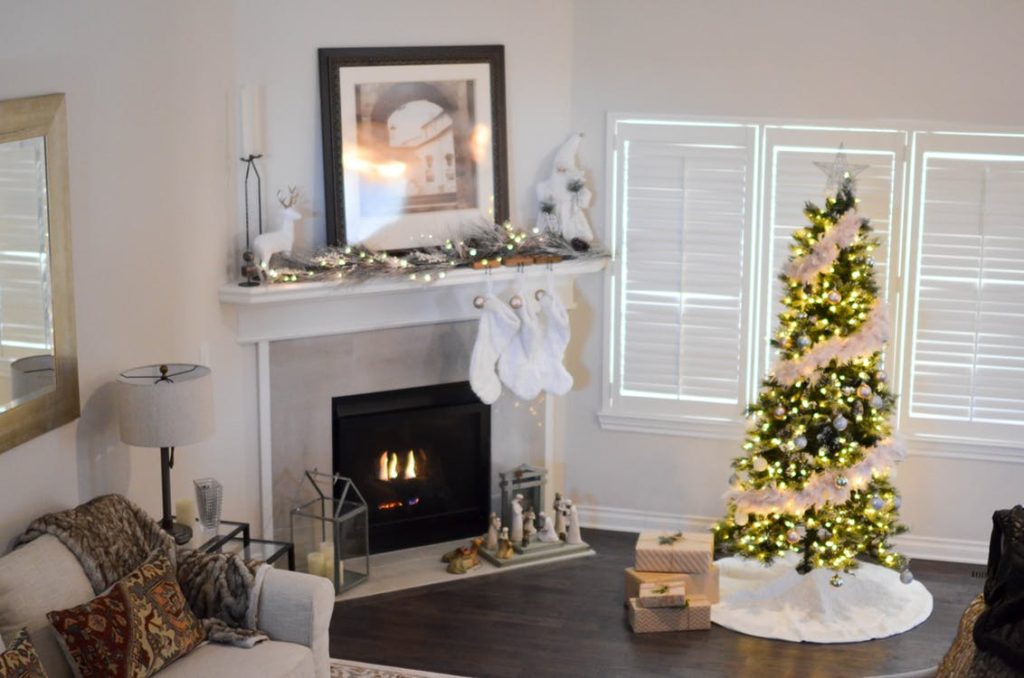 Artwork is always a good choice. Try overlapping the different sizes of frames. Lay them on each other so you can see the distinction. Large mirrors over mantels open up the entire living room. You can go a step further by placing a mirror inside the other for a distinguished look.
Consider making your mantel a place for entertainment viewing. Many people have placed their favorite team hats or scarfs on the mantel showing their loyalty and support. Colors are great ways to enhance your mantel. Stick with good solid vibrant colors that still match with your furniture. Try the classy route with crystal vases or use only your best silver. Either way, place them in a classy way that's isn't distracting.
With Christmas around the corner, you can still dress up your mantel in some different ways. Most do the stockings line or use simple, basic ornaments. Try some that either play music or turn in circles with lights. Try to pick those that aren't tacky and at least make your mantel attractive.