Are you an artist with dreams of selling your art for a living? It can be done. Are you dreaming of an art gallery opening in the most trendy part of town with the biggest and wealthiest people attending? Are you hoping for you art displayed at cool galleries where people can admire and purchase your work? Maybe you want to have an online gallery where word of mouth makes your art work regularly sell and provides you with commissions and other opportunities. Whatever the size and scope of your goal, you should always dream big. The main component to dreaming your goal into existence is to work hard on plans that get you where you need to be. You will get where you want to go with goals and hard work.
I am going to give you 5 tips for making money with your artistic talent while you get yourself noticed. The real end game for these tips is to get booked with enough work to support yourself while you are putting together a portfolio or taking your finished portfolio around to perspective curators and buyers. Word of mouth is your biggest mode of getting work and the more work you do in public places, the more your name will spread through communities and social media.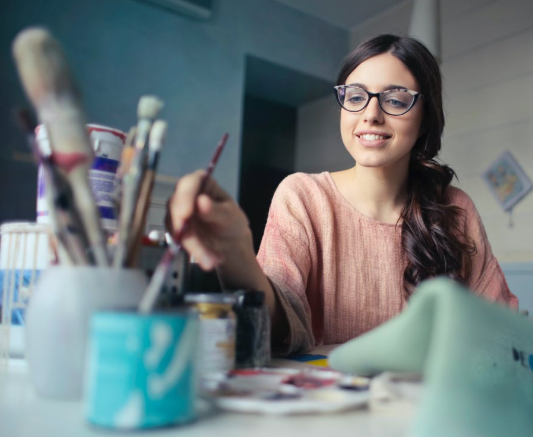 Don't think that any of the following ideas are beneath you. Every starving artist had regular jobs while trying to get their big break. Just make sure you are getting jobs that associate your name with artistic talent and art related work. You never know where you will be when the right time and the right place happen for you!
TIP: No matter what job you do, take pics and have them to get more work!
1.) Paint windows for holidays, sales and other events. You can go to every type of business there is and do any type of art work imaginable. The possibilities are endless. (And once you get in with one store, others in the area will follow!) In our small town there are windows painted with everything from words and simple objects to elaborate murals and beautiful designs.
2.) Do chalkboard signs and menus for cafes, delis, bookstores, ice cream stores and more! With some chalk pens, artistic talents and some fancy penmanship you can get hired to do the menu boards that rotate out with holidays and new items. TIP: Always put your signature somewhere tasteful and small on your work as part of your contract.
3.) Do custom murals in your artistic style inside and outside of businesses and homes. Offer to do everything from kid's rooms to bars and even churches! Every time you do a piece of art on a large surface, make a spot for your signature and your instagram name or email address so people can contact you for more work. The pic below is a trendy photo opp for instagrammers that you may want to capitalize on and look, the artists names are right there in the mural!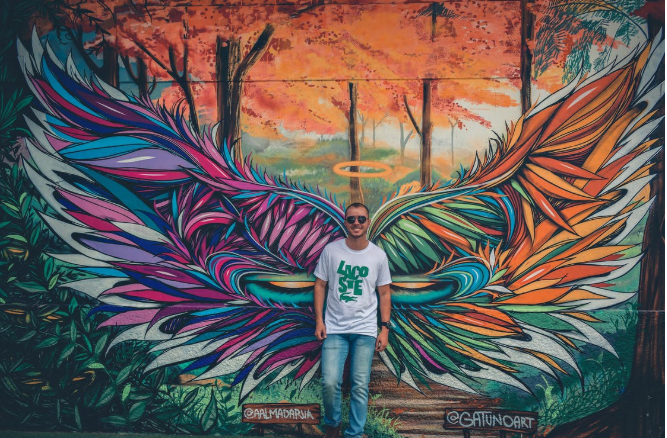 4.) Everyone loves original art of their family…mainly their kids and their pets. Do some portraits in your style and offer to do them for other people. Whether your style is watercolor, ink sketching, caricatures or something resembling Picasso, there are many people who will love your style!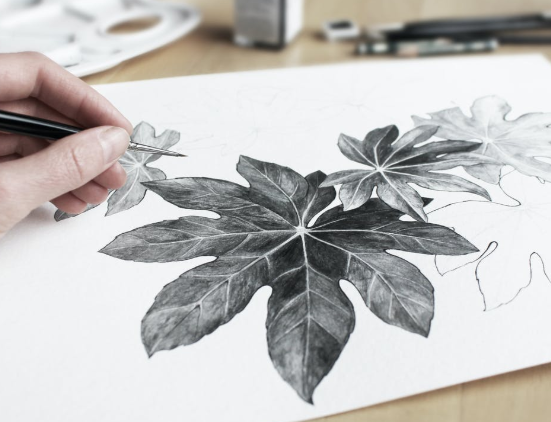 5.) Make a set of holiday or evergreen greeting cards and take them to boutique stores to see if they will give them a try. If the first few sell well, make some more and use color printing to help build your supply. Make a framed note about you and to let people know that you do custom work. Leave some business cards to help them remember to call or text you. People will love to have custom greeting cards that they can brag are from a local artist.
Do you have any more creative ideas for artists to make money using their talents?